Logan Whaley | February 11th, 2019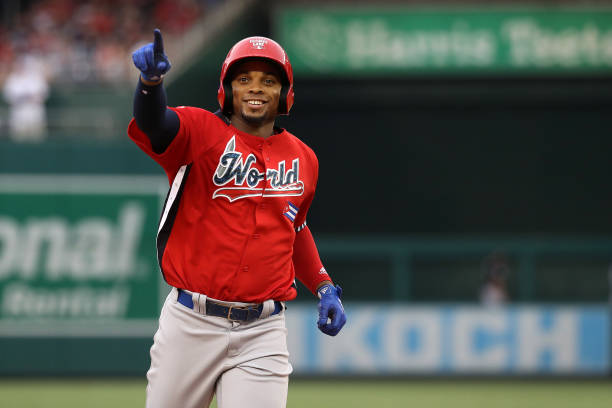 The Baltimore Orioles are coming off a terrible season, one of the worst in recent memory for any team, and while the club is still a way away from being competitive, the future is undoubtedly bright. As a franchise, the Orioles have only two contracts greater than $10 million on their payroll currently: Chris Davis and Mark Trumbo. As the team is moving into the next wave of future talent, team brass and fans alike should be excited for the future of the franchise. 
This past season, Yusniel Diaz found him on the move from Los Angeles to Baltimore, headlining the mega-deal the Orioles pulled off when they sent Manny Machado to the west coast. Diaz at the time ranked as Baseball America's No.47 overall prospect and immediately slotted in as the Orioles No.1 overall prospect. Diaz has been around since the Dodgers signed him in 2015. The Dodgers locked him up for a whopping $15.5 million.
Last season, Diaz saw 97 games at Double-A between Los Angeles and Baltimore. Across 416 plate appearances, Diaz slashed a respectable .285/.392/.449 with an excellent .841 OPS and 12 stolen bases.
Diaz possesses a nice combination of power and speed. In the past two seasons, Diaz has continued to increase his isolated power while lowering his strikeout rate and simultaneously increasing his walk rate. Impressively, Diaz posted a .407 wOBA and 152 wRC+ before the trade.
When you watch Diaz' swing, you notice how smooth it profiles. He drives with a leg kick giving him above-average bat speed through the zone. Most impressively Diaz showed his power in last summers SiriusXM All-Star Futures game, clobbering not one but two home runs (both game-tying). Orioles fans should be very excited for the young right-handed center fielder.
The number two prospect on this list, Ryan Mountcastle, has come on strong in the past year. Fresh off his second year at Double-A, Mountcastle slashed .297/.341/.464 with 13 home runs and 59 RBI across 102 games in 2018.
Mountcastle, a former first-round pick by the Orioles, increased all major offensive categories and showed his ability to someday make it as a solid bat in the show. He certainly possesses the tools to be an everyday player at the major league level.
When you watch him hit, Mountcastle provides above-average bat speed and control, accentuating a smooth swing through the zone. Similar to Diaz, Mountcastle also uses a hitch, albeit moderate, when he loads. In terms of power, Mountcastle displays decent power and has the natural ability to drive the ball to all areas. Most likely the Orioles can expect at a healthy regular between 10-15 home runs per season from Mountcastle.
In terms of his speed and ability to steal, Mountcastle has average speed and does not parade a high likelihood to steal bases. In his time at rookie ball, Mountcastle did swipe ten bags. However this past year he stole just two.
Lastly, the glove and fielding profile as below-average to average, as Mountcastle does not yet have the sufficient arm strength for that of a future major league third baseman. Despite this, Mountcastle is someone the O's will count on for the offense, not the defense. Watch out for Ryan Mountcastle in 2018, who could find himself up with the club sooner rather than later.
Baltimore drafted Hays in the third round of the 2016 Amateur player draft. Hays has answered the call impressively, quickly working his way to Double-A in just two years. Unfortunately for Hays, his 2018 season was shortened after he suffered an ankle injury, which allowed him to play only 66 games this past year.
In 2017, Hays impressed at Double A. He slashed .330/.367/.594 with 16 home runs and 54 RBI. Hays also posted a .418 wOBA with a 161 wRC+. While all remarkable, two stats which should be looked at with detail are even more so: strikeout rate and isolated power.
Hays struck out at a 15.9% rate and produced a ridiculous .264 ISO. This type of power could help Hays to become a legit 30-home run bat at the major league level. Hays did see a small sample size in the show in 2017, slashing .217/.238/.317, 1 home run and 8 RBI, in 20 games across 63 plate appearances. While the stats don't necessarily show the positives, Hays displayed a good eye for the ball and showed his ability to drive the ball to all fields.
Regarding bat speed, Hays has above-average bat speed. Hays needs to continue to work on his aggressive approach as it can cause swings and misses. In terms of his overall speed, Hays displays above-average speed and can show an ability to steal bases. Finally, Hays has an excellent range in the outfield. His natural ability to make a quick jump off the bat will help him at the next level.
Of the prospects on this list, Hays may be the one I'm most excited about.
Of the pitching prospects in the Orioles system, Hall may be the most exciting. Hall was selected in the 2017 Amateur player draft by Baltimore in the first round, No.22 overall. Just 20 years old, Hall is already showing why fans should get excited.
His first year, Hall saw struggles. He posted a 6.97 ERA over 10.1 innings, across five starts. The strikeout rate was impressive at 24.5% however. Unfortunately, Hall simultaneously posted a 20.4% walk rate as well as an 11.1% HR/FB rate.
Last year, Hall figured it out. At Class A Delmarva, Hall rebounded amazingly with a 2.10 ERA over 94.1 innings at the raw age of 19. Hall saw a drop in his strikeout rate but also decreased his walk rate and gave up fewer home runs.
In terms of what Hall brings for the Orioles, he possesses an above-average fastball, sitting between 90-94 mph with the ability to reach 96 mph. Hall's curveball may be his best pitch and was speculated among many as the best breaking ball in his entire class. Hall also throws a decent changeup and should play nicely into his repertoire at the next levels.
Hall can show inconsistency with his fastball however does have time to continue to develop that pitch, as well as his others as he works his way through the system. If Hall can pitch well this season, it would not be a surprise to see him reach Double-A.
Last on the list is somewhat of a dark horse (no pun intended Sir Blaine). Knight currently ranks as the Orioles No.10 overall prospect. Despite that others rate above him, Knight can be a special talent as he progresses.
Knight was a third-round selection in this past years draft, out of the University of Arkansas. In his first stint in pro ball, Low-A, Knight pitched to a respectable 2.61 ERA over 10.1 innings.
Beginning with his strengths, Knight has a solid fastball which can reach upwards of 96-97. For a guy who weighs in at just 165 pounds, it is impressive. Next, Knight does have a slider, curveball, and changeup which gives him a nice combination in his arsenal. Outside of his fastball, the slider and changeup are Knight's plus pitches.
His size is what could present as a challenge. It thus far has not posed a problem, and hopefully, he will continue to strengthen his already strong pitches as his development continues. Knight needs to continue to work on his breaking ball but outside of that, Knight is someone who could provide a substantial mark in a major league rotation.
Check out the rest of our Top-5 Prospect Series | Toronto Blue Jays | Colorado Rockies | Minnesota Twins | Chicago Cubs | Texas Rangers | Atlanta Braves | Tampa Bay Rays | Arizona Diamondbacks | Cincinnati Reds | Kansas City Royals | Seattle Mariners | Miami Marlins | New York Yankees | Los Angeles Dodgers | Detroit Tigers | New York Mets | San Diego Padres | Cleveland Indians | Boston Red Sox |            St. Louis Cardinals | Philadelphia Phillies |
Questions and comments?
thescorecrowsports@gmail.com
Follow Us on Twitter @thescorecrow
Follow Us on Reddit at u/TheScorecrow
Follow Logan Whaley on Twitter @game7magic
Main Credit Image:"Embed from Getty Images