Daniel Corrigan | February 9th, 2019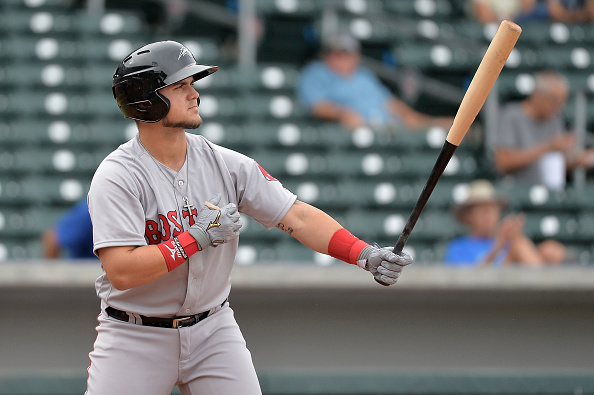 The World Series champions have gutted their once great system in order to build a death star. The Red Sox are relatively young, so they will still be winning games for a long time. They don't have many holes that will raise eyebrows for their World Series defense in 2019. So what does their farm system actually look like? Who is left? Are there any players that will be winning games with the Red Sox soon? Let's find out. Here are my top five prospects for the Boston Red Sox.
Height- 6'3
Weight- 160 Ib.
Fastball- 60
Curveball- 50
Changeup- 55
Control- 45
Overall- 50
Mata is a 19-year-old, right-handed pitcher who signed with the Red Sox in 2016 out of Venezuela. He made his pro debut in the Rookie-level Dominican Summer League. After an impressive Summer, he was promoted to Class-A ball. His success helped Greenville win the SAL championship. He was also awarded MVP in the 2018 All-star futures game.
Mata is a ground ball pitcher. He has a very good fastball at his age. He throws his heater anywhere from 90-94 MPH that has reached 97 MPH. He also throws a changeup which is his best supplementary pitch. It has the speed and decisiveness to become a trademark pitch at the next level. This past season, Mata added more strength and drop to his Curveball. He throws it for strikes and like I said, causes a lot of ground balls.
He is very young and still has time to develop his pitches. With a big 6'3 frame, he can add more strength, and "grow" into his pitches as he gets more reps in the minors. His biggest problem is his control. Which is common for young pitchers. He has a couple more years before he will sniff the Show, so with more Innings pitched, he should figure out his control and become a number four starter for the Red Sox
ETA: 2020
Height- 6'5
Weight- 210 Ib.
Fastball- 65
Slider- 55
Changeup- 50
Control- 50
Overall- 50
Houck is a 22-year-old, Right-handed pitcher drafted by the Red Sox in the first round of the 2017 draft. He was originally drafted by the Toronto Blue Jays in the 12th round of the 2014 draft but decided to go pitch at the University of Missouri. Much like the Ace of the Red Sox Chris Sale, Houck had some concerns from scouts because of his "low arm slot." This caused him to fall to the late first round where the Red Sox snatched him up.
Many scouts rave over his fastball. He was considered to have the best fastball in the 2017 draft. He loves his two-seamer, which clocks in around 92-96 MPH with some nasty movement. The Red Sox do want him to incorporate more four-seam in order to save his arm a little, but there is no doubt that his two-seam will be a weapon his entire career. His Slider has TONS of movement but isn't as crisp as it should be. His changeup needs some work as its a Little inconsistent.
Houck has a great fastball that can light up the radar gun. He struggled to start his career due to a change in his mechanics but improved greatly when he returned to his old form. He causes lots of swings and misses and weak contact. With more work on his off-speed pitches, he will find himself with the Sox soon in the back-end of the rotation.
ETA: 2019
Height- 6'4
Weight- 238 Ib.
Hit- 50
Power- 60
Run- 30
Arm- 60
Field- 55
Overall- 50
Casas is a 19-year-old corner man drafted by the Red Sox in the first round of the 2018 draft. While playing with the 18-and-under USA national team, he led the team in home runs and RBIs. He also won the MVP at the 18u World Cup in 2017. He tore a ligament in his thumb two games into his pro season, causing him to miss the year.
Casas has a very good bat. His swing speed, power and ability to hit the ball all over the park are his strengths. He is the typical corner infielder. With the frame he has, he has a natural power swing. A great bonus to Casas is he doesn't swing and miss much for a power hitter.
He doesn't have blazing speed but is very athletic for his size. It's unsure what position he will play but scouts were impressed with his play at first base. He has almost zero pro ball experience so he has some time before he will be in the majors.
ETA: 2023
Height- 6'6
Weight- 220
Fastball- 60
Curveball- 65
Changeup- 50
Control- 45
Overall- 55
Groome is a 20-year-old left-handed pitcher drafted in the first round of the 2016 draft. He was the top-rated prospect n the draft, but off-field issues had him slip to the Red Sox. He had a rough start to pro ball. He made short starts and then was sidelined with an injury. Groome will not pitch this year due to Tommy John surgery.
Groome has a low 90s fastball. While he has clocked in around 96 MPH, he has time to add power and velocity to his heater. Expect these numbers to go up when he is healthy. His curveball is next level stuff. Good power with elite movement. That will be his defining pitch. He has a changeup as well but has a hard time with control. If he wants to make it to the next level, he needs to work on his control.
Groome has not had the ideal start to his career. He's hurt and has not impressed. he has time to get healthy and add extra power, strength, and control to his pitches. I expect him to come up later than he should, just due to injuries.
ETA: 2021
Height- 5'10
Weight- 216 Ib.
Hit- 45
Power- 60
Run- 40
Arm- 60
Field- 45
Overall- 55
Chavis is a 23-year-old third baseman drafted in the first round of the 2014 draft by the Red Sox. He is a power hitter. He hit 13 homers in his senior year of High School. He is very athletic with decent speed and a cannon for an arm. One problem, he tested positive for PEDs and missed 80 games.
He has great bat speed and power. He tends to try and hit the ball to the moon every-time he is up. He has the natural ability to hit the ball wherever he wants. He has worked on his patience as he cut down his strikeout percentage by 22%. With more patience at the plate, he will be a lethal hitter at the next level.
He is a natural shortstop but was moved to third base. He has a great arm and decent speed. He has worked very hard to be a solid defensive player at third base. The problem is finding somewhere he can play with the Red Sox. Rafael Devers is currently blocking Chavis at third. Some think he could become the Red Sox new second baseman. Whatever the case may be, they need to find this kid a position to play. He has the talent to be the next great, young, Red Sox player.
ETA: 2019
The defending World Series champions have a pretty stacked roster. It's likely we will not see much of these players during their title defense. In the coming years, the Red Sox will be able to reload with some quality young talent. The Red Sox will be good for a long time.
Check out the rest of our Top-5 Prospect Series | Toronto Blue Jays | Colorado Rockies | Minnesota Twins | Chicago Cubs | Texas Rangers | Atlanta Braves | Tampa Bay Rays | Arizona Diamondbacks | Cincinnati Reds | Kansas City Royals | Seattle Mariners | Miami Marlins | New York Yankees | Los Angeles Dodgers | Detroit Tigers | New York Mets | San Diego Padres | Cleveland Indians
Questions and comments?
thescorecrowsports@gmail.com
Follow Us on Twitter @thescorecrow
Follow Us on Reddit at u/TheScorecrow
Follow Daniel Corrigan on Twitter @Corrigan_Tweets
Main Credit Image: Embed from Getty Images