Givanni Damico | February 8th, 2019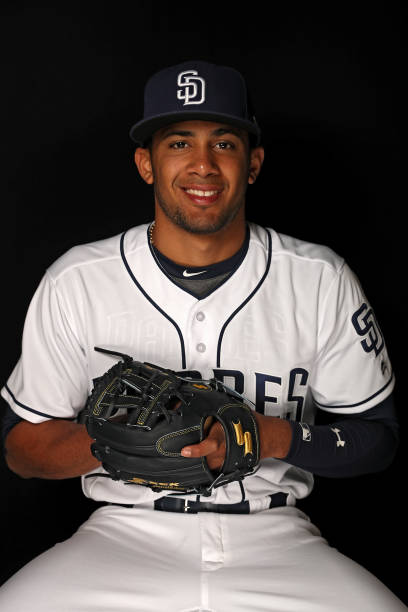 The San Diego Padres have built up a very good minor league system. Let's take a look at the Top-5 and when we can expect to see them.
Fernando Tatis Jr. was acquired in a trade for James Shields. Let's not forget that. Tatis had little value considering he had never played at the professional level before at age 17, but now he is a top five prospect in baseball. He played in both Single-A and Double-A last year in the Padres organization. He performed very well in High-A ball, producing a .278 batting average with 21 home runs (in 431 at-bats, one home run per 20 at-bats), 69 RBIs, and 29 stolen bases. His .OPS was very good at .910. His fielding ability wasn't a liability either as he recorded a .936 fielding percentage. Tatis is a player that could potentially have 25/20 (25 home runs, 20 stolen bases) seasons. In this age of baseball, power among shortstops is more prominent with players like Carlos Correa, Manny Machado, Francisco Lindor, etc. Tatis demonstrates this power that can put him in a place where he could be a top five shortstop in the league. I think that Tatis will be in the MLB this season, but most likely as a September call-up. His biggest issue is the swing-and-miss rate when he is at the plate. He tries to expand the strike zone too much, and he has to realize that he is not Vladimir Guerrero. Overall, I love Tatis and see him being a future all-star.
Gore struggled mightily in Low-A ball last season, but I don't think that it is anything to fret over. Despite a bad ERA (4.45), he still managed to strike out 11 batters per nine and only walked two batters per nine innings. Gore is still 19 years (20 in two weeks), and he is tall and very athletic. His fastball hovers around 92-93, but when he puts on weight, it should pick up velocity up to the 95-97 range. He's still a couple of years away from the Majors as he is expected to play High-A and maybe Double-A this upcoming season. One of the biggest issues with young, developing pitchers is their lack of ability to throw strikes. This shouldn't be a problem with Mac Gore. I think that in three or four years, Gore could be the ace of this Padres rotation.
A lot of people are critics of Luis Urias's ability to play at the next level, but he proved himself pretty well when he was a September call-up last season. He only hit .208, but he held his own. He had two home runs in 48 at bats which is solid for Urias, who does not display much power. Everyone is so fixated on the power aspect of the game now, but I am happy to see a player who can consistently be a .300 hitter and rack up base hits. Urias went 12 games without giving up an error in the field, which is a plus. Urias has phenomenal plate discipline, but his swing doesn't have much loft, which doesn't allow for many home runs. When Urias tried to change his swing path last season, his strikeout percentage jumped from 7% to 20%. I think he could make the Padres roster straight out of training camp this season. The Padres are bad now and have been bad but they have a fantastic future with position players, starters, and in the bullpen. Luis Urias reminds me of a faster DJ LeMahieu. Players like these are disrespected because of their lack of power, but they are very important to the game.
Francisco Mejia shows tremendous offensive upside. Catchers are getting better and better as hitters and their approach is becoming more impressive. Mejia reminds me of J.T. Realmuto with a little bit more power. Mejia is also a switch hitter which is really impressive. Hopefully, he can play like a faster Jorge Posada. Mejia hasn't had any success at all in his 69 at-bats in the Majors. His average sits at .174 with three home runs. Mejia definitely needs to show some offensive consistency or else he will be labeled as a bust because he isn't anything very impressive on defense. Mejia has had four passed balls in ten games started which isn't good. To compare, Yadier Molina had four passed balls in 125 games started last season. Mejia will need to sharpen his tools before he is successful in the Majors. I don't know if he will make the team out of Spring Training, but if he does, he probably won't start. If Mejia has to move from catcher to the outfield or first base because of his lack of defensive ability, his value will plummet. Mejia will be a boom-or-bust in my opinion.
Morejon was limited to only 13 starts because of some arm trouble, which could be an issue for the future. Morejon had a 4-4 record with a 3.30 ERA while striking out 10 batters per nine innings, and walking about three and a half batters per nine. He also gave up six home runs in those 13 starts. Morejon is only six feet tall which is pretty short for a pitcher, meaning that home runs could be a problem for him. He has a mid-90s fastball and a nice curveball, both of which can be thrown for strikes consistently. He also has a change-up which is a bit less controlled but is very much part of his impressive repertoire. With Mac Gore being the ace, I can see Morejon has a very good number two starter for the Padres in the next few years.
Oh boy. Michel Baez is one of those pitchers who if he were on my team, I'd be both intrigued and frightened to watch. Michel Baez is a six foot eight beast with an upper-90s fastball that jumps out of his hand and is very hard to hit. Here's why I'm frightened: control or lack of it. Michel Baez is very inconsistent when it comes to his ability to throw strikes. Baez throws across his body which can be very deceptive to hitters, but it could also cause pitchers to miss the strike zone. It does both for Baez. Baez struggled incredibly in four Double-A starts with a staggering 9.62 ERA and six walks per nine innings. When he played in High-A, he had a poor record at 4-7, but a good ERA at 2.91. He walked three and a half batters per nine innings and struck out ten per nine. Baez has the extreme upside to become a top pitcher in the league, but he could also be forced to move to the bullpen. I'm hoping for the former.
Check out the rest of our Top-5 Prospect Series | Toronto Blue Jays | Colorado Rockies | Minnesota Twins | Chicago Cubs | Texas Rangers | Atlanta Braves | Tampa Bay Rays | Arizona Diamondbacks | Cincinnati Reds | Kansas City Royals | Seattle Mariners | Miami Marlins | New York Yankees | Los Angeles Dodgers | Detroit Tigers | New York Mets | Milwaukee Brewers |
Questions and comments?
thescorecrowsports@gmail.com
Follow Us on Twitter @thescorecrow
Follow Us on Reddit at u/TheScorecrow
Follow Givanni Damico on Twitter @giodamico15
Main Credit Image:"Embed from Getty Images