Givanni Damico | February 7th, 2019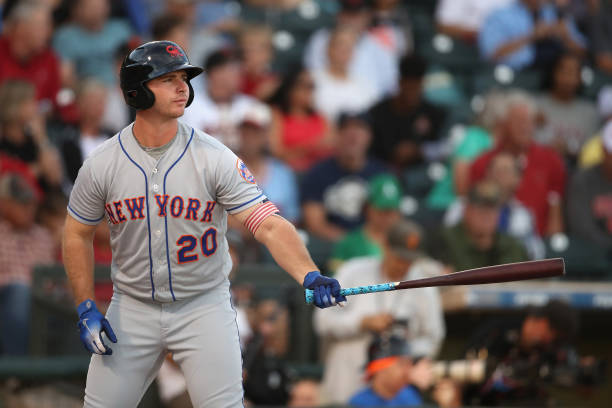 The Mets only have two prospects in the top 100. I feel bad for Mets fans because they've lost so much recently and haven't gotten much in return, in terms of players or team success. In my opinion, Mets fans will be waiting a while for their franchise to be successful but I've been known to be wrong here and there.
#1 Andres Gimenez, SS
Gimenez was signed via the international pool of free agents in September of 2014. He played the 2018 season in High-A St. Lucie. He appeared in 85 games and recorded a .282 batting average to go along with six home runs and 28 stolen bases. He also played 37 games in Double-A in which he hit .277 without recording a home run. Gimenez has borderline-elite speed but doesn't wield a power-bat. He did have a good overall on-base percentage for the season at .346. I am a little concern with the zero home runs he put up in 37 games in Double-A. If he can't hit for power in Double-A, he'll never be able to hit for power in the MLB. I know that power-hitting isn't everyone's game, but he needs to be able to go deep off of 95+ MPH fastballs as well as be able to read a Major League curveball. I think that Gimenez has a low ceiling at this point. I'm interested to see how he does in Double-A in 2019, but this lack of power is not an encouraging sign for Mets fans. Gimenez is 20 years old so he has plenty of room to grow. I'm not knocking Gimenez at all, because power isn't his game and he's still very young and getting stronger. I think a good goal for him this season is 10 home runs at the Double-A level. I project a .287 BAA/.355 OBP/.476 SLG with 12 HR and 53 RBI as well as 35 SB. I think this would be a very, very good season for Gimenez that would likely earn him an MLB call-up at some point especially considering the struggles that the Mets have with scoring runs. Gimenez also has great range in the field and his speed helps him greatly with this. My projection for his career is that Gimenez will be a Willy Adames type of player. He will be an above-average player at his position, but likely not getting reoccurring All-Star nods.
#2 Peter Alonso, 1B
Alonso was drafted by the Mets in the second round of the 2016 draft. Alonso tore up Double-A and Triple-A last season. If I were the GM of the Mets, I'd put him on the Opening Day roster but the Mets like playing old, washed-up veterans instead of young, promising prospects. In Double-A, Alonso hit .314/.440/.573 with 15 home runs in 65 games. In Triple-A, he hit .260/.355/.585 with 21 home runs in 67 games. If Alonso can show discipline when he reaches The Show, he could very easily be among the league leaders for home runs. Alonso is already 24 years old, so the Mets are wasting precious time by keeping him in their farm system when they are in need of players who generate runs. I'm sure Jacob deGrom would love Alonso in the lineup. Alonso struggles defensively, which may be one reason why the Mets are keeping him in the minors. Since it's the NL, Alonso obviously couldn't DH and would be forced to play the field. His glove is very questionable, although his arm is pretty decent. I'm not sold on Alonso's ability to hit Major League offspeed pitches. He is primarily a fastball hitter like most but he really struggles against minor league breaking balls and Major League pitchers obviously are better than those of the minors. I think that Peter Alonso would be more successful if he was traded to the AL and played DH, but I'm not saying the Mets should do that. I don't know how big of a return they would get for someone with questionable fielding and who is already 24 years old and not remotely established in the MLB. I am high on Alonso and think that he could end up being a future all-star potentially, but more so be a league leader in the home run category. Unfortunately, his career could go either way. I don't have a good comparison for him but I've seen a lot of Dan Vogelbach as well as Rhys Hoskins so I guess people's thinking is bipolar when it comes to him.
3. Shervyen Newton, SS/3B
Newton is an anomaly at 6-foot-4 with great athleticism and decent enough speed. He's very lean at 180 lbs and definitely needs to put on some more muscle, but he's still a young kid. Newton is 19, almost 20 and played last season in Rookie-League. In 56 games, he hit .280/.408/.449 with five home runs and four stolen bases. These are very solid numbers for someone so young in the Rookie League. Like Andres Gimenez, I'd like to see more power especially for his size but he does have the raw power that will progress as he gets older and stronger. One thing about Newton that impresses me is his ability to stay in there and foul off the off-speed pitches to create strong at-bats. He is going to be an annoyance to pitchers at higher levels because he is not at all an easy strikeout. Keep in mind though that we have only seen him at rookie ball. Rookie-League is not a good representation of a player's true ability and potential but it is a good way to see the raw ability and what a prospect is good at or not. I could see Newton having a role like Freddy Galvis, an average shortstop who may or may not start. For now, though, he is looking like J.P. Crawford, who definitely has been underwhelming. He has a high ceiling but a low floor as well. I need to see him play at higher levels to really judge his ability.
4. Ronny Mauricio, SS/3B/2B
Mauricio isn't ranked in the Top 101 yet, but he is someone that I'm really intrigued by. He signed a $2.1 million deal in July of 2017. I was very close to ranking him above Newton but Mauricio is more of a mystery to me right now. I've seen tape of Newton playing rookie ball but not much on Mauricio in the Dominican Republic. He hit .279/.307/.421 with three home runs and one stolen base in 49 games with the GCL Mets. He played 8 games in rookie ball and recorded a .233 BAA with one stolen base and no home runs. These stats aren't electrifying at either level but Mauricio is only 17. It will be a long time before he is ready for The Show. I really can't say too much about Mauricio because of how young he is and the level of ball he's played at. He could be a future superstar, he could be a journeyman player, or he could be a career minor leaguer. Mauricio is fascinating to me because of the mystery of his potential. Once again, he's very young with a ton of room to grow. I can't give a comparison because I haven't really seen him play.
5. Mark Vientos, 3B
Vientos was a second-round pick in the 2017 draft for the Mets. He played last year at Rookie League Kingsport and had a very solid year. He hit .287/.389/.489 with 11 home runs and a stolen base. He has so much upside when it comes to his bat. Once again, it's only rookie ball, but showing out in rookie ball is the first step to a successful career. He has as much potential at the plate as half of the Mets' lineup possesses, so this is someone the Mets should hold onto. Vientos needs to get better at hitting outside pitches because he has an above-average swing-and-miss rate when it comes to that portion of the plate. He has success shortening up against inside pitches but, obviously, he will need to cover the whole plate. He definitely isn't Nolan Arenado when it comes to fielding, but he has an above-average arm. I could see him becoming a first baseman or a corner outfielder if his third base ability isn't good enough. I think Vientos has a better bat than Newton and Mauricio but it may take him just as long to get to the Majors.
Honorable Mention: Simeon Woods Richardson, RHP
This guy is a question mark and nothing less. Many of the other prospects in the Mets' organization are already in their early-20s and haven't made it past Double-A and the ones who did make it to Double-A struggled. Woods Richardson was originally committed to pitch for Texas University until the Mets bought him out of his commitment and took him with the 48th pick of the 2018 draft. His velocity took a jump in his pro debut from what was in the low-mid-90s into the high-90s. His breaking ball has good potential, but for now, he's still a question mark with a strong arm. He didn't pitch particularly well in rookie ball with a 4.50 ERA, but in five games with the GCL Mets, he didn't give up a run. I could see him getting a call-up in four or five years to be a middle-relief or set up guy, maybe even a low-end starter. His ceiling is high and his floor is low. He's one of my favorites in the organization, though, so don't forget his name.
It looks to me like the Mets will be a successful team in the mid-2020s because a lot of the prospects in the Mets' organization are very young with an MLB ETA of between 2022-2025. Sorry Mets' fans, it might be a while before your team is good.
Check out the rest of our Top-5 Prospect Series | Toronto Blue Jays | Colorado Rockies | Minnesota Twins | Chicago Cubs | Texas Rangers | Atlanta Braves | Tampa Bay Rays | Arizona Diamondbacks | Cincinnati Reds | Kansas City Royals | Seattle Mariners | Miami Marlins | New York Yankees | Los Angeles Dodgers | Detroit Tigers
Questions and comments?
thescorecrowsports@gmail.com
Follow Us on Twitter @thescorecrow
Follow Us on Reddit at u/TheScorecrow
Follow Givanni Damico on Twitter @giodamico15
Main Credit Image:"Embed from Getty Images