Logan Whaley | February 6th, 2019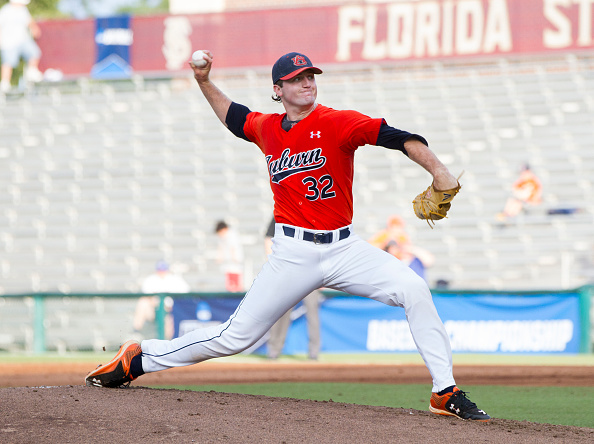 The Detroit Tigers are coming off back to back 98-loss seasons. However, the future is beginning to look bright, as the club has the No.18 ranked farm system in the big leagues. Led by a plethora of pitchers and outfielders, the club is looking to move into the future on a positive note.
Mize heard his name called as the first overall selection in this past year's amateur player draft. He currently ranks as the consensus number one prospect in the Tigers pipeline, and number eighteen overall on MLB Pipeline's Top 100 prospect list.
Mize is a big, strong right-handed starting pitcher. He pitched three years at the University of Auburn. The best year of the three came in 2017 when Mize went 8-2, 2.04 ERA and two complete games. Mize rolled up an impressive 109 strikeouts in just 83.2 innings pitched.
Last year, Mize started 17 games at Auburn, posting a 10-6 finish with a 3.30 ERA. The strikeouts continued as Mize struck out 156 in 114.2 innings. He held opposing batters to a paltry .201 batting average. As the highest drafted Auburn player in history, Mize signed the Tigers $7.5 million offer sheet, which set a bonus pool era, and a positive for Detroit as Mize signed for $500,000 below market value.
The biggest concern with Mize currently is the status of his arm, and how healthy the young gunslinger appears. In the midst of his 2017 campaign, Mize was shut down by Auburn as well as last summer while pitching for Team USA. It was no concern this past season, however.
One of Mize's best pitches is his fastball, which can range between 92-97 mph. He also displays a plus-slider, and an exceptional splitter, which may be is overall best pitch. Mize shows a smooth windup and motion in his pitching, with fluidity and a clean delivery. Last season at High-A, Mize pitched to a 4.63 ERA over 11.2 innings. Mize has an estimated arrival of 2020 and should be fun to watch this season as he continues to progress.
It appears Faedo and the Tigers were always meant for each other. The club selected Faedo No.17 overall in the first round of the 2017 Amateur player draft. It was the second time the Tigers drafted him. Detroit first chose Faedo during the 2014 Amateur player draft. At that time Faedo was coming out of high school, and the Tigers decided to pick him in the 40th round. Instead of signing, Faedo attended the University of Florida.
While a Gator, Faedo pitched to a three-year career 2.80 ERA over 288.2 innings. He finished with an impressive 10.84 K/9 while allowing a 0.59 HR/9. In 2018, Faedo made his professional debut, impressive in High A. Across 12 starts at Lakeland, Faedo posted a 3.10 ERA in 61 innings. He did a fantastic job limiting walks and home runs and quickly advanced to Double-A.
At Erie, Faedo made 12 starts. He posted a 4.95 ERA in those starts, however, continued to increase his K/9 and doing a relatively decent job limiting walks. It would make sense for Faedo to begin his season in Double-A, but ultimately time will tell where the organizations' decision ultimately rests.
Faedo brings excellent size and strength to the mound. His 6'5" frame towers over hitters and comfortably sits in the low to mid 90's with his fastball. Versus right-handed hitters, Faedo's fastball can be elusive and a challenge to hit due to its ability to drop in the zone.
Of his other two pitchers, a slider and changeup, Faedo's slider is his best pitch. It plays in the mid-'80s and carries a biting nature and causes problems for all hitters. As long as Faedo can continue to develop this pitch, it will be a force to be reckoned with when he arrives in the show.
Like Mize, Faedo has a 2020 estimated arrival time to the big leagues. If he can continue to move into the right direction this season, we could quickly see the Tigers promote Faedo to Triple A. Depending on where Detroit is late in the season too, they could make a spot for him in September, although highly unlikely. Outside of Mize, Faedo could be the most polarizing pitching prospect in the Tigers system.
Manning drops in at number three on the overall top five, and with good reason. The Tigers selected Manning in the first round, ninth overall, in the 2016 Amateur player draft, out of Sheldon High School, located in California.
For the Tigers, Manning has always been a bit of a project pitcher with high upside. He is a three-pitcher pitcher, incorporating a fastball, curveball, and slider in his repertoire. Manning has seemingly smoothed his windup out, as he now drives with less of a leg kick than he did before.
Manning has certainly been a mixed bag since making his professional debut in Rookie league in 2016. The first season was respectable, as he pitched to a 3.99 ERA across 29.1 innings. Most impressively during this span was Manning's strikeout to walk rate. Manning struck batters out at a 37.7% clip while walking only 5.7% of those batters.
Unfortunately, Manning saw the walk rate balloon in 2017, as he continued to work on his command at the next level. The strikeouts were still way up, however, eclipsing thirty percent after a slight dip. Last season, Manning worked his way up to Double-A, where he once again posted impressive strikeout numbers as well as an impressive 2.30 FIP and equally remarkable, if not more so, 2.92 xFIP.
One challenge Manning faced last season constituted from hitters finding the empty spaces when meeting him. From High A to Double-A, Manning's BABIP jumped from .241 all the way up to .393. Considering he did not yield a home run across the 10.2 innings at Double-A, it was oddly impressive. Also, the control has become better as Manning decreased his walk rate a full 3.1%.
Of all the prospects, Manning may be the most intriguing due to the fact he is 21 years old and has already worked his way into a spot at Double A. Manning will be someone to keep tabs on this year, especially if you're a Tigers fan.
As MLB currently ranks Cameron as the No.8 prospect in the Tigers system, I have him at No.4. He is the son of Mike Cameron and has been impressive since making his professional debut. Cameron, who the Houston Astros selected 37th overall in the 2015 Amateur player draft, was one of the players acquired in the Justin Verlander trade.
Cameron possesses quick bat speed through the zone and develops his power through his short, impactful swing. For a guy who does not hit a ton of home runs, Cameron does have sneaky power. After joining the Tigers in 2017, his production has steadily improved.
The strikeouts have continued to decrease, from 36.4% his first year in the organization to 24.2% last year while at Triple A. Cameron struggled at Triple-A, posting a .211/.246/.316 triple-slash, however, was stellar in the field, going 124 innings without committing an error.
Because of his instinctual nature and fair to a decent speed, Cameron should be a staple in the Tigers outfield for many years. His exciting nature will propel him to the big leagues sooner rather than later as he has an estimated arrival time of 2019. The Tigers depth in the outfield is not great beyond Nick Castellanos, who soon could no longer be a Tiger. For now, though, keep a watch on the younger Cameron who looks to make his mark.
Rounding out the top five is, you guessed it, another pitcher. Another right-handed pitcher, to be exact. Burrows is someone I have been a fan of for a while now, to be honest. Selected during the 2015 Amateur draft, Burrows is only 22 years old and has already seen action in Double A. Moving into this season Burrows has an excellent chance to move up rather quickly.
His first time around Double-A, in 2017, Burrows posted a 4.72 ERA, with a respectable 3.41 FIP. Last year, Burrows improved his ERA. Over 134 innings at Double-A, Burrows pitched to a 4.10 ERA. Unfortunately, he also saw an increase in both his FIP and xFIP. The strikeout rate decreased, as well, while his HR/9 saw a slight uptick.
Burrows has a four-pitch arsenal consisting of a fastball, slider, curveball, and changeup. Of his pitches, his fastball may be his best. He can reach 98 mph and stay consistently between 93-96, something that will play well at the next levels. Burrows curveball is a 12-6 with the ability to create a lot of swings and misses. The slider and change are the pitches to watch as he continues his progression, as they could help to round him out as a solid starter.
As many have alluded to, Burrows is someone who is nearly there but not entirely. This season is one to keep a serious eye on if you're a Tigers fan because it could be a possible breakout year for the young righty. Let's hope that is the case.
Check out the rest of our Top-5 Prospect Series | Toronto Blue Jays | Colorado Rockies | Minnesota Twins | Chicago Cubs | Texas Rangers | Atlanta Braves | Tampa Bay Rays | Arizona Diamondbacks | Cincinnati Reds | Kansas City Royals | Seattle Mariners | Miami Marlins | New York Yankees | Los Angeles Dodgers
Questions and comments?
thescorecrowsports@gmail.com
Follow Us on Twitter @thescorecrow
Follow Us on Reddit at u/TheScorecrow
Follow Logan Whaley on Twitter @game7magic
Main Credit Image: Embed from Getty Images