Zach Gotlieb | February 6th, 2019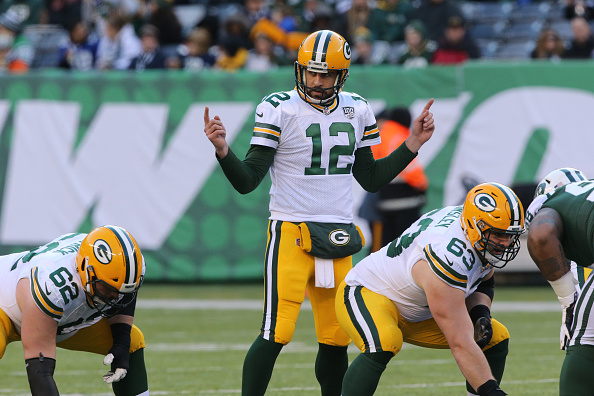 As Stephen A. Smith says about Aaron Rodgers, "he's a baaaaaad man." This season for the Packers was a baaaaaad season. That might be a little exaggerated just based on record; however, their quarterback is Aaron Rodgers, they have to do better than 6-9-1. At worst, they need to be in the hunt at the end of the year. That just wasn't what happened. Instead, of playoff conversations, there was just controversy.
What Happened This Year
During training camp, Rodgers called out his receivers for not playing well enough, he blasted his teammates saying that, "It was one of the worst cards sessions we've had. I don't know how you can make it any simpler. You literally have what the play would be in our terminology on the card, and the effort level was very low, especially with what I'm accustomed to." There are two messages to this: first, obviously, it's Aaron Rodgers, he's gonna expect greatness and expect you to do your job and he's making sure you do your job. Second, it's been a problem for several years in his career, the Packers never seem to have enough weapons for Rodgers to use. Either they're missing a running game, or a tight end or a strong receiver core. Only one wide receiver and tight end Jimmy Graham eclipsed the 40 reception mark. To put a little perspective on that and what makes that stat so terrible is that as a team, the Pack had the 10th most drops in the NFL this past year with 20. Especially with Aaron at quarterback, that number is atrocious.
The other big controversy was focused on now-former head coach Mike McCarthy. Right after a loss to one of the worst teams in football in the Cardinals in week 13, McCarthy was fired after just over 12 and a half years as the head coach. Some questioned Aaron, others said he got what he deserved. Regardless, after having two of the top quarterbacks of their time (Brett Favre and Rodgers), only having one super bowl championship and only one appearance, it didn't make him look too good. The last thing with this was that his offense seemed to lack innovation in an ever-changing offensive league. The other controversy in this situation is that he and Rodgers didn't always get along and he reportedly called different plays than what McCarthy called. It's been a mess in Green Bay, but all is not lost. There are still some core pieces that can be worked with on both sides of the ball.
Where They Go From Here
They have some good pieces. Honestly, they do. Offensively, Aaron Jones may just be a really good player and a big piece of the running game going forward. In just 8 games started, he had 728 yards on 5.5 yards per carry. That's not a very big sample size at all (only 133 carries), but that's still looking pretty good and potentially a building block. Davante Adams had a career year absolutely crushing his previous career highs in receptions and yards with 111 catches for 1,386 yards. He's only 26, just entering his prime. That has to be counted on going forward, but there also needs to be something else there. He was the only one over 60 catches and the only one over 1,000 yards receiving for the Pack.
Adams needs help, and Rodgers needs more of a supporting cast. He needs more receivers to A) stay healthy and B) produce. The other thing on offense is that he needs some offensive line help. He's been dealing with injuries over the last two years, dealing with a broken collarbone last year and a nagging knee injury that he sustained in week one against the Chicago Bears. He has been sacked 104 times over the last two years (bottom 5 in both of the previous two years) and hit 206 times (bottom 10 in both of the last two years). That's abysmal for a franchise quarterback and top quarterback in the league. He needs to be protected a lot better than he has been.
Defensively, linebacker Blake Martinez may just be a gem. He recorded 144 total tackles with 5 sacks. Wes Hodkiewicz of Packers.com wrote that "Jaire Alexander and Kevin King can be a heck of a tandem." Defensive passing game coordinator Joe Whit Jr said, "I would have loved to see the combination of Jaire and Kevin King this year, with Tramon or whoever else, in the nickel. But that didn't happen. I do know Jaire is an outstanding young talent. I do know Kevin King, when healthy, can be dominant. I know if I'm coaching the group next year or if someone else is coaching the group next year, they'll have a heck of a tandem." Alexander (21) just finished his rookie campaign and King (23) with his second year led the team in passes defended and appear to be developing into quite the group.
They still do need help on defense. A promising young duo of corners and a solid looking middle linebacker is a good start, but not enough. After trading Ha Ha Clinton-Dix, they could really use some safety help. Having a center fielder that can make plays in the run and pass game and just help out is desperately needed. They need help on the defensive line. Only one defensive lineman had over 5 sacks this year, and only 3 players had 5 or more. A dominant defensive lineman could really help this team.
Finally
All is not lost for the Green Bay Packers. Having a franchise quarterback is a huge piece to constructing any team, and they most certainly have it. With some solid young pieces on both sides of the ball, it may not be a full rebuild for them, but a significant reconstruction will be underway. Hopefully, a new coaching regime led by former Rams and Titans offensive coordinator, Matt Lafleur can bring in a breath of fresh air for the team and get them back to their winning ways.
Check out our other Team Reviews: Atlanta Falcons | Minnesota Vikings | Washington Redskins | Miami Dolphins | Cincinnati Bengals | San Francisco 49ers | New York Jets | Denver Broncos | Indianapolis Colts | Oakland Raiders | Baltimore Ravens
Questions and comments?
thescorecrowsports@gmail.com
Follow Us on Twitter @thescorecrow
Follow Us on Reddit at u/TheScorecrow
Follow Zach Gotlieb on Twitter @zachgotlieb
Main Credit Image: Embed from Getty Images