Smith Brickner | February 5th, 2019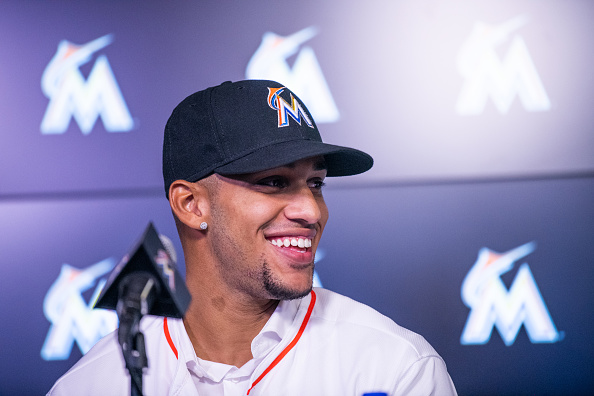 Under new ownership for the last year-plus, the Miami Marlins have been in transition from both a baseball and business perspective. Bringing Derek Jeter into the ownership group was seen as bringing legitimacy to the organization, an organization which had been viewed as a laughing stock for more than a decade.
Then the team proceeded to trade many of its stars.
In the span of a few months, the team was Giancarlo Stanton, Christian Yelich, and Marcell Ozuna-less. To many, the returns for each of those stars felt light. Take the Yelich deal, for example, Lewis Brinson, the headline piece Miami received in the deal, struggled through a terrible rookie season. Besides Brinson, Sandy Alcantara and Magneuris Sierra were the only other prospects from those three deals who cracked the majors last year. Consequently, Miami's system currently ranks near the bottom third of the league among most outlets, a ranking I believe to be accurate.
J.T. Realmuto is seen as one of the only remaining players on the team who could fetch a significant haul. Indeed, President of Baseball Operations Michael Hill and his staff have been standing firm all winter for the right offer. That offer hasn't come quite yet, but don't be surprised if it does before pitchers and catchers report in the coming days.
Based off reports from multiple writers, the Padres, Reds, Braves, and Dodgers are the 4 finalists for Realmuto's services. So, my top 5 Marlins prospects list below could change pretty soon. But for now, let's assess what they have in-house:
---
Height: 6'0″
Weight: 185 lbs.
Hitting: 40/55
Game Power: 35/40
Raw Power: 55/55
Speed: 70/70
Fielding: 55/60
Arm: 60/60
Future Value/Risk: 55, Moderate Risk
Mesa, 22, is one of the most hyped Cuban prospects to defect and sign in the last 10 years. For several years, he was one of the youngest players in Cuba's Series Nacional, yet he still excelled. In the 2016-17 season, he slashed .354/.399/.539 with 40 stolen bases as a 20-year old. Once he defected, teams saw him in showcases and were left with mixed yet still-positive impressions. Mesa and his younger brother's courtship by teams were well-documented, but he eventually settled on Miami for $5.25 million this offseason.
Mesa has a nice, flat swing which will result in plenty of contact but minimal power. He features some of the best speed of anyone in the minors, something that will definitely complement his contact-oriented approach very well. While he's shown the ability to put balls over the fence to his pull side in batting practice, it's better to temper expectations and predict about 10 homers, on average.
Defensively, Mesa is major-league ready and there is very little debate amongst evaluators that he can be an extremely good center fielder. In both showcases and previous game action, he's shown he can chase balls from gap-to-gap with ease, and he does so with a plus arm. With his set of skills, Mesa has often received comparisons to Juan Lagares and Albert Almora: I believe those to be fair comps.
Outlook: Thanks to the simplicity of his game, Mesa will probably need very minimal time in the minors. Miami has invited him to Spring Training, which is especially of note. Normally, it's not wise to make much of Spring Training performances, but considering he hasn't played a single game in the minors, his performance could be telling of where he starts this season. If he starts in Double-A Jacksonville, he has a chance of being a September call-up. If he starts in High-A Jupiter, it's more likely he makes his debut in 2020. I'll go conservative here and predict 2020. ETA: 2020
---
Height: 6'4″
Weight: 170 lbs.
Fastball: 65/70
Slider: 55/55
Curveball: 40/45
Changeup: 55/55
Command: 45/50
Future Value/Risk: 50, Moderate Risk
Originally signed for a modest bonus by the Cardinals in the 2013-14 international signing period, Alcantara has exceeded every expectation since signing. He went from a soft-throwing project to one of the more interesting pitching prospects in the game. Already in the majors at 23, he is someone the Marlins are counting on as a future building block.
One of the biggest reasons for Alcantara's rise is his fastball. Like I said before, he was a soft thrower when he was signed, sitting comfortably in the upper-80's. Now, he sits 95-97 and has touched 101 several times as a starter. Not only has he shown elite velocity as a starter, but he maintains the heat throughout his starts. Right now, it only grades out at plus-plus instead of elite because the pitch is pretty straight and he struggles to throw it for strikes on a consistent basis. The straightness of the pitch means hitters have an easier time getting around on it: no doubt frustrating for fans of high velocity. Thus, he's recently toyed with more of a two-seam grip. At times, it's been a good compliment to his changeup. If Alcantara learns to throw his duo of fastballs for strikes, they'll make the jump to elite status.
Alcantara has two other above-average pitches; his slider and change. Both feature good movement and he's begun locating both pitches much better than in seasons past. Last in his arsenal is his curveball, which currently grades as below-average. The pitch is pretty hittable because it doesn't have optimal bite and he lowers his arm slot, often a dead giveaway that it's coming.
Outlook: Alcantara has a wide array of possible outcomes, ranging from a mid-rotation starter to a dominant late-inning reliever. What he matures into depends on whether or not he can hone in better command of his pitches. Regardless, he's a guy with premium stuff who has already made his MLB debut. He should start the season in Miami's starting rotation. ETA: 2019
---
Height: 6'1″
Weight: 180 lbs.
Fastball: 55/55
Curveball: 45/50
Changeup: 60/60
Command: 60/60
Future Value/Risk: 50, Low-Moderate Risk
Neidert was an accomplished Georgia high school pitcher who the Mariners selected with their first pick in the '15 draft and signed for $1.2 million. Always seen as a bit of an over-performer, he was a part of the package Seattle sent Miami to acquire Dee Gordon. Neidert was Miami's best minor league pitcher in 2018, sporting a 3.24 ERA, 154 strikeouts and just 31 walks in 152.2 innings with Double-A Jacksonville.
A pitcher instead of a thrower, Neidert is a reminder that velocity isn't always indicative of future success. An owner of a solid 3-pitch mix, he gets it going with a heater that sits 92-93 but plays up because of good late movement and command. He compliments his heater with one of the better changeups in the minors. It has great arm-side action and, like his heater, he's able to put it wherever he wants. His curveball is behind his other two pitches, but it's a serviceable change-of-pace pitch.
His delivery is a bit odd, but he repeats it throughout his starts and has made it nothing more than a talking point amongst evaluators. To many, his profile is similar to those of Kyle Hendricks and Zack Greinke: guys with so-so velocity but great command and a really good change. While it's obviously too soon to put him in that category, he's not far from contributing in the Marlins' big league rotation.
Outlook: I'm a big fan of pitchability guys like Neidert because they're much easier to project and have much fewer question marks than guys like Alcantara. He likely won't be a top-of-the-rotation contributor, but he could hit the ground running in the bigs if given the opportunity: he's almost certain to make his debut this coming season. ETA: 2019
---
Height: 6'3″
Weight: 220 lbs.
Hitting: 30/45
Game Power: 45/55
Raw Power: 65/65
Speed: 60/60
Fielding: 50/55
Arm: 70/70
Future Value/Risk: 50, High Risk
A multi-sport star in high school, Harrison was committed to play college football at Nebraska before the Brewers selected him in the 2nd round of the 2014 draft, signing him for $1.8 million, $700,000 above the slot value. After delivering solid results in the Brewers system, they shipped him off along with Brinson, Isan Diaz and Jordan Yamamoto in the Yelich trade.
Last year was a mixed bag for Harrison, as he once again displayed incredible athleticism across the field but also failed to improve several facets of his game that needed significant improvement. His athleticism leads to plus-plus raw power which has begun translating in games, no doubt a positive development. But for all the progress he's made in the power department, he's failed to show any glimpse of progress in making contact with the ball, specifically on breaking pitches. Considering he walks at a below-average rate, he is currently a homer-or-nothing player with the upside to hit .250 in a good year. FanGraphs writers Eric Longenhagen and Kiley McDaniel noted that during the Arizona Fall League, Harrison abandoned a big leg kick, hoping it'd result in making more contact. Indeed, his strikeout rate was lower in the AFL, but it was still below-average and he exhibited no power. In summary, Harrison is a huge question mark with the bat.
It's encouraging to note, however, that Harrison has become a markedly better baserunner and defender, so much that he now projects as an above-average defender in center. There's still the possibility that Harrison grows a tad more and moves to a corner spot, but he'd still be a really good defender there because he has a cannon for an arm.
Outlook: A good kid with good makeup, Harrison is easily the most volatile prospect in Miami's system: he could be an all-star caliber contributor if he ever learns to hit breaking pitches, or he could be the next Keon Broxton: a power-hitting, strikeout-prone reserve outfielder. Barring injuries – which have been a factor in his slower-than-desirable development – Harrison should start the season in Triple-A New Orleans and could be an interesting September call-up candidate. ETA: 2019
---
Height: 6'4″
Weight: 170 lbs.
Fastball: 75/75
Slider: 55/55
Changeup: 40/55
Command: 45/50
Future Value/Risk: 50, High Risk
Guzman has always been a tantalizing talent, but he never combined that talent with results with the Astros, who signed him in the 2014 signing period. Then he was traded with Albert Abreu to the Yankees for Brian McCann. Guzman used the trade as motivation and went on to dominate for Short-Season Staten Island. His dominant showing for Staten Island made him a key cog in the mega-deal which landed the Yankees Giancarlo Stanton.
For all his struggles early in his career, he always had a plus-plus fastball. But only recently has he begun somewhat commanding the pitch, which has made it all the more tantalizing. His heater is dominant, sitting 96-98 and touching 103 on multiple occasions. Still, like the two other pitches he throws, he struggles with commanding it: the pitch can also get a little straight, particularly in later innings. His slider is currently above-average, but it played up in the lower minors because he faced undisciplined hitters. As he climbs the ladder, he needs to locate it better or hitters will learn to lay off. His changeup flashes above-average, but it's currently well behind his other pitches because he's hasn't thrown it enough in his career: he also changes his arm slot when throwing it, but that's fixable.
Guzman features a violent, max-effort delivery which generates premium arm speed. Some worry that the nature of his delivery will make him more prone to injuries, thus forcing a move to the bullpen as a dominant, multi-inning weapon. He's stayed relatively healthy to this point, however, and will hope to remain so in 2019.
Outlook: Barring injuries, guys with arms like Guzman's make it to the majors. Question is, what will his role be? Will he be a frontline starter if he gains command, or will he be a multi-inning bullpen weapon? Guzman will try to show he can be the former in 2019, a season that he'll likely start in Double-A Jacksonville. ETA: 2020
Check out the rest of our Top-5 Prospect Series | Toronto Blue Jays | Colorado Rockies | Minnesota Twins | Chicago Cubs | Texas Rangers | Atlanta Braves | Tampa Bay Rays | Arizona Diamondbacks | Cincinnati Reds | Kansas City Royals | Seattle Mariners
Questions and comments?
thescorecrowsports@gmail.com
Follow Us on Twitter @thescorecrow
Follow Us on Reddit at u/TheScorecrow
Follow Smith Brickner on Twitter @SmithBrickner
Main Credit Image: Embed from Getty Images