Carson Babbini | February 5th, 2019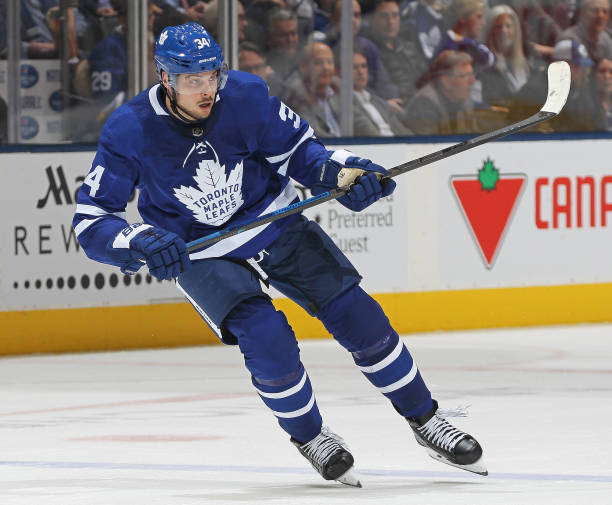 The Toronto Maple Leafs made a move that they decided to get done sooner rather than later today as the team announced that superstar center Auston Matthews has been signed to a five-year extension worth $58.178 million, paying Matthews $11.634 million per year. The contract will begin during the 2019-2020 season.
Matthews was the first overall pick by the Leafs in the 2016 NHL Draft. He would make an impact right away with 69 points, 40 goals and 29 assists, in his rookie campaign on his way to the Calder Trophy, and his first All-Star appearance. He would continue to be a strong player for the Maple Leafs with 63 points, 34 goals and 29 assists, in 62 games and make the All-Star Game once again. So far this year, Matthews has 46 points, 23 goals and 23 assists in 38 games after missing about a month of action with a shoulder injury. Once again however, Matthews has made it into the All-Star Game, this year as the captain of the Atlantic Division team. In his NHL career so far, Matthews has 178 points, 97 goals and 81 assists, in 182 games putting him at almost a point per game for his entire career.
The Maple Leafs needed to make this move, but doing it at this point took the hockey world a little bit by surprise. With this contract, Matthews will remain a Maple Leaf until he turns 26 years old, and the Leafs may look to keep him beyond that. Matthews' yearly value under this extension will put only Edmonton Oilers star Connor McDavid ahead of him in that category. Now that Matthews has his contract extended, the next piece of business for the Maple Leafs should be to get fellow young star Mitch Marner extended, but reports say that Marner will wait until the offseason before discussing any extension. But for now, the Maple Leafs can focus on chasing the Tampa Bay Lightning in the Atlantic Division, and chasing their dreams of a Stanley Cup.
Questions and comments?
Follow us on Twitter @thescorecrow
Follow us on Reddit u/TheScorecrow
Follow Carson Babbini on Twitter @cbabs1120
Main Image Credit:
Embed from Getty Images