Levon Satamian | February 4th, 2019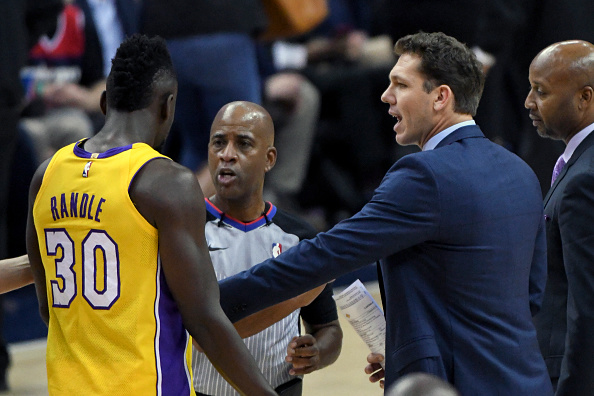 I have heard people discussing if Luke Walton should be fired and Mark Jackson or Jason Kidd hired to coach the Los Angeles Lakers. Let me start by saying this, the only coach who doesn't have a coaching job in the NBA now, that should be considered to take over Luke Walton's job, is Stan Van Gundy. The reason why I believe Van Gundy should have a job as a coach is that in the twelve seasons he was a coach, he had a 523-384 record, and he is born in California. So what better than to coach a team you grew up watching and hearing about constantly?
Kidd had a 192-205 record as a head coach in the regular season and playoffs combined. Jackson did an excellent job of improving his record when he was coaching the Golden State Warriors for three seasons. But, Jackson's best season was when the Warriors finished with a 51-31 record. Overall his coaching record was 121-109. When Warriors coach, Steve Kerr had back surgery and was recovering from that, Luke Walton took over the head coaching job and led the Warriors to a 39-4 record in the 2015-2016 season.
With that being said, Luke hasn't had the same success coaching the Lakers. But, he is young, and has been coaching a young team over the past two to three years. Looking at the numbers for Luke as the Lakers head coach, in the 2016-2017 season, the Lakers finished that season 26-56. In the 2017-2018 season, the Lakers finished that season 35-47. This season, they are currently 27-26. With all that being said, keep in mind, injuries have hurt the Lakers this season. When LeBron James was healthy, the Lakers were 4th place in the Western Conference. Once LeBron and Rajon Rondo got injured, Christmas Day, against the Warriors, Lakers began to struggle. That's normal when you lose two of your top players and leaders to injury.
Luke has a 127-133 record as a head coach. His rotations may not always be the best. Last season, he did not play Julius Randle much at the beginning of the season. As the season went on, Randle saw more playing time, and Lakers saw more wins. So, Luke learned from his mistake of not playing Randle who at the time, was the Lakers best player, as much as he should have, to start him in the second half of the season. As I mentioned earlier, Luke is young; he is 38 years old, he is still learning, no coach can be perfect at 38 years old, not even Gregg Popovich.
Fans need to have patience with Luke. I know it's frustrating when a player is doing well and Luke sits him down for longer than he should. However, that is part of the learning process. Luke's staff could use a change. Maybe the coaching staff around Luke is the problem. Jeanie Buss has publicly stated that Luke Walton's job is safe this season. Stating on Zach Lowe's The Lowe Post Podcast: "I can tell you right now, that everyone, Magic, [GM Rob Pelinka] myself, everyone in the organization is behind Luke… We are doing everything we can to make sure that Luke is successful in his job. That's our job… I think he is doing a terrific job. Given the injuries that we've had, it's a challenge, and people forget that he has had two of our starters taken away from him and they've won really important games on the road, proving what is possible even without LeBron… I think Luke has done an impressive job."
Earlier this season, Magic Johnson "admonished" Luke Walton, but things have seemed to settle down. As long as the Lakers are getting healthier and have LeBron James and Rajon Rondo healthy, they will be fine. Luke will figure out the rotations. I think that is his main problem. Once he figures out how to integrate all these players in the rotation, the Lakers will be in good shape.
After Saturday's loss against the Warriors in Golden State, Luke told the players that they need to start playing unselfishly, JaVale McGee and Michael Beasley did not take that too kindly, it became a heated exchange, but didn't escalate any further. McGee has not done much this past month. He should not be upset at Luke for telling the team to play unselfishly. The message may have been directed to JaVale and Beasley, but JaVale McGee should not challenge Luke Walton, because of his poor play as of late. However, Michael Beasley, when on the court, has been playing well. Not great, but not terrible. Beasley should see some more play time. Regardless, players should not act that way toward the coach. Stuff like this happens, but, it should not become a regular occurrence.
It is not easy to coach a team that has had a boatload of injuries and constant trade rumors surrounding the team. I think Luke Walton is the right man for the job. He will be fine as he gains more experience. Once he fixes the rotation after the February 7th trade deadline, the Lakers will be fine and should be back to a top four or top five seed in the Western Conference. Luke Walton should not be fired.
Questions and comments?
thescorecrowsports@gmail.com
Follow Us on Twitter @thescorecrow
Follow Us on Reddit at u/TheScorecrow
Follow Levon Satamian on Twitter @TheSportsNotes
Main Credit Image: Embed from Getty Images