Alex Kielar | February 3rd, 2019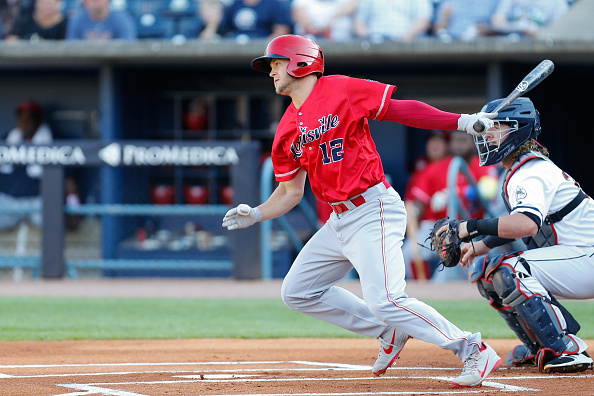 After five straight subpar seasons of under-.500 records following Dusty Baker's exit, the Reds are primed to make some noise in 2019. With a solid farm system, ranked No. 6 in all of baseball, 4 of their top 5 in MLB Pipeline's Top 100, they have the pieces to end their rebuild and contend for years to come.
Hit: 65
Power: 55
Run: 60
Arm: 60
Field: 60
Ranked as the No. 6 Prospect in all of baseball by MLB Pipeline, Nick Senzel was drafted No. 2 overall by the Reds in the 2016 Draft out of the University of Tennessee. Senzel was drafted as a 3rd baseman who could also see time at 2nd base and played every game in the minor leagues in the infield. He is also ranked by Baseball America as the second best 3rd baseman prospect coming into this season.
Rising to Triple-A in 2018 after one season at Single-A and another between High-A and Double-A, Senzel was having a very solid season at AAA Louisville in 2018, sitting at a .310 average, .887 OPS, 25 RBIs, and 8 stolen bases, before suffering a season-ending fractured right index finger in June.
Tearing through the Minor Leagues using his explosive bat wasn't surprising to see for Senzel as he was rated the top pure hitter in his draft class. His bat is definitely ready for the Show, and his defense at third is at a Major League level, but with Eugenio Suarez manning that position for the Reds, Senzel is blocked there. 2nd base is also blocked with Scooter Gennett having a lock on that position. So with this in mind, the Reds have started the focus for Senzel on learning and developing at center field. With his athleticism and speed, he could definitely be the answer the Reds need at center after non-tendering 5-year player Billy Hamilton and losing him to free agency.
With his consistent hard contact while using a great combination of strength and bat speed, and a low strikeout rate and drawing walks, Senzel has all the makings of a .300 hitter in the major leagues with the possibility of contending for batting titles. His ceiling is really high and the only real question is where in the field he will play. His bat is something the Reds want to get into their lineup as soon as possible, so if he shows an ability to play center field in Spring Training and his bat stays up to speed, Nick Senzel will start the 2019 season as the Cincinnati Reds' starting center fielder. ETA: 2019
Hit: 60
Power: 50
Run: 65
Arm: 45
Field: 55
Drafted only 33 picks after Nick Senzel in the 2016 Draft by the Reds out of high school in Georgia, Taylor Trammell had a similar decision to make as Kyler Murray had to make recently. In Trammell's case, a multi-sport athlete in high school had the chance to play football and baseball at Georgia Tech. But when the Reds signed him $3.2 million out of the draft, he decided to skip college and enter the farm system of the Reds.
The Reds decided to start Trammell at their advanced rookie level, Billings, in the Pioneer League, and he didn't disappoint at the higher level of competition. In 294 plate appearances, Trammell posted a .303 average, .795 OPS, drove in 34 runs, and stole 24 bases. With this impressive performance, the Braves moved him up to low-A Dayton for full-season ball in 2017 in the Midwest League, where he put up great numbers for the season overall. He put up a .281 average, .819 OPS, drove in 77 runs, stole 41 bases, and bashed 13 home runs in 570 plate appearances.
Trammell didn't have as a productive 2018 at High-A Daytona, but he still put up decent numbers, .277 average, .781 OPS, 41 RBIs, and 25 RBIs. Following this season, the Reds sent Trammell to the Arizona Fall League, and he fared very well against the best arms in the Minor Leagues, hitting .298 with 6 RBIs and 6 stolen bases over 92 plate appearances. In the All-Star Futures Game in 2018, Trammell won the MVP awards after a home run and a triple.
Trammell's ability to get on base will make him a stolen-base threat and will frustrate pitchers. His speed could potentially make him a center fielder in the future, however, with his below-average arm, he has more of the makings of a corner outfielder. The more he continues to improve and get stronger, he will keep moving up the ranks in the minor leagues, and ultimately making it to the Big Show within the next couple of seasons. ETA: 2020
Fastball: 80
Slider: 55
Changeup: 50
Control: 55
Hunter Greene was drafted 2nd overall in the 2017 draft out of Notre Dame High School in Sherman Oaks, California. Because of his strong, powerful arm, Greene received a bonus of $7.23 million upon signing.
In Greene's first full professional season in the Midwest league at Low-A Daytona, he struggled at times, pitching to a 4.48 ERA overall. The start of the season was where he had a lot of his lackluster starts, but as he moved on with the season, he got better each time out with an easy, repeatable delivery and fastball that reaches up to 102 mph. Through 18 games, Greene was sitting at a decent 4.48 ERA, had struck out 89 batters to that point, and his batting average against was .251. He had also had less than 3 walks per 9 innings, with his 89 strikeouts good for almost 12 strikeouts per 9.
Unfortunately for Greene and the Reds, he suffered an elbow strain in July that shut him down for the season, right as he was starting to get even better and improve. The Reds continue to watch Greene closely as he tries to come back from injury, and they will be very careful with him and obviously not rush his rehab. Elbow injuries are very common with pitchers and if he is not fully healthy and is overworked, he could risk worse injury and even end up needing Tommy John surgery.
With Greene's fastball, while it reaches high speeds, it doesn't have the life that great pitchers have that cause swing-and-misses. When he finishes the pitch down in the zone, he has good control over it, but when he tries to elevate the pitch, it just straightens out and hitters are able to get good contact. His secondary pitches in the slider and changeup are still works in progress, but they could become solid offerings to go with an above-average fastball.
Greene will not be ready for in-game action to start the 2019 season, but he isn't expected to have too long of a rehabilitation period, barring any setbacks along the way. Once Greene is able to return from injury, he will continue to develop most likely at the Single-A level and move up when the Reds see that he is ready for the next level. With still a few years left until he is major league ready, he needs to keep improving his command and control. As long as he can stay healthy, and he is able to make the improvements to his game that don't quite line up just yet, he has a chance to be a frontline starter in the future. ETA: 2021
Hit: 55
Power: 50
Run: 55
Arm: 55
Field: 55
Jonathan India was drafted 5th overall by the Reds in the 2018 Draft, three years after deciding to attend the University of Florida instead of signing with the Milwaukee Brewers, who drafted him out of high school in Florida.
India had two decent years at Florida before having a breakout year in his junior year, which out of nowhere put him into top-ten conversations. His approach at the plate is excellent, as he has a great eye, taking walks where he can, and is able to hit for average, which should translate to the Majors. During his junior year at Florida, India improved on finding better pitches to drive which points to him having average power moving forward. He was seen to be the best overall hitter in all of college baseball that season.
India's defense is impressive, where he has mostly played third base. He has great instincts and an above-average arm, along with high-level athleticism, which could translate to him playing other positions as well. Some scouts even said he could be a good shortstop, so the Reds have options for where they develop him more. Since third base is currently blocked, they may start grooming and developing him more for shortstop.
After being drafted, the Reds sent India out as a third baseman for his professional debut, but the Reds have tendencies to move players around to try different positions. Similar to what they are doing with Nick Senzel, the Reds will try moving India around a bit to develop him in multiple positions and get his bat and defense in the major leagues as soon as possible.
Depending on how quickly he can develop and what position the Reds want to play him at, India still has around 2-3 seasons left of seasoning before he can break into the Show. As long as he can keep improving his bat and power, and keep up his impressive defense at any of the positions, he has a chance to win several gold gloves and silver slugger awards, along with being a mainstay in the Reds lineup. ETA: 2021
Fastball: 70
Slider: 55
Changeup: 55
Control: 45
Tony Santillan was drafted in the second round, 49th overall, in the 2015 Draft out of Seguin High School in Texas. In rookie ball in the Arizona League, in his draft year, Santillan struggled, surrendering 11 earned runs and 11 walks in 19.2 innings pitched. He did, however, strike out 19 batters, which is one strength to his game.
In Santillan's first taste of full-season ball at Dayton, he struggled with a 6.82 ERA and surrendered 23 earned runs and 24 walks in 30.1 innings. But then in 2017, he started to figure things out and become one of the top arms in the Reds system. He finished the 2017 season leading the organization in both ERA and strikeouts and led several categories in the Midwest League.
Santillan's definitive best pitch is his plus fastball which touches upper-90's and has consistent movement. He made strides towards improving his changeup in 2017 that made it look like it will be an above-average pitch that only improves his arsenal. His focus more on his changeup did lessen his use on his slider, but it's still a plus pitch when he uses it.
Santillan started the 2018 season moving up to High-A Daytona, and in 86.2 innings through 15 games, he had an ERA of 2.70, struck out 73, and only walked 22. Following one last start at the beginning of July for Daytona, Santillan got called up to Double-A Pensacola and continued to perform at a pretty high level. In 62.1 innings through 11 games, he pitched to a 3.61 ERA, struck out 61, and only walked 16.
If Santillan can continue to perform at the level he performed at in 2018 and comes out of the gate in 2019, he may see some action in the big leagues. This will be dependent on if he can keep the control and command he had during 2018, as it was something he struggled with prior. But with such a low walk rate and the pure stuff that he has with a superb fastball leading the way, he should be a fast riser through the minors and eventually making the Show next year, if not late in 2019. ETA: Late 2019/2020
Check out the rest of our Top-5 Prospect Series | Toronto Blue Jays | Colorado Rockies | Minnesota Twins | Chicago Cubs | Texas Rangers | Atlanta Braves | Tampa Bay Rays | Arizona Diamondbacks
Questions and comments?
thescorecrowsports@gmail.com
Follow Us on Twitter @thescorecrow
Follow Us on Reddit at u/TheScorecrow
Follow Alex Kielar on Twitter @yankeescave7
Main Credit Image: Embed from Getty Images