Mike Fanelli | February 3rd, 2019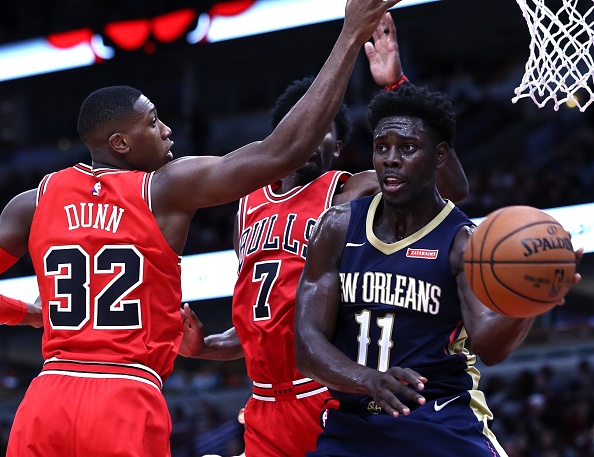 The NBA trade deadline is just around the corner and the rumor machine is on fire. While most teams won't make a deal, each will consider many options between now and the February 7th deadline. In a six-part series, I will provide one trade each NBA team should consider making between now and the deadline. The Southwest division is last and here is a trade each team should make. Be sure to check out the previous parts on the Pacific Division, Northwest division, Southeast Division, Central Division, and Atlantic Division.
Mavericks trade: Salah Mejri, future second round pick
Phoenix Suns trade: Jamal Crawford
Luka Doncic is running away with the rookie of the year award and with the Kristaps Porzingis trade, the Mavericks are determined to build a great one-two combo for the next decade. To get KP, the Mavericks had to give up Dennis Smith Jr. and while they got back Trey Burke, they should look to add a cheap veteran ball handler. Crawford may not be the player he once was, but he can still give the Mavericks a good 10-15 minutes a game, handling the ball while Doncic is on the bench. Mejri is averaging less than six minutes per game and is a free agent this summer.
Sources: Full players involved in Knicks/Mavericks deal:

Kristaps Porzingis, Tim Hardaway Jr., Courtney Lee, Trey Burke to Dallas.

Dennis Smith Jr., Wes Matthews, DeAndre Jordan and likely first-round draft pick compensation to New York.

— Shams Charania (@ShamsCharania) January 31, 2019
The Suns are tanking for the top pick and Crawford is likely to be bought out if he is not traded. The Suns will have zero use for Mejri, so expect him to be waived and likely end playing overseas next season. Crawford is averaging around 18 minutes per game but the Suns would be smart to let a younger player take those minutes and get back a second round pick for Crawford.
Rockets trade: Marquese Chriss, Isaiah Hartenstein, future second round pick
Memphis Grizzlies trade: Justin Holiday
Rockets general manager Daryl Morey is known for making big-time trades so if they trade for Anthony Davis, no one should be surprised but that is very unlikely. Instead, I think the Rockets pull off a smaller move to improve the starting small forward spot. The Atlanta Hawks' Kent Bazemore has been a named linked to the Rockets for a while but his bigger salary may prove to be a problem. Holiday is a cheaper version of Bazemore and the Rockets won't have to give up a first round pick to acquire him.
Again assuming the Grizzlies will blow up their team at the deadline, everyone other than rookie Jaren Jackson Jr. should be available in trade talks. The Grizzlies added Holiday earlier this season but the team has struggled since the trade. Holiday is a free agent this summer and the Grizzlies should trade him instead of losing him for nothing. Chriss has an expiring contract while Hartenstein is a former second round pick under contract for a few more seasons. Memphis traded their second round pick to get Holiday so as long as they can get a second round pick back, they should make the deal.
Memphis Grizzlies
Grizzlies trade: Chandler Parson, future first round pick (top 14 protected)
Hawks trade: Jeremy Lin, Dewayne Dedmon
This is the last trade involving the Grizzlies, I promise. If the Grizzlies do blow up the roster just about everyone is available in trade talks. However, the Grizzlies would love to get rid of Parson's contract either way as he is owed $25 million dollars next season, but no team will take it on without a first round pick attached to it. If the Grizzlies decide the future draft pick is worth not paying Parson's next season, they should make the move. The problem is the ownership group may be split on this, making it unlikely it happens.
The Hawks are one of the worst teams in the league and pushing for the top draft pick. Other than John Collins and Trae Young, every other Hawks' player is available for the right price. Both Lin and Dedmon are free agents this summer and could seek a buyout agreement if they are not traded. If the Hawks could flip their two expiring contracts into a future first round pick, they should make the deal. Even if it means they have to pay Parson's $25 million dollars next season to sit in the trainers' room.
Pelicans trade: Jrue Holiday, Nikola Mirotic
Philadelphia 76ers trade: Wilson Chandler, Markelle Fultz, Mike Muscala, Justin Patton, Zhaire Smith, future first round pick (top seven protect), second round pick
Sorry, no Anthony Davis trade here. I think the odds he gets traded before the deadline are close to zero. However, if Davis is dealt, the Pelicans should deal everyone else on the roster for draft picks and young players. Holiday is still owed over $106 million dollars and Mirotic has an expiring contract. If the Pelicans can get a bunch of young players and picks for Davis, that would be a good start. Then if they can get back a few expiring contracts, two former first round picks and two draft picks for two players not in the long-term plans, that would completely jump-start the rebuilding process.
The 76ers need to make a decision before the deadline; is it time to pull the plug on Fultz? If the answer is yes, they should use him and his solid size contract to add shooting. Reportedly Fultz's trade value is low around the league but to a rebuilding Pelicans team, he's worth kicking the tires on. If the 76ers can build a starting line up of Ben Simmons, Holiday, Jimmy Butler, Mirotic and Joel Embiid with J.J. Redick as the sixth man, shouldn't the 76ers be the favorite in the Eastern Conference?
Spurs trade: Pau Gasol, Raptors first round pick
Pelicans trade: Nikola Mirotic
This trade isn't anywhere near as exciting as the last one but Mirotic should be a hot name to keep track of between now and the deadline. Gasol is easily playing a career-low 13.6 minutes per game and is out of the rotation. The Spurs are one of the best three-point shooting teams in the league but you can never have too many shooters. Adding Mirotic, who is shooting 37% from three this season, would give the Spurs more size up front next to LaMarcus Aldridge. With Mirotic in the starting line up it would allow Rudy Gay and DeMar DeRozan to go back to their natural positions.
The Pelicans know they will have to trade Anthony Davis sooner or later and either way, Mirotic won't be part of the rebuilding process. With that in mind, if the Pelicans can add a late first round pick for a player they won't resign this summer, they should pull the trigger. Gasol is owed $16 million dollars next season but only $6.7 million of it is guaranteed. The Pelicans can either just release Gasol and save $9.3 million dollars or possibly trade him to a team looking to open up cap space for free agency. The Pelicans are facing a long rebuilding process, so the more draft picks the better.
Questions and comments?
thescorecrowsports@gmail.com
Follow Us on Twitter @thescorecrow
Follow Us on Reddit at u/TheScorecrow
Follow Mike Fanelli on Twitter @mikesports22 Main Credit Image: Embed from Getty Images