Andrew Harbaugh | February 3rd, 2019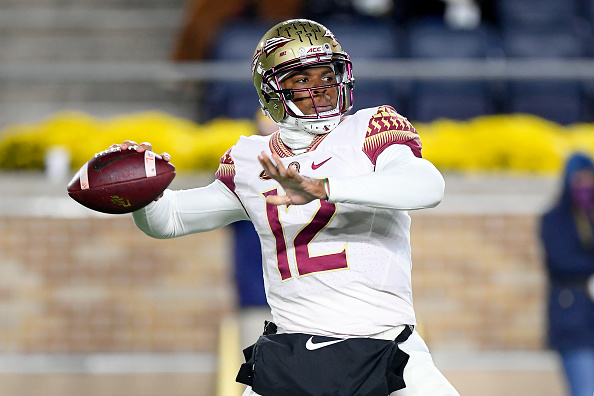 It was announced Sunday that Florida State quarterback Deondre Francois had been dismissed from the team due to allegations of abuse from his former girlfriend. Reports of abuse are dated back to January of 2018 but Saturday evening a video emerged that didn't show either Francois or his girlfriend at the time. Rather it was just audio of the two allegedly arguing.
It seems that was finally enough for Florida State Head Coach Willie Taggart who confirmed he had been dismissed earlier Sunday and also released a statement. In the statement, he said "As we build a new culture and foundation for FSU Football, we have high expectations for all of our student-athletes and we will not shy away from those high standards of conduct. We are moving forward as a program."
People in the football community including, Senior Bowl Director Jim Nagy, have been vocal in describing and discussing the character red flags surrounding Francois. A source also informed me that he was not very well-liked by teammates at FSU either which also contributed to the overall toxic environment Francois created on the team and campus.
He also had an incident back in April of 2018 where police raided his apartment as part of a marijuana investigation. According to USA Today, police found baggies with residue and found stuff consistent with packaging and selling of the substance.
He had been rumored to be in the transfer portal but he shot that down weeks ago and then announced in January he was returning for his redshirt senior year at Tallahassee.
Where Francois goes from here is hard to predict. He could do a year at a junior college like many embattled quarterbacks before him such as Malik Henry and De'Andre Johnson, only time will tell ultimately.
Questions and comments?
thescorecrowsports@gmail.com
Follow Us on Twitter @thescorecrow
Follow Us on Reddit at u/TheScorecrow
Follow Andrew Harbaugh on Twitter @DHH_Mandrew 2
Main Credit Image: Embed from Getty Images