Logan Whaley | February 2nd, 2019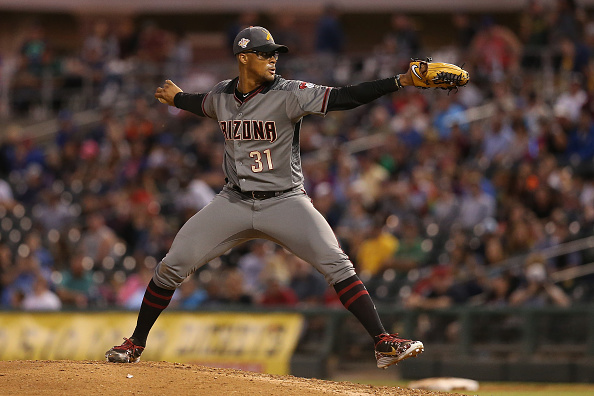 Keeping it fresh in the National League West, we transition our series to the desert, to dive into the Arizona Diamondbacks' top five prospects. Contrary to an assumed belief, the D'backs system is loaded with solid talent, led by a young right-handed pitcher looking to lead his team over the next decade.
Kicking things off is Jon Duplantier, and Arizona's number one prospect in the teams top thirty. Duplantier was selected in the third round in the 2016 amateur player draft. Beginning his professional career that same year, Duplantier quickly worked his way through the low minor league levels.
Last season, Duplantier began the year at rookie-level ball, pitching seven innings over a two-start stretch to a 1.29 ERA and a 33.3% strikeout rate. Shortly after, Duplantier was in Double-A, making 14 starts. In those starts, he posted a 5-1, 2.69 ERA line, with still a 24.9% strikeout rate, 3.50 FIP, and a 3.63 xFIP.
Duplantier suffered a shoulder injury at the beginning of his professional career, leading the Diamondbacks to play it safe with slow development for the big right-handed starter. Duplantier carries a four-pitch arsenal consisting of a fastball, slider, curveball, and changeup. His best pitch is his fastball, with a biting action to it causing it to run away from the hitter.
The slider is coming around too. It was added as brand new last season and is working its way as one of his better pitches. Regarding his control, Duplantier is respectable and does possess the command to be a successful major league pitcher. Alternatively, one who is in the zone, at least. Expect Jon Duplantier to make a move into the show this year.
Concerning overall playing time, Pavin Smith could effectually be called up sooner rather than later. Ranked as the team's number four overall prospect, Smith lands at number two for a couple of different reasons.
When the Diamondbacks traded All-Star first baseman Paul Goldschmidt to the St. Louis Cardinals during this offseason, Smith was probably following the entire move while surreptitiously licking his chops, eager for his opportunity.
Smith was drafted by the Diamondbacks in 2017, out of Virginia. He has right enough size to play first base and has provided some power in parts of his young career to this point. He began his career at Low A in 2017, eventually working his way to High A after just 51 games in the league.
At High A, Smith found his power stroke as he mashed 11 home runs over 120 games and just 439 plate appearances. Smith went from zero home runs in 2017 to 11 home runs in 2018. Smith possesses top of the hard-line power as it was good to see last year. He triple-slashed a respectable .255/.343/.392.
Smith does have a high contact rate, as his strikeout rate sits at just 12.9% over the scope of those one-hundred plus games. Smith is someone to get excited about.
Watching Alek Thomas play baseball you pick up on a certain swag he carries. It is fun for the game and Diamondbacks fans should be excited for the future lefty to arrive in the show. For Thomas, he graduated high school this year and was selected in the second round of the amateur draft.
In 2018, Thomas excelled in his first professional season. In the Rookie league, Thomas triple-slashed .333/.395/.463 across 271 plate appearances. He also stole 12 bases and produced just three errors across 471.2 innings in the outfield.
As a possible first round pick, the Diamondbacks seemingly lucked out landing Thomas in the second round and signing him to a $1.2 million deal, which was just above pick value. Regarding his strengths, Thomas has many.
He barrels the ball exceptionally well, with the ability to drive the ball to all parts of the field. Thomas' bat speed is also remarkable, especially for an 18-year-old. Power is not his strongest asset. However, it is strong enough where he could produce double-digit home runs each season.
In the field, Thomas has a strong arm with an impressive instinct to track the ball. He is suited for a corner outfield position, as Thomas does possess above-average speed but may not be fast enough to play in center field. He has been compared to that of Andrew Benintendi and Jacoby Ellsbury, which should get fans excited for his future.
I am not as high on Widener as the Diamondbacks brass is. However, he is still an excellent pitcher who has experience as both a starter and as a reliever. Widener got the call in the 12th round of the 2016 Amateur player draft, by the New York Yankees. He became part of Arizona after a three-team trade in 2018 and had worked his way to Double-A.
His first year in pro ball, Widener pitched out of the bullpen, finishing with a zero ERA in 15.1 innings in Low A. Widener managed to earn the promotion to High A in the same season, this time throwing 23 innings and finishing with an insanely low 0.78 ERA.
The beginning of 2017 became Widener's first exposure as a starting pitcher. He responded admirably, however. In High A his first year as a starter, Widener made 27 starts, finishing with a 3.38 ERA, 3.05 FIP, and 3.45 xFIP. Quality production first time through the rotation.
Last season, Widener picked it up immensely. Across his 25 starts in Double-A, Widener pitched to a ridiculous 2.75 ERA, striking out hitters at a 31.9% clip. He kept his FIP under three, at 2.99 and carried an xFIP of slightly above three at 3.05.
Widener possesses a three pitch mix, consisting of a high fastball, an above-average slider, and a changeup which continues to become better and better. The velocity is also there, ranging from 93-97 mph, while his slider sits in the mid-'80s. Widener will need to continue his improvement on the control too. Decreasing his walk rate will continue to bring positive results.
Watch for Taylor Widener this season, Diamondbacks fans.
Putting Daulton Varsho at number five on this list is precisely where the Diamondbacks rank his value. Varsho may be the most excitable prospect Arizona selected in the 2017 Amateur player draft. He heard his name called in the second round of competitive balance selections.
Varsho resembles the type of prospect who Kyle Schwarber was when was drafted. Similar situations with catching and the ability to play the outfield, Varsho is a good athlete who can provide value.
Varsho carries his bat smoothly through the zone with a strong finish. He is a patient hitter who is smart with the strike zone who could transform into a plus hitter as his career continues to progress.
Concerns with Varsho include whether or not his defense is good enough for him to stick at catcher long term. His strength behind the plate comes from his ability to block balls in the dirt. Unfortunately, his arm strength needs improvement, so it remains to be seen where he finishes.
Daulton Varsho is someone to keep an eye on, primarily as a catcher currently. He posted a respectable triple-slash of .286/.363/.451 with a solid .362 wOBA and above-average 121 wRC+ at High A last season. Let's hope he can continue to impress as he works his way to the show.
Check out the rest of our Top-5 Prospect Series | Toronto Blue Jays | Colorado Rockies | Minnesota Twins | Chicago Cubs | Texas Rangers | Atlanta Braves | Tampa Bay Rays
Questions and comments?
thescorecrowsports@gmail.com
Follow Us on Twitter @thescorecrow
Follow Us on Reddit at u/TheScorecrow
Follow Logan Whaley on Twitter @game7magic
Main Credit Image: Embed from Getty Images