Nickolas Loza | February 2nd, 2019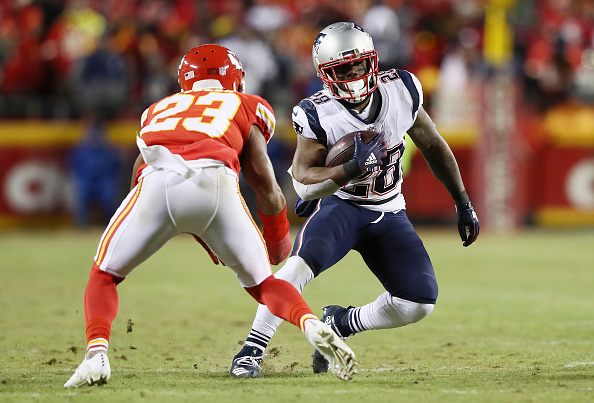 James White is one of New Englands many running backs it's had during the dynasty of the 2000's, but he may be one of the best to step into the backfield during this dynasty. In this article we'll go over why he's the Patriots X-Factor and why he's one of the most versatile backs playing right now.
Pure Running Abilities
He's not that great of a runner, he averaged 4.5 yards per carry in 2018, and only started 3 games, but when he is helped by FB James Develin and the Patriots underrated offensive line which only allowed 3 QB Hits in the playoffs according to Pro Football Reference. He's dangerous and hard to tackle in the open field when he's sprung by the Pats O-Line and FB James Develin's excellent blocking abilities.
Receiving Abilities
This is where he gets most of his touches from every game, he caught 87 passes this year coming out of the backfield, and he also scored 7 touchdowns when he caught the ball. He has to compete with Rob Gronkowski, Julian Edelman, and Phillip Dorsett for targets, and he managed to lead the team in receptions. He's one of the NFL's most looked over running backs because he has to share the backfield with Sony Michel and others.
Super Bowl LIII's Potential X-Factor
He may be one of the Patriots most important players, because when he is off, the Patriots are off, and when he is on, the Patriots are dialed in. My prediction is he rushes for 32 yards on 7 attempts, and catches 11 passes for 109 yards and a touchdown. He has a rich history in Super Bowls, compiling 29 touches for 205 yards and 4 TD's in the 2 games that he has played in. He's definitely a player to keep an eye on during the Super Bowl.
Concluding Thoughts
In conclusion, James White could be a huge X-Factor in Super Bowl LIII, as he is one of the Patriots most important players on offense. It's key that he has a good game if the Patriots want to defeat the Rams for a second time in the Super Bowl.
Hope you all enjoyed!!
Questions and comments?
thescorecrowsports@gmail.com
Follow Us on Twitter @thescorecrow
Follow Us on Reddit at u/TheScorecrow
Main Credit Image: Embed from Getty Images