Kit Shepard | February 1st, 2019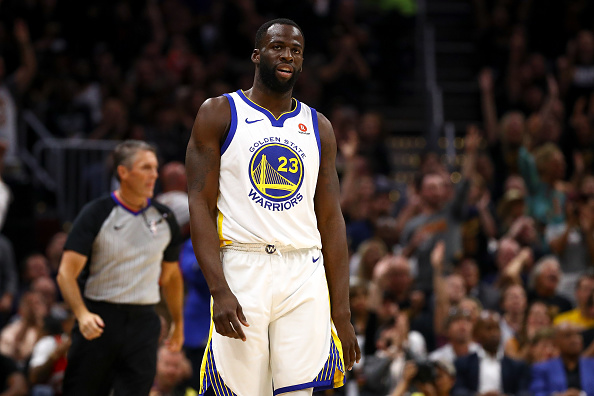 The season was already over. Prior to last night, the Golden State Warriors had been even more dominant (if that's possible) than usual over the last month, going 13-1 in their last 14 games. Stephen Curry is a making a charge for MVP. Kevin Durant has been so unerringly consistent that the NBA world seems to have forgotten that he is having another sensational year. Klay Thompson can score 50 points while barely dribbling the basketball. They perhaps lacked a little depth and were vulnerable at center, but the small matter of DeMarcus Cousins' return has solved that issue emphatically. In short, Golden State seemed a lock for the title.
Yet just a couple of months ago, the Warriors looked anything but dominant, appearing as vulnerable as we have ever seen them since their dynasty began. An early-season loss in overtime to the Los Angeles Clippers was nothing to fret about, but the drama in its aftermath was. Durant, unhappy that Draymond Green did not pass him the ball in the dying seconds of the fourth quarter, had some choice words for his team-mate after the game. Green, never one to shy away from confrontation, responded by challenging Durant over his upcoming free agency, daring him to leave Golden State who, according to Draymond, would be just fine without the two-time reigning Finals MVP. Green was suspended by the organization for a game, and the normally imperious Dubs would lose four of their next five encounters.
"WE DON'T NEED YOU. WE WON WITHOUT YOU. LEAVE"

Read the full story from @ChrisBHaynes: https://t.co/D1DCYH6OAo pic.twitter.com/7uskyZenmk

— Ballislife.com (@Ballislife) November 16, 2018
https://platform.twitter.com/widgets.js
It is a credit to Golden State that they have been able to put this chaos behind them in recent weeks but, no matter how strong their team spirit may seem at present, the words that Green allegedly spewed at KD cannot be totally forgotten. The Warriors have done a phenomenal job to paper the cracks and embark on their current tear, but their chemistry lies on very fragile foundations. And yesterday evening, a sudden Woj Bomb may have blown them apart.
The team has acquired guard Dennis Smith Jr., center DeAndre Jordan, guard/forward Wesley Matthews and two future first round draft picks from Dallas in exchange for forward Kristaps Porzingis, and guards Tim Hardaway Jr., Trey Burke and Courtney Lee.

— NEW YORK KNICKS (@nyknicks) January 31, 2019
The Kristaps Porzingis trade came out of nowhere. In an instant, the New York Knicks offloaded their best young player in a generation, and his new employers, the Dallas Mavericks, established their intended path for the next decade, with Porzingis set to be paired with teenage sensation Luka Doncic to form a youthful duo of Eastern Europeans. While the prospect of a Doncic-Porzingis partnership is exciting, this trade has major implications beyond this. New York has taken on Matthews and Jordan, two expiring contracts, as well as sophomore Smith, who still has a way to go on his rookie deal. Moreover, they have managed to get Hardaway and Lee of their books, who will be paid over $30 million together next season. Kristaps too may be in line for a big deal this summer as he becomes a restricted free agent, although there are reports suggesting this may not be the case.
Why would the Knicks give up Porzingis, a player teeming with potential, for a couple of expirings and another young player with a lower ceiling than the Latvian? Simple. It clears plenty of cap space. They believe they are a destination for top free agents. They believe they can get Kevin Durant.
KD to the Knicks is not a new rumor, just ask the Warriors. The thought of Durant swapping the west coast for east was enough to spark his feud with Green, and enough to turn briefly one of the NBA's greatest ever teams into a shadow of themselves. Now, the Knicks have made their strategy for this summer very clear. With around $70 million of cap space potentially available after this season, they have the ability to dish out two max contracts in the summer. As baffling as the New York ownership can be, you do not clear the decks like this unless you are relatively confident that you can acquire the league's best, and Durant certainly fits into this category.
Regardless, free agency is still months away, and there is nearly half of an NBA season to get through first. This is a fact that seems to have been forgotten this week, following Anthony Davis' trade request and last night's blockbuster trade. The focus on what will happen this summer and beyond was a reflection of the Warriors' incredible recent performances, which seemingly had made the outcome of the 2018-19 NBA Finals a foregone conclusion.
That could have changed now. The Knicks' latest move could open up a few old wounds in the Warriors' locker room, as the possibility of Durant's impending exit re-emerges. Sure, only Green originally saw this as a big enough issue to confront KD, but whatever happened on that fateful night at Staples Center was enough to briefly derail Golden State's season.
Arguments happen in all walks of life, but that feud between two NBA stars was more than simply your average falling out. Be it David West's comments on the internal battles the Warriors endured last season, or Curry having to go to extreme lengths to placate Green after the incident with Durant, there have been warning signs, both before and after the flashpoint, that there is the potential for trouble in paradise.
Golden State has swept the drama under the rug, but it will always be there. Draymond's verbal onslaught on KD was not a one-off, isolated event, it was merely a moment were the tensions that had been built up over two years of immense pressure, criticism, and then speculation reached boiling point. The pair may have forgiven each other, but they will not have forgotten.
Now, the Porzingis trade has thrust Durant's future back under the microscope. The Warriors locker room will be forced to cope with a familiar sense of uncertainty and tension, as the prospect of losing KD, and the memories of the mayhem it has already caused, begin to linger again.
It is too early to say whether this will have any impact on Golden State's on-court performances, but it's worth noting that they lost last night's game against the Philadelphia 76ers, played just hours after the Porzingis news, ending an eleven-game winning streak. For what it's worth, Green also got a technical for arguing with the referee, and had a minor spat with Cousins:
#NBA Draymond Green ⚔️DeMarcus Cousinspic.twitter.com/2OGHZq7SVS

— Eurohoops Türkiye (@EurohoopsTR) 1 February 2019
One loss in January is not a cause for concern, and the dispute between Cousins and Green was more to do with their collective frustration at the referees rather than any personal conflict. The absence of Thompson last night was also not ideal, but if this is all it takes to unsettle and beat the Warriors, then they will be far from impregnable come playoff time. Even a slight slip from their recent soaring heights may lead to those problems that they were forced to suppress earlier this campaign returning. For one week, and admittedly it was only one week, Golden State's season was utterly derailed, and there is a small chance that it could happen again.
From the neutral's perspective, one can only hope that all is not well behind the scenes in Oakland. With the addition of Cousins, the Warriors, in the eyes of many, cannot be beaten in a playoff series by another team. However, the Durant-Green feud revealed to us that Golden State can defeat themselves, and as fans desperate for an entertaining and competitive postseason, we can only hope that the Knicks' substantial cap space is enough to trigger even the most minor hint of self-destruction. Perhaps it is too optimistic to believe that the Kristaps Porzingis trade may harm the Warriors as early as this season, but it is not outside the realms of possibility. Watch this space.
Questions and comments?
thescorecrowsports@gmail.com
Follow Us on Twitter @thescorecrow
Follow Us on Reddit at u/TheScorecrow
Follow Kit Shepard on Twitter @KitShepard Main Credit Image: Embed from Getty Images