Mike Fanelli | January 31st, 2019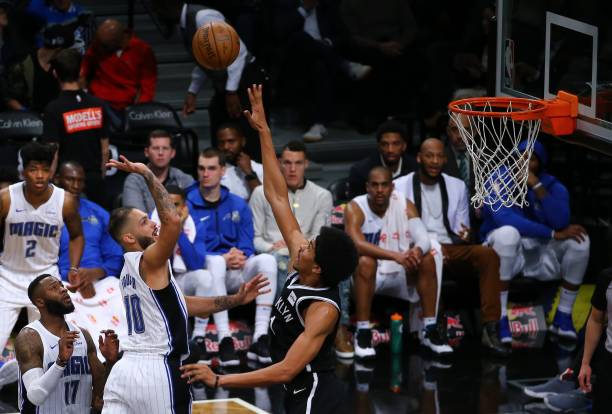 The NBA trade deadline is just around the corner and the rumor machine is on fire. While most teams won't make a deal, each will consider many options between now and the February 7th deadline. In a six-part series, I will provide one trade each NBA team should consider making between now and the trade deadline. The Southeast division is up next and here is a trade each team should make. Be sure to check out the previous parts on the Central Division and the Atlantic Division.
Hawks trade Kent Bazemore
Rockets trade Brandon Knight, a first-round pick (top 14 protected)
The Hawks have several players available in trade talks, and outside of John Collins and Trae Young, everyone can be had for the right price. Of the available players, Bazemore is the most likely to be dealt because of his ability to defend and shoot the three. With the Hawks tanking, they would be better off giving those minutes to Taurean Prince or rookie Kevin Huerter. Knight is under contract for next season and has failed to get minutes this season but if it comes with a first-round pick, the Hawks should make the deal.
I had mentioned this possible trade in my Rockets trade scenarios a few weeks back and I still like this one. The Rockets have solved their big man depth issue but are still looking for an upgrade at small forward. Whether it's Danuel House or James Ennis starting, it's the weakest spot in the starting line up for the Rockets. Bazemore is a career 36% three point shooter and he will fit in perfectly with the Rockets.
Hornets trade Marvin Williams, Michael Kidd-Gilchrist, a first-round pick (top seven protected), a second-round pick
Cavaliers trade Kevin Love
With Kemba Walker being an unrestricted free agent this summer, the Hornets are at a crossroad. They can either trade Walker to jump-start the rebuilding process or build around him. Assuming the Hornets feel Walker is a franchise centerpiece, they need to add a second star player. Love isn't an ideal option, but they have zero chance at getting Anthony Davis and have no projected cap space this summer. Adding Love would give Walker a running mate and likely get him to resign this summer.
When the Cavaliers gave Love a contract extension this past summer, many were surprised but I still think Love will get traded within the next year. The Cavaliers are in the running for the top draft pick and should trade off any veteran that can net them more draft picks. Williams and Kidd-Gilchrist both have player options they should exercise for next season but both could be used at next year's trade deadline as teams will want to clear cap space for the 2020 offseason.
Heat trade Tyler Johnson
Bulls trade Jabari Parker
This may not be the kind of the trade Heat fans want to see but it makes sense. The Heat are in the luxury tax and have Justise Winslow's extension kicking in next season. Johnson has been a good player but his $19.2 million dollar player option for next season is too much for the Heat to pay for a role player. Getting back Parker's contract with a team option for next season would allow the Heat to release him and lighten their tax bill or maybe trade him in a bigger deal for a star player.
Clearly, the Parker signing hasn't worked in Chicago and his option won't be picked up for next season, so whatever the Bulls can get for him would be a positive return. The Bulls won't be a tax-paying team next year and can afford to overpay for Johnson. Adding a combo guard who can score off the bench behind Zach LaVine would be a nice addition, especially since Johnson's deal expires after next season.
Magic trade Evan Fournier
76ers trade Markelle Fultz, Justin Patton, Amir Johnson
The Magic are fighting for the final playoff spot in the east but I don't think they will make it this year. If the Magic decide to be sellers at the deadline, Fournier and Nikola Vucevic are the two most likely guys to be dealt. Currently, D.J. Augustin is starting at point guard, but he isn't the long term answer. Fournier is just a one-way player and doesn't provide much else other than scoring. While Fultz may already be a bust, the Magic have failed to fix the point guard spot and should kick the tires on him.
It might be time for the 76ers to use Fultz in order to add some shooting around Ben Simmons. Fultz is a 41% career shooter while Fournier is a 37% career shooter from three. Fournier is under contract for next season and has a player option for the following season. The 76ers played their best basketball last season after they added Marco Belinelli and Ersan Ilyasova during the buy-out season. The 76ers need to add shooting and scoring, and Fournier can do both.
Wizards trade Ian Mahinmi, Dwight Howard, a first-round pick (top seven protected), a second-round pick
Cavaliers trade Kevin Love
If I was running the Wizards I would trade anybody on the roster not named Bradley Beal for the right price and tank for a top draft pick. However, owner Ted Leonsis has publicly said the Wizards won't tank. Assuming the Wizards are aggressive at the trade deadline, they should try to add another star to pair with Beal and John Wall for next season. Love is the only star player the Wizards have a chance at landing and while the fit may not be the best, this team needs to make a move to energize the fan base.
Ted Leonsis: Wizards 'will never, ever tank' https://t.co/1bME1JFpIK

— Dan Steinberg (@dcsportsbog) January 17, 2019
Much like with the Hornets trade, the Cavaliers shouldn't plan on keeping Love around long term and if they can net themselves a lottery first-round pick, they should pull the trigger. The more draft picks the Cavaliers can gather, the faster they can jump-start their rebuilding project. Both Mahinmi and Howard have player options for next season that they both will likely pick up, but they could be used at next year's trade deadline as teams will want to clear cap space for the 2020 offseason. The only thing the Cavaliers need to figure out is whether the Hornets or Wizards will have a better draft pick this year.
Questions and comments?
thescorecrowsports@gmail.com
Follow Us on Twitter @thescorecrow
Follow Us on Reddit at u/TheScorecrow
Follow Mike Fanelli on Twitter @mikesports22 Main Credit Image:Embed from Getty Images