Logan Whaley | January 30th, 2019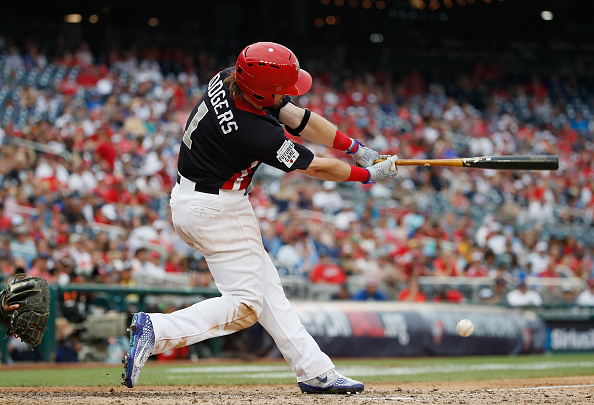 A prospect can be like a fine wine. The hope is they get better with age. Thankfully, for the Colorado Rockies, there is a plethora of talent which exists waiting in the wings for their shot to make their mark in the Show. As the team continues to build on their success from the previous two seasons, there is an ambiance of hope for the future of the franchise.
Kicking off Colorado's top prospects is Brendan Rodgers. Rodgers comes in on the MLB Top 100 Prospect list at number ten and is the teams' number one prospect by a wide margin.
Colorado landed the strong right-handed hitter out of Lake Mary High School in 2015, selecting Rodgers number three overall. Setting a franchise record in signing bonus money, Rodgers landed a $5.5 million contract. Since stepping foot in pro ball, Rodgers has dominated the competition.
The thing you notice when you watch Rodgers is his bat speed. Rodgers displays a crispness in his swing, generating great speed through the strike zone in effortless fashion. With any contact, the ball seems to jump off his bat with great velocity.
Regarding his glove work, Rodgers does an excellent job in his tracking and shows an above-average ability to move through the zone to make plays on balls resulting in quick picks. Rodgers has a good arm and makes accurate throws with ease.
Quickly working his way through the minor league system, Rodgers earned a promotion to Triple-A in 2018. Unfortunately, it was not great as he triple-slashed .232/.264/.290 with 0 home runs and 5 RBI in 19 games for the Isotopes. That being said, Rodgers is still just 22 years old and will earn the opportunity to make waves as spring training approaches.
The Rockies recently experienced the departure of now former All-Star and gold-glover D.J. LeMahieu as he signed a two-year deal with the New York Yankees. It leaves the door wide open for Rodgers to earn the opportunity moving forward. Rockies fans should be excited at the prospect of their infield.
The second guy on the list for the Rockies is none other than Colton Welker. Unbeknownst to many in the public eye outside of a few, Welker has been nothing short of impressive through his meteoric rise over the past couple of seasons.
Welker was selected by Colorado in the 2016 amateur draft, in the fourth round at number four overall. To land Rodgers and Welker in back to back years is undoubtedly impressive. For Welker, he soon could find a grand opportunity fall into his hands.
When watching Welker, the first thing to notice is his long swing. He is not necessarily going to be a guy who drives the ball out of the park, however, can make great contact. Shortening his swing could prove to be what it takes to develop more power moving forward.
His fielding is also smooth, as his glove to hand transition comes off without a hitch. Welker shows his ability to make strong throws from the hot corner, leading many to believe he will be the real deal when he gets to the major leagues.
Last season, Welker moved from Low-A to High-A. There, Welker triple-slashed .333/.383 /.489 with a 132 wRC+ and a substantial increase in power, doubling his home run total from six to thirteen in a single season. Welker became a patient hitter as well, increasing his walk rate from 6.5% to 8.3%. He also stole five bags.
As the Rockies find themselves in a bit of a pickle in attempting to lock Arenado up long term, the team is still trying to finalize a deal to avoid arbitration. If the Rockies can continue to progress Welker at a pretty steady rate, Welker could potentially be ready sooner than later. An idea to trade Arenado did not go over well, however, with the talent level at third base, it would be difficult to pass up at the right price.
Our third name on the list is unusual as he did find time at the major league level in 2018, and excelled relatively well all things considered. Garrett Hampson is a third-round pick by the Rockies, selected in the 2016 amateur draft.
As Hampson worked his way through the system over the past couple of years, his dream came true last year as he spent 24 games with the major league club. When it was all said and done, Hampson triple-slashed a respectable .275/.396/.400 with 4 RBI and a slightly above-average 108 wRC+.
Hampson has displayed a quick bat through the zone and a strong ability to read pitches. While he is not a huge power guy, he mashed through Triple-A and hopes to earn a serious look come spring. Rodgers is likely not going to receive the call immediately, leaving Hampson to fill the void left by LeMahieu until Rodgers is adequately suited to supplant. Look for Hampson to make an impact for Colorado in 2019.
Understanding where he sits on MLB's 'Colorado Rockies top 30 prospect list', you may think seeing Grant Lavigne at number four on this list may be too generous, especially for a guy who has just a single season of professional baseball under his belt.
Nevertheless, Lavigne is someone to watch out for in the upcoming years, most notably due to the fact the Rockies are in dire need of a franchise-type leader opposite Nolan Arenado. Enter Grant Lavigne.
Lavigne was selected in this past year's amateur draft, as the seventh pick in the CBA round at number 42 overall, out of Bedford High School, in New Hampshire. Assuredly, Lavigne did not let anyone down with his strong performance at the Rookie level.
In 59 games, Lavigne triple-slashed .350/.477/.519 with a ridiculous .450 wOBA and 160 wRC+. He made a mockery out of the competition and looks to continue to build heading into the 2019 season.
Lavigne possesses a very consistent swing through the strike zone, with good strong hands and above-average speed. Batting from the left side, Lavigne drives the ball with purpose as it leaps off his bat with impressive ease for a kid straight from high school. While Lavigne still has a few years (estimated time of arrival is 2022), for a team in dire need of a strong first baseman, do not fret for Grant Lavigne is here.
Last but not least is Tyler Nevin, son of former big leaguer Phil Nevin, who in the prime of his career with the San Diego Padres was excellent. The younger Nevin is no different or at least has not shown signs of dropping his production off. Like father like son, right?
Nevin currently sits as the Rockies number eleven prospect, according to MLB. That being said, he has had a solid start to his young career and will continue only to get better.
Drafted by Colorado in the 2015 amateur draft, Nevin's professional career began relatively below par. However, in the few years, Nevin has upped his game. Working his way through the system, Nevin finished at High A at the end of last season. At season's end, he carried a triple-slash of .328/.386/.503 and posted a well above-average .392 wOBA and 141 wRC+
Nevin also seemingly found his power stroke, driving 13 balls over the wall, a career high from the season before. He possesses a good amount of raw power which he can hopefully transfer to games as he makes his ascent. Concerning speed, Nevin has shown a good deal of speed, evidenced from his double-digit stolen bases just a year ago.
As the bat continues to progress, Nevin could still use some polishing with his glove. Unfortunately for him, Nevin made six errors in 67 games last season at first base and needed to continue working towards a smoother transition. Nevin is a guy who feels like a bit of a wild card however with some hard work and continuing to produce, Nevin may also hear his name called in a few years, if not sooner. Get excited for Tyler Nevin.
Questions and comments?
thescorecrowsports@gmail.com
Follow Us on Twitter @thescorecrow
Follow Us on Reddit at u/TheScorecrow
Follow Logan Whaley on Twitter @game7magic
Main Credit Image: Embed from Getty Images