Carson Babbini | January 29th, 2019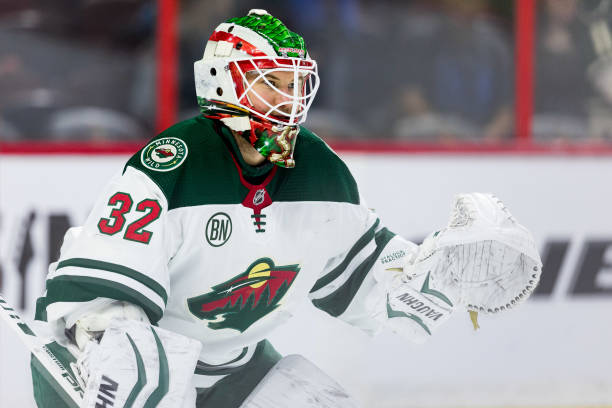 The Minnesota Wild have locked up their backup goaltender as the team announced today that they have signed Alex Stalock to a three-year extension worth $2.355 million. The contract will keep Stalock in a Wild jersey through the 2021-2022 season, and pay him $950,000 in 2019-20, $700,000 in 2020-21, and $750,000 in 2021-22.
Stalock joined the Wild during the 2016 offseason signing as a free agent. He spent most of his first year with the Iowa Wild in the AHL before becoming the backup goalie to Devan Dubnyk in 2017. So far this year with the Wild, Stalock has had a down year with a 6-5 record in 14 games, 10 of those being starts. He currently holds an 89% save percentage and a 2.92 goals against average. In his three years with the Wild, Stalock has a 17-16-4 record with a 90.7% save percentage and a 2.80 goals against average. In Stalock's eight years in the NHL, he has a 41-35-11 record with a 90.9% save percentage and a 2.55 goals against average.
This extension makes sure that the Wild have that veteran presence for the long term until their big goaltending prospect Kaapo Kahkonen, who the Wild see as their goaltender of the future, is ready to go to the NHL. The timetable for his debut may not be too far off with him putting up great numbers for the Iowa Wild in the AHL and the fact that he was named to this year's AHL All-Star Game. Now, the pressure may be on Stalock to produce after having a rocky start to the year in his limited action, only playing in 14 games so far this year. It will be up to him to prove that he still can be that number two goalie that he has been in the past for not only the Wild but for his five years he spent with the San Jose Sharks. But for now, Stalock is in the State of Hockey for the long haul.
Questions and comments?
Follow us on Twitter @thescorecrow
Follow us on Reddit u/TheScorecrow
Follow Carson Babbini on Twitter @cbabs1120
Main Image Credit:
Embed from Getty Images