Pranav Ramasubramanian | January 27th, 2019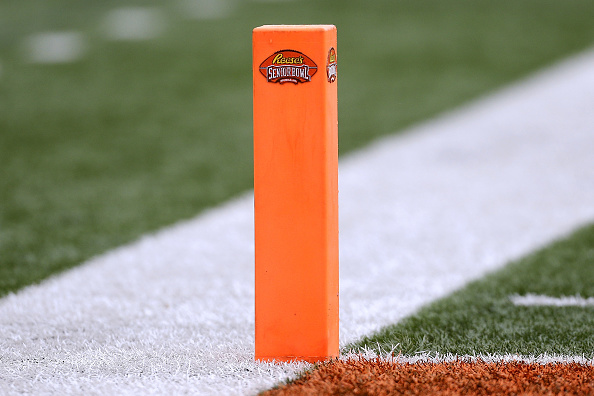 The North beat the South 34-24 in the Senior Bowl. Here are some postgame interviews I collected from some of the players, who played in the game.
Question: In the game, you had a lot of plays where you moved out of the pocket to hit a lot your successful passes, was that part of the gameplan or was that something you improvised on?
Answer: I think a little bit of both like you said we had a lot of those things in the gameplan with boots and nakeds and stuff like that, but a couple of times I did get outside of the pocket, couple of times I held the ball probably a little longer than I should've and that hurt me, but it's all growth and all learning and like you said we had a good plan going in.
Question: Why do you think you were so successful today?
Answer: I just trusted these coaches and I played a different position and I played some deep safety that I was familiar with, but I mean I think I just kept grinding, I really wanted to master technique and understand the playbook completely just so I could play fast here. I don't want to be on the field as someone who doesn't know where to go and I don't want to be someone who is a liability on the field so I came in with a mindset I want to compete and I want to win every single rep and then that was just my mindset. I lost on the deep ball and I mean as a DB you got to have a short memory I learned from it and kept moving and then I'm just very grateful to make a play to help us seal the win.
Question: It looked like you guys were having a lot of fun today? What was that about?
Answer: We been having fun all week we have been competing I mean I'm surrounded by a great group of guys, great group of coaches and I mean it's been a tremendous experience.
Question: What seemed to click with the wide receivers, it seemed like you were really clicking when you were throwing the ball today, threw some longs balls and short balls what clicked in terms of chemistry with the receivers?
Answer: No I mean obviously you know we get out here for three days and we practice for three days, but you know you get to practice with these guys and obviously they are great players so they make up for a lot of things that take time and so we really just tried to get the ball to those guys and let them make plays.
Question: From this week, what areas do you think you were most successful in?
Answer: Running the ball just running the ball hard making good decisive cuts and knowing the playbook along with running routes.
Question: If you had a preference what NFL team would you want to be on?
Answer: Any team that wants to give me an opportunity I don't got an exact team that you know I want to die-hard go to just a team that will give me an opportunity.
Question: What do you think was the biggest takeaway from this week?
Answer: Overall we just worked hard as a unit, you know and we prepared well and practiced well and each coach on each team got to do their research on individual players and you know our main goal was to compete and play hard and I think we did that.
Question: What was the biggest thing you learned from Jon Gruden this week?
Answer: I would say probably going back to verbiage and play-calling and just being a confident quarterback and talking with your eyes and talking with your hands just really when you get into a huddle they are going to want to see a confident quarterback and want a guy that's gonna blurt out the play and just really be confident with everything he does and I think that was one of the main things we focused on this week.
Question: If there was one word to describe your performance today what word would you use?
Answer: Determined
Question: There are a lot of good quarterbacks on the other side as you have mentioned, what did you guys do in terms of preparing for those quarterbacks?
Answer: I mean we just knew we had to go get pressure on the quarterback because to disrupt quarterbacks you have to get pressure that's what we had to do.
Question: Any areas where you think you can improve before the combine?
Answer: Oh yeah man it's a lot of stuff I can work on you feel me I'm not the best as far as in the league yet, there's a lot of stuff I can work on, but it's on the team whoever takes me to help me work on that.
Question: Practicing with all those other defensive guys, what was that feeling like?
Answer: I mean it was amazing, you got those guys playing at a high level so you know when you get a bunch of guys playing at a high level all together I mean its competition and its enjoyment. I met a lot of different people, different teammates this whole time and now basically we like friends like that's just how it works when you are a team so I mean I'm glad I was able to have this opportunity.
The interview will be available on my YouTube channel, Hitting Hard and Tough with Pranav, later today. Jim Nagy and Rob Lehocky did a great job arranging these interviews post game and it went by very smooth. The players also seemed to be very open to answering questions. The press had a hand it in as well as they selected who they wanted to talk to up in the press box prior to interviewing the players so the players wouldn't be wasting their time.
Questions and comments?
thescorecrowsports@gmail.com
Follow Us on Twitter @thescorecrow
Follow Us on Reddit at u/TheScorecrow
Follow Pranav on Twitter @PranavRama1
Main Credit Image: Embed from Getty Images