Smith Brickner | January 26th, 2019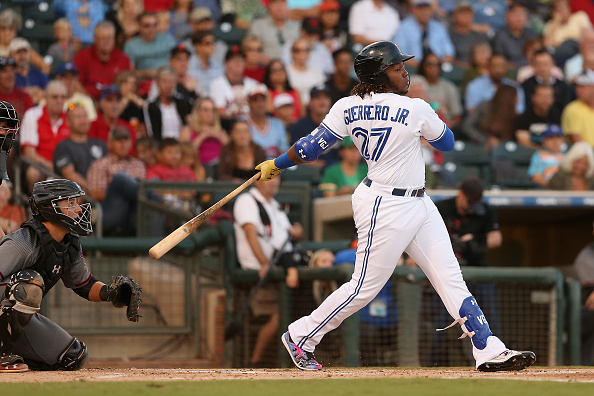 With the hype behind prospects at an all-time high, let's look at some of the most exciting names in the game.
It's rare when one prospect can have such an immense impact on an organization. In recent years though, we've seen a spike in prospects making a large impact at the big league level. Ronald Acuña, the consensus top prospect heading into 2018, set the world on fire with his Rookie of the Year campaign while leading the Atlanta Braves back to the playoffs for the first time in years. In many ways, Acuña epitomizes what roughly half the league is trying to do: develop their own stars through the draft and international free agency, even if it means sacrificing major league wins in the short term.
As I alluded to in my first article, teams are becoming more cognizant of risk than ever before, and one of the ways to limit risk is by limiting your contractual obligations. So instead of paying quality veteran players, teams are more interested in promoting prospects who might not be major-league-ready. Such a change in organizational philosophy has led to fans' interest in prospects to increase.
To prove my point, I researched the number of rookies who were called up annually since 2008. In '08, 238 rookies made their debuts, per Baseball Cube. At the time, 238 was uncharacteristically high. In 2018, that number jumped to 298. The 60 player difference between 2008 and 2018 equates to almost 2.5 teams-worth of players. Now, there is a multitude of reasons why a prospect could be promoted; injuries and trades to name a few. But the overall trend of rookie debuts has increased significantly. As rookie debuts continue to rise, the importance of prospects will only continue to rise as well.
Now that we've set the stage, let's get into the rankings:
---
Hitting: 55/75
Game Power: 70/70
Raw Power: 80/80
Speed: 35/30
Fielding: 40/45
Arm: 60/60
Future Value/Risk: 70, Low Risk
It's pretty rare to see the son of a Hall-of-Fame player more hyped as a prospect than his father was, but Guerrero Jr. takes that mantle with definitiveness. Signed as an international free agent with the Blue Jays in July 2015 for $3.9 million, the big-bodied 3B has dominated at every stop in the minor leagues. Oh, and he's only 19.
Guerrero Jr.'s calling card is his bat, which scouts say is one of the best – if not the best they've ever seen. Watching him take batting practice is a sight to see, but what's most impressive is how he translates that easy power into game action. Like his father, he has tremendous bat-to-ball skills and sprays the ball all over the field thanks to elite hand-eye coordination and bat speed. But unlike his father – who had a famous tendency to swing at pitches out of the zone – Guerrero Jr. is a disciplined hitter who will take walks. He's so disciplined, he drew 5 more walks than strikeouts in 30 Triple-A games last season.
As is the case with every player, there are some real concerns scouts have. Because he's 19 and already stocky, some wonder if he'll be able to stick at 3rd, where he's an average defender, at best. He certainly has the bat and above-average arm to profile in a corner outfield spot, but I envision Vlad moving to 1st long-term. His weight will always be monitored closely, but he's displayed a good work ethic thus far.
Outlook: Scouts tend to be conservative in their reports and stay away from MVP or All-Star outlooks, but Vlad is an exception. He has an All-Star bat right now and arguably should've been promoted last season. Guerrero Jr. will be in the major leagues by May, at the latest. Look for him to rake immediately. ETA: 2019
---
Fastball: 70/70
Curveball: 60/60
Slider: 55/60
Changeup: 50/55
Cutter: 45/55
Command: 45/55
Future Value/Risk: 65, Low Risk
Drafted 17th overall by the Astros in the 2016 draft, Whitley has been at the forefront of countless trade rumors along with fellow top Astros prospect, Kyle Tucker. Whitley and Jesus Luzardo are the best pitching prospects in baseball, and Alex Reyes would be in the conversation if he could stay on the diamond. But Whitley tops Luzardo and Reyes thanks to his track record of durability and constant improvement, both on and off the field.
Whitley's arsenal screams frontline starter: he features a 93-98 MPH fastball with elite downward plane and pairs it with a plus curveball with true 12-6 movement. As if that wasn't enough, he has three more potentially-plus pitches: both his slider and changeup can make hitters look silly when he's on. But his cutter is a bit inconsistent for my liking.
For all the positives, there were some legitimate concerns when he was in high school about how his big frame and mechanics would hold up in professional ball. There were also real doubts about his work ethic prior to being drafted, as he was often in poor shape for showcases. But from his senior year onward, Whitley has been relentless is refining his craft, and it has paid huge dividends. Now, he's a solid strike thrower and has transformed his body.
Outlook: Whitley was suspended for 50 games to begin 2018 because of a drug use violation, but he's learned from that experience and uses it as motivation. Whitley absolutely has frontline stuff, and he's shown enough improvement with his command since becoming a pro to get evaluators really excited. His fast rise, combined with the Astros' shortage of starting pitching options, could make him a rotation option as early as this season. ETA: 2019
3. Eloy Jimenez – OF, Chicago White Sox
Hitting: 55/55
Game Power: 65/70
Raw Power: 70/75
Speed: 45/40
Fielding: 40/40
Arm: 50/50
Future Value/Risk: 65, Low-Moderate Risk
While not quite the hitter Vlad is, Eloy is still a potential impact bat at the big league level. Acquired from the Cubs in a July 2017 trade along with Dylan Cease, Matt Rose and Bryant Flete for Jose Quintana, Jimenez has raised his stock considerably in his year-plus with the White Sox organization. What scouts viewed as potential in previous seasons has begun to materialize through tangible results.
He ended 2018 slashing .355/.384/.577 in 55 Triple-A games, nothing short of elite. I was a bit more skeptical than most of Jimenez's hit tool prior to 2018, where I would've graded him at 40/50. I'm grading him higher now because he showed legitimate improvement in his ability to make contact with the ball, doing so without reducing his power output. His power has always been there thanks to lightning-quick bat speed, and I have little doubt it will translate to 30 homers annually.
Eloy's defensive outlook, however, is much less certain. Opposite his hit tool, Jimenez's arm has retrogressed pretty substantially. His fringy instincts in the corner outfield don't help matters, though U.S. Cellular Field could hide some of his defensive deficiencies. Perhaps Chicago tries him out in the outfield, but the safer bet is a 1B/DH role.
Outlook: We've seen how baseball has devalued bat-only corner players in recent years. Alas, this will force Jimenez to rake at the plate, but that's something he should have no problem doing. Like Vlad, there was a case for Eloy to be called up last season, but the White Sox weren't competing and likely wanted to preserve his service time. It'd be shocking if Eloy wasn't in the South Side by May. ETA: 2019
---
4. Jo Adell – OF, Los Angeles Angels
Hitting: 35/55
Game Power: 50/65
Raw Power: 65/70
Speed: 55/50
Fielding: 45/55
Arm: 65/65
Future Value/Risk: 65, Moderate Risk
The 10th overall pick in the 2017 draft, Adell was the 2017 Kentucky Gatorade Player of the Year after he mashed 25 home runs his senior year. Despite the plus-plus power potential he displayed before the draft, scouts were concerned about his hit tool, noting the long and violent motion of his swing and his proneness to whiff. Gone are many of those concerns, as Adell has not only displayed a tremendous work ethic, but he's shown an incredible ability to rapidly implement new elements into his game. Consequently, he's one of the fastest risers in all the minor leagues.
Adell's future hit tool was probably a 45 prior to being drafted, but it's trending more towards the 50-55 range now thanks to consecutive seasons of spraying the ball around the field. He still has some swing-and-miss in his game and is still a bit pull-heavy with his power, but it's overall pretty good for someone who generates such easy power.
Some scouts believe that with further physical maturation, the physically-gifted center fielder will move from there to a corner spot, where he could be an excellent defender with a plus arm. However, I think he can stick in center thanks to his plus range and above-average speed: with that above-average speed also comes 15-20 stolen bases potential.
Outlook: If Adell sticks in centerfield like I think he can, his value increases immensely. Adell's floor is that of a power-hitting, very good corner defender who could pop 30 or more homers a year. Adell is a year or so away from the bigs, but he could either become a high-quality safety blanket in the event Mike Trout departs through trade or free agency, or he could complement an extended Trout and Justin Upton to form one of the elite outfield trios in the game. ETA: 2020
Hitting: 45/60
Game Power: 50/55
Raw Power: 55/60
Speed: 55/50
Fielding: 55/60
Arm: 65/65
Future Value/Risk: 65, Moderate Risk
Before being shipped out in one of the most lopsided trades in recent memory, Tatis Jr. signed with the White Sox in 2015 for $700,000 as an unheralded international free agent. Tatis Jr., the son of former big leaguer Fernando Tatis, has continued to impress evaluators year-after-year in the minors, showing very few flaws in his game. For all the talent Guerrero Jr. has, one could argue Tatis Jr. could impact a game in more ways.
Tatis Jr. has some of the most impressive bat speed of any middle infielder in the minors. Combine that with the natural loft in his swing, and he might have 20-30 home run potential, depending on how much he fills out over time (he's still pretty wiry). The one reason I'm a bit more pessimistic about Tatis Jr. than others is the plate discipline: to put it bluntly, he struggles badly in this regard and has shown little-to-no improvement over his three seasons in the minors. Granted, he played last year in Double-A as a 19-year old, but he was nonetheless 5th worst in the Texas League with a 27.7% strikeout rate. If there's a positive spin to this, it's that he showed an ability to put the ball in play against fastballs. Thus, his gains in making contact off breaking pitches will be a key development for the Padres to monitor, both this season and beyond.
Defensively, he reminds of Manny Machado in that he can play an average-or-better shortstop, but he could also be a highlight-reel 3rd baseman with a plus-plus arm. If he fills out like most evaluators predict, he'll most likely transition to 3rd unless the Padres get someone to play there. His light-footedness also helps him on the base paths, where his above-average speed and good instincts could lead to 15-20 stolen bags annually.
Outlook: Tatis Jr. has some incredibly flashy tools and has very few weaknesses in his game, but for him to take the next step in his development, he must learn to lay off breaking pitches out of the zone. If he doesn't improve in that regard, we're looking at a 20-20 SS/3B who strikes out 25% of the time. No doubt, there's great value to be had there, but improved plate discipline could lead to multiple All-Star appearances and MVP-caliber seasons. ETA: 2020
Questions and comments?
thescorecrowsports@gmail.com
Follow Us on Twitter @thescorecrow
Follow Us on Reddit at u/TheScorecrow
Follow Smith Brickner on Twitter @SmithBrickner
Main Credit Image: Embed from Getty Images