Mike Quintero | January 24th, 2019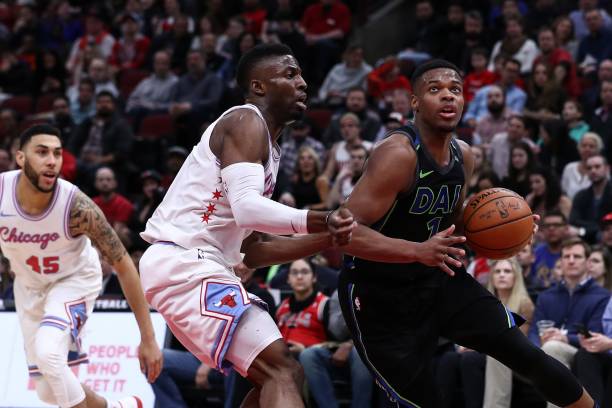 After a drama-filled week for the Dallas Mavericks' fans, Dennis Smith Jr. checked back in for the first time in five games last night against the Clippers. As few had predicited, DSJ didnt miss a beat in his return, going for 17 PTS, 8 REB,  and 4 AST. Although reports have suggested tenison has been high in the locker room, Smith Jr. showed no evidence to validate those beliefs, orchestrating the Dallas offense with regularity. Head coach Rick Carlisle had high praise for the 21-year-old upon his return: "I thought he was great, just really tremendous, and everything we needed: speed, attacking, shot-making, a couple of amazing assists," Carlisle said. "It has been tough for him, being away from his teammates, and he played one of his best games since he has been here."
As great as it was to see Dennis back on the court, the Slovenian centerpiece of this Mavs offense had another off night, going 5-15 to put him at only 30 percent (14-46) over the last three games. It turns out Luka Doncic is human. This recent slump is a new sight for Mavs fans and NBA fandom as a whole. Luka has been lighting up social media this year, with highlights as well as viral clips with kids and cameramen alike. Not to mention, he has more All-Star votes than Stephen Curry, Kevin Durant, James Harden, Russell Westbrook, and others. Safe to say the hype overshadowed the struggles that come with having a teenager on an NBA team. One being attitude. Dallas media has voiced concern about Doncic and his attitude on the court. The latest viral moment coming last night, after Luka air-balled a buzzer beater to end the half, he promptly disrespected the hell out of my city and ripped his jersey in half. While he may display the emotional range of a grounded teenager, he possesses the IQ of a ten-year vet, making it much easier for me as a fan to allow him time to grow.
Luka is hot right now, so, given the opportunity, a piece will be written about what cereal he decided to eat this morning, if he were gracious enough to give a quote. That being said, there's plenty of articles being published focusing on his maturity and where that puts the Mavericks, blah blah blah. Clickbait. Only speculation, with no data to support.
Doncic will be fine. Honestly, he could be subscribed to Logan Paul on Youtube and I still wouldn't have a problem with his level of maturity.
Look for Luka to bounce back soon and finish this season with high honors.
Questions and comments?
thescorecrowsports@gmail.com
Follow Us on Twitter @thescorecrow
Follow Us on Reddit at u/TheScorecrow
Follow Mike Quintero on Twitter @MikeInFortWorth
Main Credit Image:Embed from Getty Images