Coach Treal | January 24th, 2019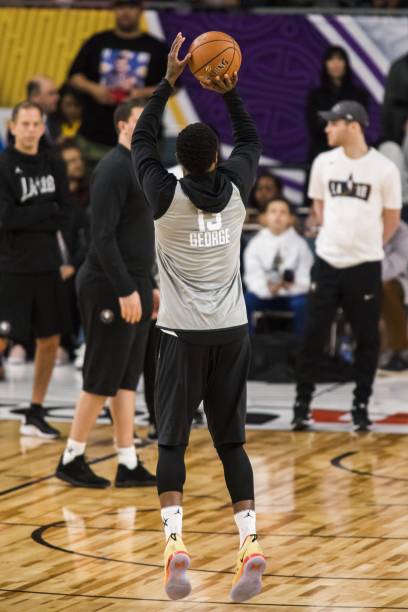 Welcome Back, Hoop heads! We take a deeper look into some of the must-see games this week. Stay tuned! With Monday having a full slate of games on MLK Day, I wanted to take a look at some of the other most intriguing matchups this week as we are close to the end of January and are gearing up toward the All-Star break in a few weeks.
Bucks vs. Thunder
What a match-up we have here with these two teams matching up, with MVP candidate Giannis Antetokounmpo leading the Milwaukee Bucks, who are currently the #1 seed in the Eastern Conference, and posting an incredible stat line of 26ppg, 12rpg & 6apg. The Oklahoma City Thunder, on the other hand, currently sit in the 3rd spot in the Western Conference and have relied heavily on defense to help them win games as they currently are ranked 4th in the entire league. Still leading the way is Russell Westbrook, who is doing the unimaginable for the third time by averaging another triple-double thus far this season, which, when you think about it, is one of the most historic accomplishments in all of sports. But this is not a one-man team, as Paul George has made a case to be included in not only the MVP conversation but also the Defensive Player of the Year race as well. PG13 seems to be more comfortable in his second season in OKC and his number shows that as well with him putting up 27ppg, 8rpg along with 4apg.
Spurs vs. 76ers
The Philadelphia 76ers are in the midst of a tough stretch of games versus all teams with winning records and hope to come out on the other side of this with an improved record and more importantly a better sense of what direction they are heading as a team. Philly is currently sitting in the 3rd spot in the east and will need big games from their big three but Jimmy Butler is day to day with a wrist injury, and that will be something to monitor along with the back issues that Joel Embiid has been battling through. Ben Simmons is putting up 16ppg, 9rpg & 8apg. I am still waiting on Ben to be more assertive on the offensive end of the floor; he is beyond reluctant to shoot a shot outside of the paint and will need to add a jumper sooner rather than later if this team look to take the next step. On the San Antonio Spurs' side of things, they are a well-oiled machine, and after early season injuries and overall bad play with so many new faces, Coach Gregg Popovich took some time to get familiar with his new roster. They have figured it out and now sit in the 6th seed right – back in the hunt, led by the play of LaMarcus Aldridge and DeMar Derozan. Both are averaging 20ppg and could be in the All-Star Game next month.
Timberwolves vs. Jazz
In January, you really don't feel like games are must-wins, but in the Western Conference playoff picture for these two teams outside the top eight seeds, this is a game that both ball clubs need to win. It took Derrick Rose hitting a shot at the end of regulation to help the Minnesota Timberwolves win their game versus the Suns and help interim coach Ryan Saunders improve to 3-3 since taking over. They are still currently two games under the .500 mark at 22-24 and will need Karl-Anthony Towns to continue his stellar play. Andrew Wiggins is averaging 17ppg on the season, but they need more production from a player who signed a max extension, on both ends of the floor. The Utah Jazz are just a game outside the 8th seed and are 8-2 over their last 10 games. They have played much better basketball, led by second-year player Donovan Mitchell, who has found his rhythm as of late, averaging over 28ppg along with 5apg during this 10 game stretch.
Warriors vs. Celtics
This was a matchup that, before the season, many people, myself included, felt was an NBA Finals preview. But that narrative has changed with the Boston Celtics currently in the 5th seed at 28-18. Currently on a 3 game winning streak they hope to have finally found their way on the court. Kyrie Irving, over the last five games, is averaging 29 points along with 9 assists per game. From the Golden State Warriors' side of things, the defending champs welcomed DeMarcus Cousins to the lineup last week and he posted 14 points in his Dubs debut. Something to continue to watch is how the Warriors adjust to adding Boogie into things and how they long it takes for them to build chemistry as we enter the second half of the season.
Hit me up on Twitter about what League Pass Games you are most excited for this week!
Questions and comments?
thescorecrowsports@gmail.com
Follow Us on Twitter @thescorecrow
Follow Us on Reddit at TheScorecrow
Follow Coach Treal on Twitter @CoachTreal2
Main Credit Image:Embed from Getty Images