Andrew Harbaugh | January 23rd, 2019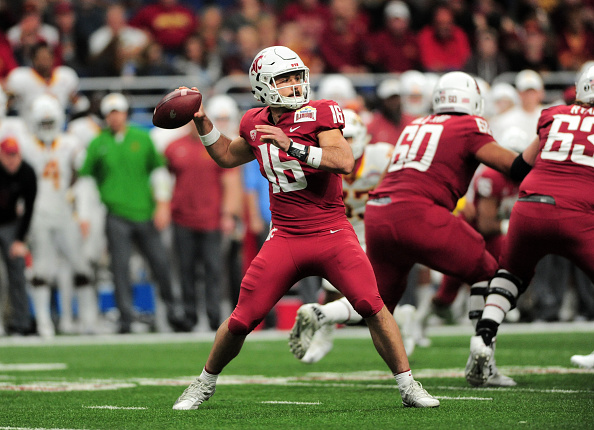 Yesterday was media day down in Mobile for the Senior Bowl players and media. We were able to hear from all the players and coaches that are down here and even the director of the event Jim Nagy. I personally got to talk to a handful of players and asked all sorts of questions and got a wide range of answers back.
This article will not be one complete interview but rather a bunch of questions and answers I got from the players I spoke to.
Question
" Is there anything your specifically looking to work on down here this week?"
Response from Wes Hills, RB, Slippery Rock
"My game as a game a whole man, your game can always improve. I'm trying to become a professional and in doing that you need to master your craft and become fundamentally sound so I will always be in a coaches ear till that is done."
Question
" How crazy was the atmosphere for when College GameDay came to visit Pullman this year?"
Response from Gardner Minshew II, QB, Washington State
" The guys from GameDay said that was the best GameDay ever, we have had the old crimson flag flying for over 200 straight episodes so when it came to Pullman it was unbelievable. They had to declare a state of emergency just to handle all the fans that came out, that just speaks to how amazing our fans are."
Question
" Some teams aren't utilizing the fullback anymore but some teams still are such as Cleveland who was even running the wishbone this year, does it excite you to see that teams still believe in that position despite how it may seem?"
Response from Alec Ingold, FB, Wisconsin
" Yeah I love smash mouth football and you see 3 out of the 4 championship teams had fullbacks as a main part of the offense. Seeing good fullback play is awesome because it means good running back play and then good offense, big plays its just a blast."
Question
" Was there a team defensively or even a player that really pushed you to your max to bring the best you out?"
Response from Trace McSorley, QB, Penn State
" As a defense playing Michigan every year is something with there exotic fronts and how they try to confuse you and break down protection…they try to make you wait a second longer to let guys from there front seven attack you. Coach Don Brown is a big reason for that with the talent and scheme they have."
Question
" Anyone in college really push you when you played against them?"
Response from Jakobi Meyers, WR, NC State
" Wake Forest DB Cameron Glenn and especially Derwin James there are so many good DBs in the ACC."
Question
"How did it feel to own Georgia when you played them? Your team didn't get the result but how did it feel to come down from a small school and have such a dominant game?"
Response from Andy Isabella, WR, UMass
" For sure teams want to see you play against the best, they don't care where you go but to play that way against a top-level team I'm sure caught some eyes."
Lots of fun players and can't thank them enough for their valuable time. We will have more Senior Bowl previews and breakdowns as the week closes out so be sure to be on the hunt for those!
Questions and comments?
thescorecrowsports@gmail.com
Follow Us on Twitter @thescorecrow
Follow Us on Reddit at u/TheScorecrow
Follow Andrew Harbaugh on Twitter @DHH_Mandrew 2
Main Credit Image: Embed from Getty Images