Josh Elias | January 22nd, 2019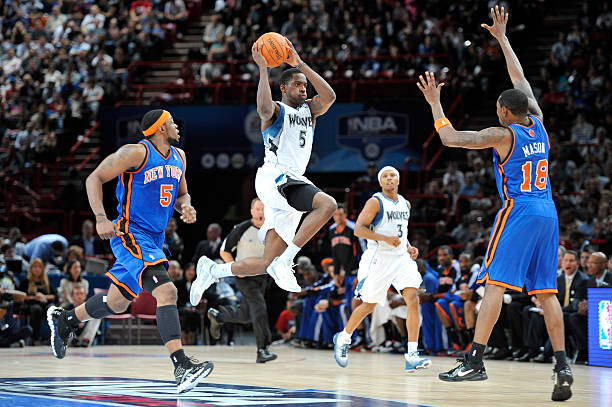 If there's one thing that's talked about more than anything when it comes to basketball, it's 'the GOAT question'. Who is the greatest of all-time? Almost everyone says either LeBron James or Michael Jordan, with the occasional instance of Wilt Chamberlain, Bill Russell, Kareem Abdul-Jabbar, Larry Bird, Magic Johnson, or Kobe Bryant.
The point guard and shooting guard versions of this article are a good introduction to this concept of the evolution of each position and how important it really is.
The Average Small Forward: '50s to Now
Today let's take a look at the evolution of the small forward position.
Then Moses [Malone] and the elders of Philadelphia charged all the people
as follows: Keep the entire lead that I have led you to today.

Erving 27:1
When the NBA began, the small forward was a primitive and redundant position. It basically was just a shooting guard within the frontcourt, and most teams just gave the position to their second best wing player, regardless of height or skillset.
Here's an example of how bad the position was at first: the average win shares of a small forward during the fifties was literally less than half that of the average power forward or center at the same time.
For statistical context, they averaged eight and five, and their shooting percentage (like everyone else's then) was terrible, at just 36%.
As teams realized to the fullest extent how great teams led by superstar bigs like Wilt Chamberlain and Bill Russell could be, they began in the sixties to retrain star college power forwards (at least the more athletic ones) to the small forward position to have three big guys starting.
That led to Elgin Baylor, Billy Cunningham, and Gus Johnson, and to the position quickly going from the least important position to one of the most.
Points and rebounds went up to 12 and six – a supercharged increase – plus efficiency increased more than any other position, touching on a 7% increase from the '50s to the '60s.
The seventies saw the position take a step back though. Most of the biggest-name and best small forward left for the ABA instead, because of the rules and the league were more suited for their specific kind of athletic, show-stopping scoring.
So, without the efforts of Connie Hawkins, Rick Barry, Julius Erving, or George Gervin, points decreased by one and rebounds saw a significant drop, while assists did slightly go up.
We saw steals introduced at 0.8 on average and blocks at 0.3.
But the '80s saw the stars come back! (Well, technically it happened in the summer of 1976, but oh well.)
Erving still had a little bit of his prime left, and Larry Bird, Dominique Wilkins, and James Worthy, and scoring legends Alex English, Adrian Dantley, and Kiki Vandeweghe were all starring for their teams.
The position was stacked with talent on almost every team.
As threes came into existence, they, of course, shot a substandard 28%, on three attempts for every ten games. Players came extremely close to hitting half their shots though, and these small forwards weren't afraid to battle in the post.
Most of them were forced into matchups against the other team's main scorer, because most of them were the main scorer, and, partially as a byproduct of that, partially the increased percentages, and partially as simply a change in the level of physicality in the big men, rebounds kept going down – barely over four a night at this point.
In the nineties, three-pointers became pretty important for small forwards. In fact, they actually quintupled from the previous decade's number of attempts, plus they were now shooting them at a 35% clip.
Points, rebounds, and assists all slightly went down, and steals and blocks went a bit up. As they spent more time outside on the perimeter, field goal percentages went down, but the increase in three-pointers meant that, while in a bit smaller role, they actually became slightly more efficient.
The 2000s saw an influx of successful international small forwards, and taller, oftentimes skinny, players, too. This includes many players who, later on in their career, would move to be some of the pioneers of the "stretch four"; examples include Rashard Lewis, Shawn Marion, Antawn Jamison, and Peja Stojakovic.
Points continued to go down, but rebounds actually rose for the first time in quite a while. I'm sure that's a big as to why GMs saw many of them as useful power forwards later on in their careers.
Assists and turnovers both went down, which means they played off the ball a bit more, and three-point attempts went above two per game, with a small gain in accuracy as well.
Right now, the best players in the league are small forwards – LeBron James and Kevin Durant.
BUT!
There's a legitimate case that this is one of the easier eras for their position. The other small forwards in the league are far from good right now – the lowest win shares since the eighties actually.
Points per game are actually down below ten per game now, at 9.4. Rebounds are easily the lowest they've been; assists are tied for the lowest. Steals, blocks, field goal percentage – all down.
Even three-point percentage is lower than it was in the '00s!
That's the only time any position has actually gotten worse at threes from one decade to another, ever!
They're still shooting more of them though, which analytically is a positive, I guess. Plus their turnovers are down quite a bit.
But this isn't a good decade for wings in general, as we also saw in the shooting guard article, and these guys might actually be worse off! At least compared to what the position used to be.
The Average Small Forward Personified
So, as always, let's get into some examples of how the average player for the position evolved.
In the '50s, the average small forward was a guy named Guy. Guy Sparrow, to be exact.
He's someone who, again, just like all the other fifties examples, it's almost impossible to find any game tape of him. But there are some descriptions of him, and it was a consensus at the time that he was a tireless, strong-driving forward.
He was a superstar in college for Detroit Mercy. As a 6'6″ forward, he averaged 20 rebounds somehow!
A pretty reliable offensive player for the Knicks – also played for Philadelphia and Baltimore.
He actually had about three years from 13 to 16 years old with a condition where he could not walk, and people say that made his work ethic that much higher. He truly embodied the spirit of what basketball was at the time.
As the position came more into prominence in the sixties, it became Don Kojis who was the average small forward.
He's someone who actually managed to make a couple of all-star games in his prime. His prime just didn't last very long, and it was, after all, on the expansion San Diego Rockets.
He was athletic; he could've made it in the league today, no matter what people keep saying about the "small, unathletic white guys" from the sixties.
Kojis had the quickness of someone five inches shorter than him and the hops of a guy who played 20 years after him.
He was very versatile offensively, able to score from pretty much anywhere, and a very good rebounder – all things that either were very important at the time or were starting to become very important at the time.
If you add together his terrible numbers from Baltimore and Detroit with his very good numbers at Chicago and San Diego, his stats come out looking extremely close to what the averages are also.
Moving on to the '70s – and while it might be considered unfair to label him the average small forward when he spent more than a third of his career playing shooting guard, Bingo Smith does fall into this category statistically and stylistically very well.
Moving from a guy who could bang in the post a bit in Kojis to someone who spent almost all of his time on the outside in Bingo, he's a good sign for how things went in the transition from the sixties to the seventies for the position.
He was a very tough player, don't get me wrong, but he had a very good outside shot and that's what he was known for – especially his pull-up off the dribble-drive.
He was also a very good defender, and I can't make an honest case for him being the average small forward without mentioning the thing he was very much not average at: he had the lowest turnover percentage in the league for all three years that they counted that during his career. So possibly, and likely, more times than that too. And being elite at not losing the ball is a skill that's surprisingly underrated.
With the eighties, it's Albert King, and it's a damn shame that it's Albert King too! The younger brother of Bernard King, a Hall of Famer, it was pretty evident from the start that Albert actually was a better natural, physically gifted player than Bernard was, he just wasn't a hard worker and reportedly didn't care about basketball that much.
He was a perimeter wing player on offense who, it turns out, had similar tendencies on that side of the ball to Bingo Smith, with a smooth mid-range pull-up jump shot being his main weapon, just like Bingo. Not a good of a defensive player and he didn't hustle as much. Very athletic, he certainly had a bit of Julius Erving/Connie Hawkins/Marques Johnson in him, but he just never turned out to be much more than a solid player in the NBA.
In the nineties, Mr. Average in terms of this position was Blue Edwards. He's a player where, if you're a Jazz fan, you probably remember him very fondly and if you're a fan of anyone else, you probably don't remember him much if at all.
Edwards was one of the best athletes in the whole NBA, with some of the best dunks of all-time – he's one of the most underrated dunkers the league's seen.
Unfortunately, he did kind of fall off after those Utah years, aside from one very productive year with a terrible Bucks team.
He was a solid defender as well, in fact probably a better defensive player than offensive player for most of his career.
He was quite undersized for a three, so maybe he didn't quite do them justice when it comes to the rebounding numbers, those it has to be noted that it was a terrible decade for rebounding for small forwards.
His shot was also very streaky – probably a bit below average. Towards the end of his career, he tried to make the transition to a 3-and-D small forward (like the shooting guard representative from the nineties, Anthony Peeler), but it didn't work out quite as well for him.
In the 2000s, the three-point shooting part of the 3-and D equation did become a lot truer. Lamond Murray was the type of player that the average player gravitated to, and he was a very reliable player, very versatile in all aspects, really.
He was never a franchise-changing player though, obviously, and maybe he should've been. He didn't ever seem to play on the right team though. With his playstyle, he could've been an absolutely crucial role player for a team had he had the right opportunity, but his prime was wasted on the Cavaliers and the Clippers, two teams that, especially at the time, were absolutely awful.
But he seriously could've become an x-factor if he was in the right situation. That period from the late nineties through the early 2000s loved those types of guys; role players who, 90% of the time, were overwhelmingly average but stepped up for that one, most important moment.
And that brings us to the current decade. Now, I just want to say, one of the many reasons I had for doing this was because I know how much we typically undervalue players. We consider guys that are way above average to be average or worse. Even I was surprised by this one, despite knowing that.
Martell Webster. Back when he played, I never thought of him as being more than the ninth or tenth best player on Portland, Minnesota, or Washington's teams, although I'm sure my view of him is tainted from the fact that the Blazers traded Deron Williams for him on draft night.
But he stuck around, he carved out a role for himself. He had some monster dunks, he could hit threes at a very high rate, and I think his hyperpolarized style of play, where every shot had to either be a dunk or a three-pointer, really does epitomize what we expect from players right now in the league.
This is a guy who averaged more three-point attempts than two-point attempts for seven years of his ten-year career. Even though, when he first joined the league, only a sixth of his team's shots were threes.
Questions and comments?
thescorecrowsports@gmail.com
Follow Us on Twitter @thescorecrow
Follow Us on Reddit at u/TheScorecrow
Follow Josh Elias on Twitter @_SunsofThunder_
Main Credit Image:Embed from Getty Images