Liam Romero | January 22nd, 2019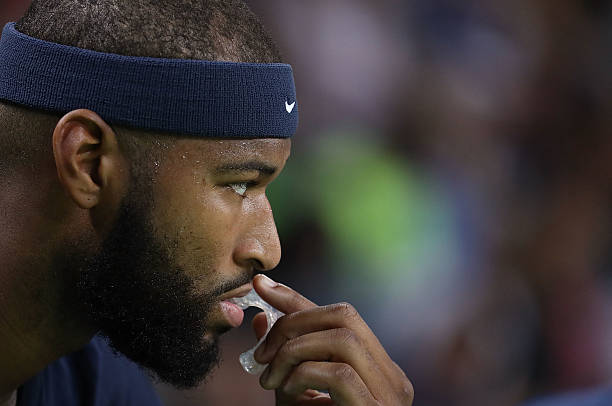 For anybody who read my DeMarcus Cousins piece on TheScorecrow, available here, they would know that I believe he is not as big of an asset to the Warriors as analysts make him seem. In my debut article, I asserted my idea that Cousins' Achilles injury may render him almost futile to the Golden State Warriors organization. With Boogie making his debut for Golden State against the Clippers on January 18 with 14 points, 6 rebounds, and 3 assists in 15 minutes, this follow-up piece will substantiate or negate the predictions I previously made about him six months ago.
Back In July when DeMarcus Cousins announced that he would be taking his talents to the Bay Area, the first concern that came to my mind was whether or not his playstyle would fit that of the Warriors. Cousins' brute-like court dominance may not work for the fast-paced spread out offense of the Warriors as it did in New Orleans. Coming off such a serious injury may slow Cousins down and hurt the offense. As coach, Steve Kerr said, "The pace will not be adjusted." This would either mean that Cousins will be forced to exert himself or he will be lackadaisical in their rotation. Kerr intends on playing Cousins in short bursts rather than in long drawn out minutes.
The First Game Back
With that being said, I must say, Cousins ran with Golden State really well. To begin the game, Cousins had an emphatic dunk to let the league know Boogie is back. Cousins would then proceed to run in rotation, then hit open passes and spot up threes. He would shoot 3-4 from beyond the arc, something virtually unheard of from him in Sacramento and New Orleans. There are serious implications that Cousins is learning and adjusting to the offensive flow, and he did a great job, especially coming off an entire year sitting out. After the game I saw in Los Angeles, I must say, Cousins has shut down my previous prediction on his playstyle. With the injury he suffered, acquiring a precise jump shot could be just the thing that makes him more lethal than he was before.
New Team, New Boogie
I also had previous concerns with Cousins and his chemistry with the organization. The Warriors are a very tight-knit team whose chemistry is so impeccable they could play with their eyes closed and still win. So with the introduction of another ball dominant all-star player to the roster, it's only natural to question how he would get along with others in the rotation such as Kevin Durant and Stephen Curry. As I watched at the end of the game, as well as during his time on the court, Cousins was continuously showered in praise and love from his teammates. He also fits the on-court chemistry fine; he passed up on many opportunities he would previously force. Cousins was able to receive passes and find the open man on several occasions, an obvious sign that he spent a lot of time in the practice gym and with his teammates so he can easily slide into the rotation with no problems. He showed he is way more coachable with the Warriors as he played the game under Steve Kerr's playstyle.
Although the sample size is small, DeMarcus Cousins has had one of the best returns from a serious injury in recent memory. Following in the footsteps of Derrick Rose and teammate Shaun Livingston, Cousins has proved that he is still perfectly capable of being a force in the league. As the Warriors play more and Boogie gets back into the swing of things, there will be no surprise if he has games that far surpass his expectations. As for my theories, as with many others, Cousins has completely debunked them and I believe he will be back for the long haul. I cannot wait to see what he can do for the Warriors organization.
Questions and comments?
thescorecrowsports@gmail.com
Follow Us on Twitter @thescorecrow
Follow Us on Reddit at u/TheScorecrow
Follow Liam Romero on Twitter @LiamRomero9
Main Credit Image:Embed from Getty Images