Mike Fanelli | January 22nd, 2019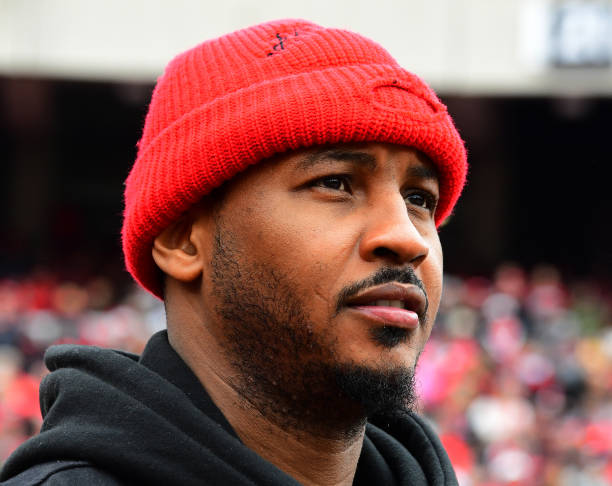 Yesterday, the Carmelo Anthony drama finally came to an end (for now) as the Houston Rockets traded Anthony and cash to the Chicago Bulls. Anthony hasn't played a game since November 11th and the Rockets have been trying to trade him for months.
The Houston Rockets have agreed to trade Carmelo Anthony and cash to the Chicago Bulls, league sources tell ESPN.

— Adrian Wojnarowski (@wojespn) January 21, 2019
With no valuable deal available, the Rockets simply paid the Bulls enough money needed to cover the rest of Anthony's contract with a little extra for their troubles. The Rockets will save $2.6 million dollars towards their luxury tax bill by trading Anthony according to ESPN's Bobby Marks.
The Rockets will save $2.6M towards the luxury tax by trading the Carmelo Anthony contract.

— Bobby Marks (@BobbyMarks42) January 21, 2019
The Bulls will waive Anthony sooner than later, as the Bulls are tanking and have no need for him. Anthony is likely to wait till after the NBA trade deadline on February 7th before joining a team. Reportedly, Anthony wants to find the best opportunity for him to contribute.
For Anthony, his best bet is waiting until the Feb. 7 trade deadline to find his next team. He can wait for roster spots to open, trades to happen, etc, that'll create the best opportunity for him. Anthony wants to find a place to contribute. https://t.co/cRgbMalvTl

— Adrian Wojnarowski (@wojespn) January 21, 2019
Wherever Anthony ends up, he will sign for pro-rated cost of the veteran minimum of about $1.5 million dollars against the cap. Anthony has to find the right fit when picking his new team and understand what role they envision him in, because this is likely his last chance to rebuild his image and stay in the league. While the trade deadline and buy-out candidates will impact where Anthony might sign, let's take a look at three potential landing spots.
Los Angeles Lakers
The Lakers have been a rumored landing spot for Anthony for a while now because of his friendship with LeBron James. However, the Lakers could have just as easily made the trade the Bulls did for Anthony, yet they didn't. The reason why is simple: they like their roster the way it is. Reportedly, the Lakers won't waive a guaranteed contract in order to add Anthony, and they currently have 15 guaranteed contracts on the roster; the league limit.
However, the Lakers should be active at the trade deadline, and if a roster spot opens up, Anthony should be the favorite to grab it. Depending on who is traded away and acquired at the deadline, Anthony will likely either have a small role in the second unit as the back up at power forward behind Kyle Kuzma or even as a bench warmer; which might blow up in the Lakers' face.
Sources: The Lakers maintain interest in Anthony, but do not want to waive a guaranteed player to create a roster spot for him, league sources tell ESPN. If a roster spot eventually opens with LA, yes, the Lakers are a possible destination for Anthony.

— Adrian Wojnarowski (@wojespn) January 21, 2019
Washington Wizards
As a Wizards fan, I am 100% against this move, but Anthony grew up in the Baltimore, Maryland area and signing with the Wizards could be a sort of homecoming storyline. The Wizards have plenty of wing players who can defend and shoot the three but struggle to create their own shot. If Anthony can accept a role with the second unit, playing 12-15 minutes a game, the Wizards can surround him with shooters and defenders like Otto Porter Jr. and Markieff Morris, allowing Anthony to focus on just creating his own shot.
The only reason to make this move would be to lighten Bradley Beal's workload. Since John Wall's season ended with a heel injury, Beal is averaging 28.6 points per game and 38.6 minutes per game; both team highs. If Anthony can give Beal a few more minutes a game to sit on the bench without giving up the lead, this move might just work out for the Wizards.
New York Knicks
If joining the Wizards would be considered a homecoming, would signing with the Knicks be considered getting back with your ex for Anthony? Despite how his time with the Knicks ended, Anthony should consider signing with them as a last resort. One, if Anthony's options are limited, signing with the Knicks is better than playing overseas or not playing again this season. Two, it would give Anthony the best chance to try and prove he is still an elite player or even a starter. I, however, don't think he is either anymore.
Many will wonder why on earth would the Knicks even consider signing Anthony. However, the Knicks are tanking, Kristaps Porzingis isn't likely to play this season as he recovers from a torn ACL from last year, and adding Anthony will help sell tickets. Furthermore, adding Anthony may help the Knicks tank as he is more than likely going to embarrass himself and cost the team wins; exactly what they need right now.
Questions and comments?
thescorecrowsports@gmail.com
Follow Us on Twitter @thescorecrow
Follow Us on Reddit at u/TheScorecrow
Follow Mike Fanelli on Twitter @mikesports22
Main Credit Image:Embed from Getty Images