David Lehr | January 21st, 2019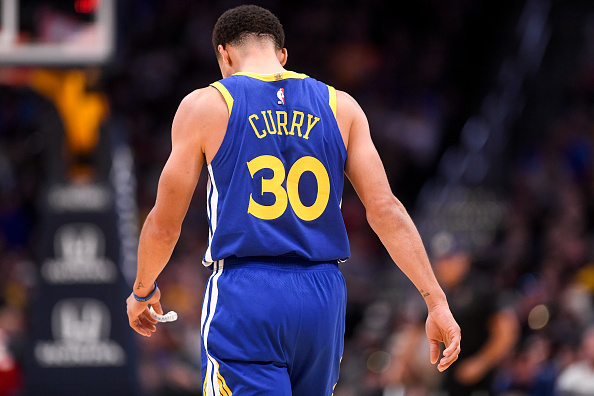 I know what you're thinking: Dear Lord, make this debate stop! Truly, this is one of those arguments that is a vicious cycle and one that will never die. However, that doesn't mean there isn't a correct answer; let's assume the 1996 Chicago Bulls and present-day Golden State Warriors are playing in the Finals, and check out how these teams stack up player-by-player.
Point Guard
This one swings heavily in the Warriors favor, for multiple reasons. Defensively, coach Steve Kerr likes to hide point guard Stephen Curry on pure shooters or players who are weaker offensively. Well, in this game, Curry would be a perfect match for the Bulls' point guard, who just so happens to be Kerr himself. Yes, Ron Harper was technically the Bulls starting point guard, but I believe for this matchup, the Bulls would put as many shooters as they could on the floor (also, come on, player Steve Kerr against coach Steve Kerr is too much fun). Although Kerr would hit threes at a ridiculously high clip as normal, Curry would be able to rest defensively, sticking with Kerr on the outside. Curry, the greatest shooter ever, can't be stopped by anyone when he is feeling it (which is most of the time). Kerr, despite being a very capable defender, has nothing in his repertoire that makes me think he could really slow Steph down. Not the lengthiest or quickest of players, Kerr used his hustle and tenacity to defend successfully, but unfortunately for him, Curry would exploit this matchup quickly.
Advantage: Warriors
Shooting Guard
Do I really even have to explain here? Yes, Klay Thompson would be an ideal fit to defend Michael Jordan, with Klay's length and quickness making him one of the best perimeter defenders in the NBA today. However, this is MJ we are talking about, so while Klay could possibly slow him down, no one is stopping Jordan from excelling in a Finals series. On the other end, Thompson would get his fair share of open looks, as Jordan often strays from his man to get into passing lanes and try to create turnovers. However, Michael, being a great defender himself, has the quickness and basketball IQ to stick with Thompson. One of Klay's strengths is moving without the ball, which in theory would tire Michael out, but let's be real: no one is outperforming Jordan in a championship series.
Advantage: Bulls
Small Forward 
This would be the position with the most eagerly-anticipated match-up: One of the greatest offensive players of all-time, going up against one of the greatest defenders of all time. Kevin Durant could not post up against Scottie Pippen with too much success, as Pippen uses his body position to create leverage and out-muscle opponents, and Durant, while he has gained muscle every year he is in the league, would feel like he was in a 12-round fight every game. Durant's advantage is in the ball movement of the Warriors and all the off-ball screens they use to spring guys open. Pippen would be forced to chase KD all night, and Durant, although they would be few and far between, would get some open looks. Durant's length could create problems for Pippen defensively, but Scottie was no slouch on the offensive end, scoring 19.4 points per game. This match-up really comes down to the fact that Durant has his one foot step back jumper that is quite literally impossible to defend, and even Scottie Pippen would have trouble locking him up. While Pippen is an all-time great player, Durant is just a little too good.
Advantage: Warriors
Power Forward
Now, THIS would be the all-time greatest pairing EVER in an NBA Finals. Can you imagine? Just picture this: Dennis Rodman dives headfirst into Draymond Green attempting to secure a rebound, who responds by kicking Rodman in the balls, and an all-out brawl ensues. Sticking purely to their play on the court, however, these guys have pretty similar skill sets. Rodman, averaging 5.5 points per game, and Draymond, averaging 7.2 this season, are not known for their scoring ability. Both players could stay close to the paint and assert their dominance inside while tempting the other to take jump shots. Green, who has become a fantastic playmaker for Golden State, has a tendency to get turnover happy, and with Rodman on him, you can imagine what it would do to Green's offensive game. This is by far the most competitive "one-on-one" match-up of the series, but Rodman is too big and strong and would, similar to Scottie Pippen, be able to beat up on Draymond for the entire series.
Advantage: Bulls
Center
DeMarcus Cousins has yet to play a game with Golden State, but we all know what he is capable of. While Luc Longley was a very good center, he averaged just nine points and five rebounds per game. He would have his hands not just full, but overflowing attempting to guard Cousins, who has the ability to stretch the floor and hit mid-range and three-point shots. While the Australian has the advantage with his larger frame, Cousins has the uncanny ability to collect rebounds no matter who he's up against and would be far too quick and skilled for Longley to keep up.
Advantage: Warriors
Bench
The Bulls team was not only stacked with its starters, but deep as well, with Ron Harper and Toni Kukoc leading their bench. Golden State's second unit has been less impressive this year, although Andre Iguodala just keeps on chugging along at age 34. The Warriors, however, would have a huge upper hand with their athleticism coming off the bench. Jordan Bell and Alphonso Mckinnie could outleap any of the Bulls bench players, and Shaun Livingston, with his size, could post up on Harper and Steve Kerr as much as he wanted, with the ability to shoot over either of them any time. The Warriors veterans off the bench give them a slight edge here.
Advantage: Warriors
Coaching/Playcalling
It's hard to say that Steve Kerr could win this battle, considering one of his biggest coaching idols is Phil Jackson. However, with how much the game has evolved, it would be interesting to see how the Bulls would adjust. The triangle, although extremely effective when you have MJ to run it, is old school, and beatable with the right defense. The Warriors' ability to switch with all five guys defensively would put a wrench in the Bulls plans, and they would need to rely on guys like Kerr and Kukoc to make the Warriors pay from behind the three-point line. Jackson recently proved the triangle offense is outdated when he attempted to run it, via Derek Fisher, with the New York Knicks. Kerr is just too innovative for Jackson to outcoach him.
Advantage: Warriors
Yes, this scenario will never happen, but anyone who is holding on to the belief that the Bulls could beat this Warriors team, with or without the 90's basketball rules, is dreaming. The shooting, athleticism, and skill of Golden State far outweigh that of the Bulls, and Michael Jordan NEVER had to face a team like this in his career. I am sorry to say this, basketball purists, but the Warriors would win a seven-game series against this team. Every. Single. Time.
Winner: Golden State Warriors
Questions and comments?
thescorecrowsports@gmail.com
Follow Us on Twitter @thescorecrow
Follow Us on Reddit at u/TheScorecrow
Follow David Lehr on Twitter @BayAreaSports13
Main Credit Image: Embed from Getty Images