Levon Satamian | January 21st, 2019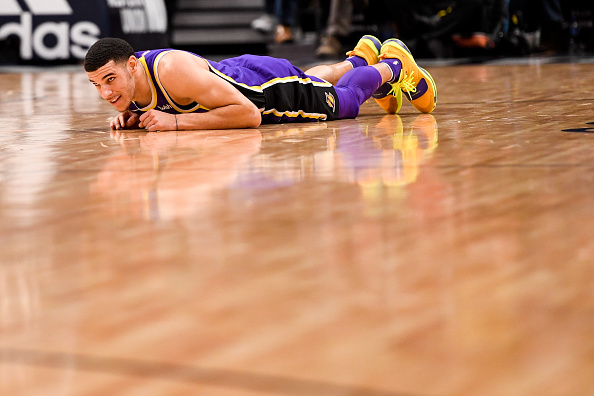 The Los Angeles Lakers had a good week last week. It could have been a better week but I will get into that later on. The Lakers started off last week hosting the Chicago Bulls, before heading west to face the Oklahoma City Thunder and then the Houston Rockets.
They had good performances from Kyle Kuzma, Brandon Ingram, Lonzo Ball, and Kentavious Caldwell-Pope against the Bulls, in a 107-100 win. Kuzma finished the game with 16 points, 12 rebounds, and shot 6/15 from the field. Ingram finished the game with 16 points, nine rebounds, and seven assists, shooting 7/13 from the field. Ball finished the game with 19 points, eight rebounds, six assists, shooting 8/17 from the field. Caldwell-Pope finished the game with 17 points and four rebounds, on 4/11 shooting.
The Lakers had a big win on Thursday against the Thunder in Oklahoma City, 138-128. The whole team showed up and showed out for the Lakers on Thursday in an overtime victory. Kyle Kuzma led the way with 32 points, eight rebounds, four assists, and three steals, shooting 11/20 from the field, including seven threes. Ingram struggled from the field, shooting just 1/9, but he had a great all-around game. Scoring just five points, adding five rebounds, and 11 assists. Lonzo finished with 18 points, six rebounds, 10 assists, shot 7/17 from the field. Josh Hart finished with 12 points, 10 rebounds, five assists, three steals, one block, shot 3/6 from the field. KCP finished with 13 points, two steals, shot 5/7 from the field. Ivica Zubac had a great game, scoring 26 points and 12 rebounds, shooting a stellar 12/14 from the field.
On Saturday, they faced the Rockets in Houston. They had the lead for most of the game, but this enthralling encounter went into overtime as well. In the end, they fell short, 138-134 in Houston. Kuzma had another 32 point performance, adding eight rebounds, three assists, and two steals, shooting 12/19 from the field. Ingram had a big 10 points in overtime, finishing the game with 21 points, five rebounds, four assists, on 7/12 shooting. JaVale McGee had 12 points and 14 rebounds, shooting 6/8 from the field. Lance Stephenson had 16 points, four assists, and shot 50% (5/10) from the field. Zubac had another good performance, scoring 17 points, grabbing seven rebounds, shooting 4/6 from the field. Lonzo Ball had eight points, three rebounds, and 11 assists, on 4/7 shooting. This was a winnable game, Lakers could have and should have gone 3-0 last week. However, splitting the road trip 1-1 against top-notch teams is good enough with a banged up team. More negatively, Ball will be sidelined for 4-6 weeks with an ankle sprain. Alex Caruso will be called up from the G-league, per Luke Walton.
LeBron James and Rajon Rondo were expected to log in full practices on Sunday. LeBron will be re-evaluated Monday morning, according to Lisa Salters, Luke Walton was asked on the status of LeBron James, Luke said that LeBron should log in a full practice on Sunday, be re-evaluated on Monday. He is the best player on the planet, so he will let LeBron decide on if he feels healthy enough to play Monday night against the defending champion Golden State Warriors.
On MLK day, the NBA has a slew of games. The Lakers will host the Warriors in the finale of Monday's slate. LeBron could be back for this game. If LeBron plays against the Warriors, I believe the Lakers will win this game. He will lift a lot of pressure off Kuzma and Ingram. Last time these two teams met, on Christmas Day at Orcale Arena, LeBron finished that game with 17 points, 13 rebounds, and five assists, in 21 minutes, before going down with a groin injury, which has kept him out for almost a month. The Lakers went on to win that game 127-101. If LeBron doesn't play, Warriors will likely win due to the fact that they are fully healthy now with DeMarcus Cousins returning.
On Thursday, the Lakers will host the Minnesota Timberwolves. Minnesota has struggled but Karl Anthony-Towns and Derrick Rose play well night in and night out. The Lakers need to be locked in all four quarters on Thursday. Assuming LeBron and Rondo play this game, the Lakers will win this game, at home.
On Sunday, the Lakers will host the Phoenix Suns. The Suns are at the bottom of the Western Conference. The Lakers will win this game. Although the Suns have been playing better as of late, led by Devin Booker and DeAndre Ayton, they will not be able to defeat the Lakers especially with LeBron and Rondo back.
The Lakers will go 3-0 this week if LeBron plays on Monday against the Warriors. They will go 2-1 if LeBron does not play on Monday. They are getting healthy, getting the best player in the league back at the right time. Unfortunately, Lonzo will be sidelined for 4-6 weeks, after he was just finding his groove, but this is hopefully a minor setback for a major comeback. Lakers are currently ninth place, but slowly getting healthy, they will get back to the 4th seed eventually, being only four games behind the third seed.
Questions and comments?
thescorecrowsports@gmail.com
Follow Us on Twitter @thescorecrow
Follow Us on Reddit at u/TheScorecrow
Follow Levon Satamian on Twitter @TheSportsNotes Main Credit Image: Embed from Getty Images