Matt Bishop | January 21st, 2019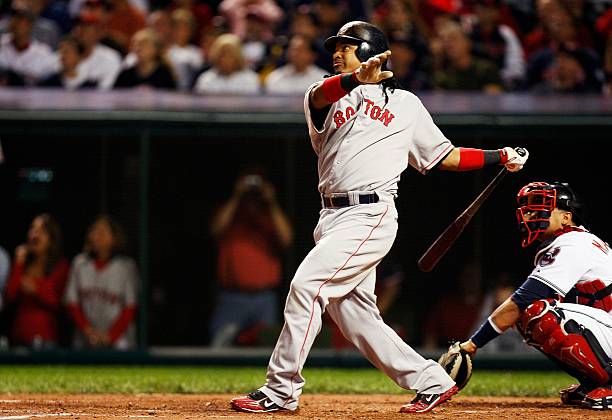 Two things about Manny Ramirez have always surprised me: that he has never won an MVP award and that he was not a First Ballot Hall of Famer. This is Manny's 3rd year on the Ballot and he is only tracking 24.9% of the vote while needing 75% to be inducted. With a career .312/.411/.585 (.996 OPS) slash line and 555 career home runs, Manny is arguably the greatest right-handed hitter of his generation who flashed an elite power stroke and incredible plate discipline with a career 13.6% walk rate. After bringing two teams to a combined 11 postseason appearances and being voted to 12 All-Star Games, Ramirez should be a shoo-in for Cooperstown and a clear no-brainer. But when you drill into his checkered past to see how his historic career came to an end, there is no guarantee the disgraced slugger will ever get in.
Manny Ramirez was drafted 13th overall by the Cleveland Indians in the 1991 MLB Draft and awarded a $250,000 signing bonus at the age of 19.  He made quick work of the Rookie League, slashing .326/.426/.679 (1.105 OPS) with 19 home runs and 63 RBIs in 258 plate appearances and was named Appalachian League MVP and Player of the Year.  In 1993, he was named Minor League Player of the Year after raking to the tune of .333/.417/.613 (1.031 OPS) with 31 home runs and 115 RBIs in 573 plate appearances across Double-A and Triple-A.
Ramirez made his Major League Debut on September 2, 1993, and only played in 22 games, slashing .170/.200/.302 (.502 OPS) in 55 Plate Appearances.  In his first full season in the bigs, he finished 2nd in Rookie of the Year Voting, after turning in a .269/.357/.521 (.878 OPS) campaign with 17 home runs and 60 RBI.  His star began to rise in his sophomore season as he made his first All-Star Team in 1995 and was 12th in MVP voting that year with a .960 OPS, 31 home runs and 107 RBI effort.  Ramirez was a model of consistency and health in his 7 full seasons with the Indians, mashing .315/.409/.596 (1.005 OPS) and averaging 33 home runs and 115 RBI per season, while leading the Indians to 5 Postseason appearances.
He decided to test Free Agency in 2000 and signed an 8 year $160 Million dollar contract with the Boston Red Sox, which was the 2nd largest contract in baseball history at the time.  Manny would continue being Manny, slashing .312/.411/.588 (.999 OPS) and averaging 36 home runs and 115 RBI per season in his next 7.5 seasons with the club. His stellar play would lead Boston to 6 Post Season Appearances and 2 World Series Victories, crowning him World Series MVP in 2004.
From 1998 to 2008, Ramirez went on an incredible run of 11 straight All-Star Game appearances, 8 consecutive Silver Slugger Awards and finished in the Top 10 in MVP voting 9 times in that span.  He was a legend in Boston and a lock for the Hall of Fame. But in 2009, after a trade to the Los Angeles Dodgers the previous season, Manny has suspended 50 games for violating baseball's drug policy in his age 37 season.  He waived his right to challenge the suspension and served his time, while still being allowed to work out with the Dodgers. He would return in July and finish out the season, with a 290/.418/.531 (.949 OPS) line hitting 19 home runs and 63 RBI.
In 2011, after being traded to the Tampa Bay Rays for a bargain one-year $2 million dollar deal, Ramirez again tested positive for a performance-enhancing substance in Spring Training and was facing a 100 game suspension. It was only 5 games into the 2011 season and Manny chose to appeal the suspension. However, when his sample was tested a second time and returned positive results, Ramirez dropped the appeal and decided to retire from baseball. Manny would later file for reinstatement and was added to three different minor league rosters in route to a comeback campaign, but he would never see another at-bat in a major league game, ending his decorated and storied MLB career.
So where do you stand?  Do you feel that taking performance-enhancing supplements disgraces the game and should automatically exclude you from The Hall? Or do you feel that testing positive is just a blemish on a player's record and talent should still be recognized? There is no denying that steroids have no place in the game of baseball and that they, in fact, give you an advantage, but how much of an advantage? A generational talent, greatest right-handed hitter of his generation advantage? Success in baseball is all dependent on the prolonged quality of contact and while steroids can increase muscle mass and build strength, they do nothing for contact. The fact that most of these elite sluggers are testing positive in the twilight of their careers (Manny Ramirez age 37, Barry Bonds age 40, Robinson Cano age 35) tells me that taking these banned substances is more to prevent a break down than create a build up.
From 2002 to 2018, there have never been more than 9 players with a 1.000 OPS or greater in a season.  In 1996, there were 15. In 1997 and 1999, there were 10. In 2000, there were 19. In 2001, there were 13. Steroids are a part of baseball, but the MLB has clearly done a decent job in minimizing the exposure with random testing and lengthy suspensions. But until Major League Baseball draws a hard line in the sand by excluding anyone testing positive into the Hall, we need to stop acting like most of our icons didn't dabble at some point. And these icons should be honored because generational talent should be recognized, even if it veered off course along the way. Manny will get into the Hall someday, but it won't be this year. And as long as he's on the ballot, he's got my vote.
Other articles in our Hall of Fame series: Billy Wagner | Andy Pettitte| Edgar Martinez |Mike Mussina | Todd Helton| Larry Walker | Roger Clemens | Roy Halladay | Fred McGriff | Jeff Kent | Scott Rolen | Curt Schilling | Lance Berkman | Sammy Sosa | Barry Bonds | Mariano Rivera 
Questions and comments?
thescorecrowsports@gmail.com
Follow Us on Twitter @thescorecrow
Follow Us on Reddit at u/TheScorecrow
Follow Mike Bishop on Twitter @bishphat
Main Credit Image:"Embed from Getty Images