Joe Reeks | January 21, 2019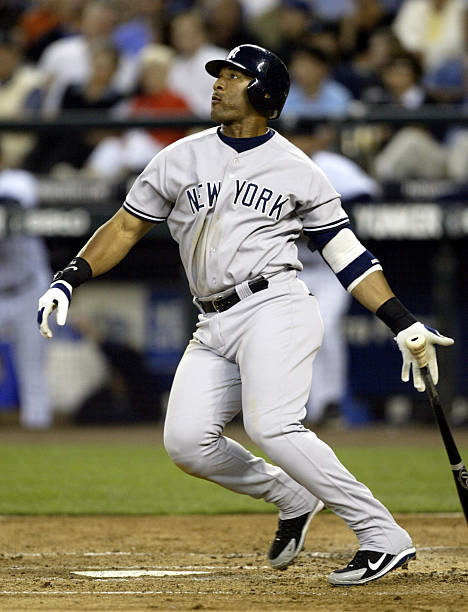 Gary Sheffield was a Right-handed power hitter that was known for having one of the quickest bats in the game. This marks his 5th year on the Hall of Fame ballot. Will he get enough love from the Baseball Writers Association of America to get inducted this year?
Early Life and Career
Born on November 8, 1968, in Tampa, Fla, Sheffield grew up playing baseball with another future MLB star. That star was his older Uncle, former big league pitcher, Dwight Gooden. Only four years apart in age, I can only imagine the quality level of neighborhood pick up games they used to have. In 1986, when he was 17 years old, he was drafted to be a Shortstop 6th overall by the Milwaukee Brewers. Making his debut September 3, 1988, as a defensive sub for the injured Dale Sveum.
Not known for his defense, after an injury, he was moved to Third Base. Sheffield didn't like this move. He felt that he was better than Bill Spiers, the Brewers Shortstop that played over him at the time. The Brewers grew tired of Sheffield's attitude and shipped him off to the San Diego Padres following the 1991 season. Marking the first time Sheffield would switch uniforms, but certainly not the last.
Stats & Accolades
In 1992, Sheffield had his breakout season. Challenged mightily for the National League Triple Crown award. He did, however, win the batting title. Setting a career-best .330 batting average. Also, earning his first of 9 All-Star appearances. In the middle of the 1993 season, Gary was traded to the expansion team Florida Marlins. A deal that included Trevor Hoffman going to the Padres.
Following the season, Sheffield re-signed with the Marlins and they shifted him from third base to the outfield. The move had an immediate impact on his Fielding Percentage. He went from a .899 Fld% at Third Base to .970 Fld% in the Outfield, which was just about on par with league averages at the position for that season. He'd remain either at or below league average for the rest of his career. Advanced defensive metrics show that he was a below average fielder for his career in regards to Rtot or TZ.
Sheffield led the National League in On Base Percentage, OPS, and OPS+ in 1996. The 5 time Silver Slugger winner also has a World Series Ring. In 1997, the Florida Marlins won it all, defeating the Cleveland Indians in 7 games. Sheffield wasn't all that productive in the playoffs, but he did hit .292 and had 5 RBI's in the World Series.
Over the course of his career, Sheffield played for eight different Major League ball clubs. Including the Brewers, Padres, Marlins, Dodgers, Braves, Yankees, Tigers, and Mets. He'd make it back to the Playoffs five straight seasons from 2002-2006. Twice with the Atlanta Braves and three times with the New York Yankees.
Playing for the Detroit Tigers in 2008, Sheffield would end the season, stuck at 499 career long balls. The team would cut him March 31, 2009. He would then sign a contract with the New York Mets. On April 17, 2009, against the team he debuted with, the Milwaukee Brewers, Gary finally jacked his 500th career Home Run. With it, he became the 2nd player all-time to hit his 500th homer against the team he debuted with.
Player Comparison
While it's hard to find an exact match player comparison for Gary Sheffield, I wanted to take a look at how he stacked up against another Hall of Famer. This might tick off some of my fellow Cubs fans and I'm not saying that Gary Sheffield was better than this player, but the player I found to be most interesting in comparison from an Offensive standpoint, was Andre Dawson. You can't compare the two Defensively. In their prime, both of them had cannons for arms, but the range and glove work is what gave Andre Dawson his nickname, "The Hawk."
Take a look at the chart I created below, focusing on some key career stats.
| | | | | | | | |
| --- | --- | --- | --- | --- | --- | --- | --- |
| | Slash line | H | HR | wOBA | ISO | K% | BB% |
| Andre Dawson | .279/323/482 | 2,774 | 438 | .350 | .203 | 14% | 5.5% |
| Gary Sheffield | .292/393/514 | 2,689 | 509 | .391 | .222 | 10.7% | 13.5% |
As you can see most of these stats favor Sheffield. The stats that stuck out the most to me, were the K% and BB%. Dawson had a good K%, while Sheffield's was elite. For a power hitter like Sheffield, to strike out at as low of a clip as he did, that's special. Dawson didn't walk a ton, actually walked at a very poor rate. Not even close in comparison to Sheffield's 13.5% BB%.
A stat that can be deceiving when comparing the two is their WAR. Overall, Dawson had a 64.8 WAR, compared to Sheffield's 60.5. That means from a metric standpoint, Dawson was considered a full 4.3 Wins better than Sheffield. The only problem with that is the defensive side effects the overall WAR. Offensively, Dawson had a 59.5 WAR, whereas  Sheffield had a 62.1 WAR.
Again, there is no real comparison for the two in regards to Defense. However, Sheffield did improve as a defender after making the switch to the Outfield. Leading me to believe, if his organizations would have put him in the Outfield sooner, the overall WAR numbers between these two players would be a lot closer.
Off Field Issues & Setbacks
Over his career, Sheffield dealt with a few different injuries and some legal issues. Following the 1993 season, he was arrested on drunk and reckless driving charges. After the season, in 1995 while in Tampa, he was shot in a reported armed robbery. Received treatment for the gunshot wound to the shoulder, and made a speedy recovery in time for Spring training the next season.
In 2007, he made some pretty serious statements and accusations about some of his former teams. He accused the Brewers of racism and commented about his time with the Yankees, saying Joe Torre treated black players differently than white players.
2007's Mitchell Report, named Sheffield as one of the players who received and used steroids. Barry Bonds was his off-season workout partner in 2001. Sheffield has said that he unknowingly used steroids. Claiming that Bonds introduced him to "The Cream," which happened to be distributed by BALCO and was an illegal testosterone booster.
HOF Case
When it comes to his Offensive numbers he measures up nicely. The defense lagged behind, he was never more than serviceable, albeit having a great throwing arm. His slugging numbers to strikeout rate are pretty remarkable.
His batting stance and incredibly quick hands made him stand out. If you played baseball as a kid and didn't attempt the "Gary Sheffield bat waggle," you were doing it wrong. The way he would kick his leg up, turn his bat to directly face the pitcher before planting his foot, evening out, and exploding on the ball, it was like no other. Most of his Home Runs and base hits were absolute rockets. Just ask current Yankees pitcher, Dellin Betances. This past year, in his first career at-bat he attempted his best Gary Sheffield impression. "I liked to watch him play and liked the way he hit," said Betances.
We'll have to see how the BBWAA feels about Sheffield this year. As of 1/20/19, he's tracking at 12.9% of known votes on bbhoftracker.com That wouldn't be enough to get him in this year, but it would be enough to keep him on the ballot for next year.
Other articles in our Hall of Fame series: Billy Wagner | Andy Pettitte| Edgar Martinez |Mike Mussina | Todd Helton| Larry Walker | Roger Clemens | Roy Halladay | Fred McGriff | Jeff Kent | Scott Rolen | Curt Schilling | Lance Berkman | Sammy Sosa | Barry Bonds | Manny Ramirez | Mariano Rivera 
Questions and comments?
thescorecrowsports@gmail.com
Follow Us on Twitter @thescorecrow
Follow Us on Reddit at u/TheScorecrow
Follow Joey Ricotta on Twitter @theriot326
Main Credit Image:"Embed from Getty Images