Zach Gotlieb | January 20th, 2019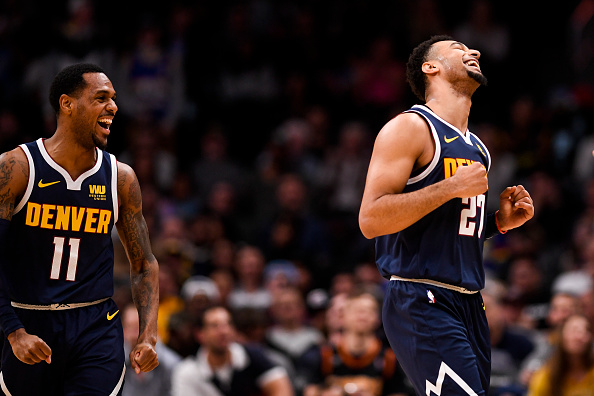 A week defined by blowouts. There were 4 games on the slate for this week, all at home and the Denver Nuggets went 3-1. Key performances came from Jamal Murray, Malik Beasley, and Paul Millsap brought huge lifts to the team. The MVP of the week, however, has to go to none other than Nikola Jokic. He averaged 23.5 points, 8.3 rebounds, and 9.8 assists per game. Here is your recap of each game from this week.
Looking to keep the perfect record in the Northwest division, the Nuggets played a close home game with Portland, coming out victorious 116-113. This game was absolutely dictated by the sheer dominance of Nikola "The Joker" Jokic. He had a double-double, putting up 40 points and 10 rebounds. Other contributions came from Murray with 24 points and Mason Plumlee with eight points and seven rebounds. The key came down to the final 5 minutes, where the Blazers shot 4-12 in this period. The defense really picked it up by contesting shots and competing for everything. The situational defense has been inconsistent this year, but it really showed out last Sunday night, especially on the final possession, forcing a contested deep 3 right around the half-court logo by Damian Lillard, which gave Denver at massive win at home to maintain that perfect divisional record. It also allowed them to recover keeping the perfect record in the division and recovering from an embarrassing loss to the Phoenix Suns the previous night.
There is only one word to describe this: Oof. A 31 point blowout ending with 142-111 destruction of the Nuggets. "It's raining threes" does not even begin to explain the barrage that was poured on by "The Splash Brothers", as the big three of Kevin Durant Stephen Curry and Klay Thompson combined for 89 points. It all started with a whopping 51 points in the first quarter and Golden State barely slowed down thereafter, shooting 60% from the field and 53.8% from three for the game. Offensively, it's not that Denver played terribly, they shot reasonably well, putting up 111 points. Defensively, this has to go down as one of the weakest performances of the year. They had no answer for anything the Warriors were doing. Top defenders like Torrey Craig got exposed all night long. All in all, forgettable game.
After an embarrassing loss to the Warriors, a huge win was desperately needed. After a lackluster first quarter finishing down 30-28, the team turned it on in the second and third quarter. Denver went into the half up 61-47 and received a huge 22 points from Murray in the third quarter. Head coach Michael Malone put in his input on the third quarter saying, "That third quarter might have been one of our better quarters of the season. Jamal got going, Joker was great, Paul, Torrey, and Malik early. Everybody contributed." The big third quarter put them ahead 103-73 and letting Denver cruise to a comfortable 30 point victory, 135-105.
Four words. Return. Of. The. Rainbow. The Nuggets brought out the "Rainbow Skyline" uniforms for the 4th time this year and wore them in style. This was a blowout from the beginning. Jokic took over from the jump putting up 13 points and five assists on his way to his 6th triple-double of the season and 22nd of his career, which puts him 2nd all-time in triple-doubles by a center, behind only Wilt Chamberlain. Meanwhile, Murray led all scoring with 26 points and there was some surprise offensive production from Trey Lyles, which is great to see as he has been struggling for most of the season. It was not all bad for Cleveland. Starting center, Ante Zizic scored a career-high 23 points and guard Rodney Hood put 18 up points. They had five guys score in double figures, but defensively, there wasn't much support or really anything slowing down the Nuggets offense, allowing them to run the Cavs right out of the gym with another big win, 124-102.
Other major things that happened this week: For the first time since the second game of the year, all 5 original starters were in the active lineup on Saturday night against Cleveland. A rumor came out this week that Isaiah Thomas was targeting a return from injury just before the all-star break, which has adamantly been debunked by Malone saying, "Don't believe everything you read. I don't know where these leaks come from. There is no timeline. There's nothing been set about February…You'll see him when he's ready to play." And quite possibly the coolest story has nothing to do with the team itself. The Colorado Avalanche had a home game at 1pm MT, and the Nuggets also had a home game at 8pm MT on Saturday night. So, here's a time lapse video of the transformation:
Record:
It was a busy day at Pepsi Center! Check out how it all went down behind-the-scenes.#MileHighBasketball pic.twitter.com/P8DBig7REO

— Denver Nuggets (@nuggets) January 20, 2019
3-1 MVP: Nikola Jokic
Questions and comments?
thescorecrowsports@gmail.com
Follow Us on Twitter @thescorecrow
Follow Us on Reddit at u/TheScorecrow
Follow Zach Gotlieb on Twitter @zachgotlieb
Main Credit Image: Embed from Getty Images