Smith Brickner | January 20th, 2019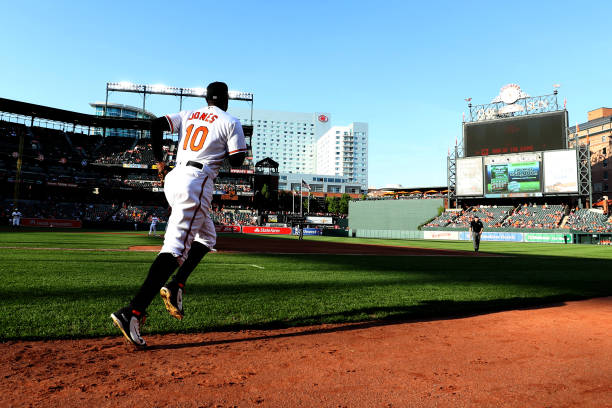 On February 8th, 2008, the Seattle Mariners pulled the trigger on a deal with the Baltimore Orioles to acquire Erik Bedard, a southpaw who finished 5th in the 2007 Cy Young voting. By all accounts, it was a good move for a Mariners franchise which was looking to end a long playoff drought. The price Seattle paid – pitching prospects Kam Mickolio and Chris Tillman, along with reliever George Sherrill and a young Adam Jones – seemed reasonable. That was 11 years ago. That trade is now considered one of the best in Orioles history, vice-versa for the Mariners.
Credit that to Adam Jones.
I'm convinced people forget just how good Jones was during his tenure with Baltimore. From 2009-2015, Jones was one of the best center fielders in the game, posting 3.4 fWAR or better from 2012-15. He's the recipient of 4 Gold Gloves in center field, 5 All-Star bids, and a Silver Slugger award. From 2012-15, Jones was a top-20 player in all of baseball.
As good as Jones was, he serves as a harsh reminder that father time always prevails. Now a free agent at 33 years of age, Jones is coming off his worst campaign since his time with the Mariners as a 20-year old rookie. In 2018, Jones was nearly a replacement-level player thanks to his average offensive production (.281/.313/.419 slash line), poor baserunning, and really bad defense. He was so bad defensively; he only trailed Charlie Blackmon among qualified center fielders in both Defensive Runs Saved and Ultimate Zone Rating. Dig deeper and you'll see that Jones' performance wasn't a statistical anomaly: he's literally slowing down and is making less hard contact. Had Jones entered free agency even last year, I'm convinced he could've landed a 2-year deal.
In a new world where front offices are smarter than ever before, Jones' ability to land that type of contract seems unlikely, at best. Part of the recent front office revolution includes their newfound awareness of risk, and one of the biggest exposures to risk is the free agent market. Free agency typically includes veteran players who are either near the end of their prime or past it. Alas, a majority of the bad contracts signed in the past are due to teams failing to identify a player as in their prime or not. Consequently, this increase in risk-conscious management has led to high-quality hitters like Michael Brantley and Daniel Murphy settling for contracts south of $40 million.
This in mind, I'm surprised that Jones' camp is looking for something in the vicinity of what Andrew McCutchen landed with the Phillies, something like a 3-year deal worth $45 million. Like Jones, McCutchen is not the same player he once was. But unlike Jones, his on-base and defensive skills have helped him evolve into an above-average corner outfielder. Here is a comparison of McCutchen and Jones over the last 3 seasons:
From this, it's quite obvious that comparing Jones to McCutchen is irresponsible. In order to find more realistic comps, I assessed the previous 3 free agents classes to find those who fit the mold of a 33-35-year old outfielder who slashed within 10 points of the league average and had at least 200 plate appearances. Amazingly, only 5 players met such criteria: Chris Denorfia (2015), Nori Aoki (2015), Brandon Moss (2016), Angel Pagan (2016), and Seth Smith (2017). All but Aoki and Moss failed to receive another taste of the majors.
Now, I'm not saying Jones won't land a big league job. Who knows, maybe he could end up being an average corner defender. And while he's nowhere near a Silver Slugger anymore, he rarely strikes out and he's not a liability at the plate. Declining skills aside, many view him as a high-character, clubhouse leader which means he could either be a vocal leader for a competitive club or act as a mentor for a young team.
For as lengthy of a track record as Jones has, I still find it incredibly hard to believe he'll land a multi-year deal given his decline and the market's valuation of mid-30's players. With the way free agency has chewed up and spit out such free agents in recent years, I'd be happy for Jones if he landed a 1-year deal worth $5 million. Sound low? Maybe, but we're in a new era.
Strap yourself in.
Questions and comments?
thescorecrowsports@gmail.com
Follow Us on Twitter @thescorecrow
Follow Us on Reddit at u/TheScorecrow
Follow Smith Brickner on Twitter @r_Cardinals
Main Credit Image:Embed from Getty Images