Pranav Ramasubramanian | January 20th, 2019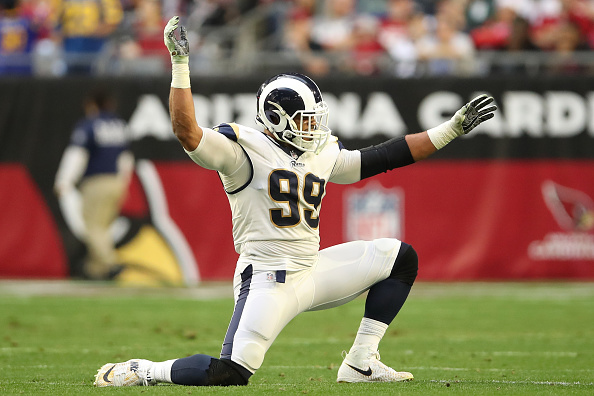 The Los Angeles Rams come off a run-heavy game where they decided to let C.J. Anderson and Todd Gurley take over for a 30-22 win against the Cowboys to get to the NFC Championship game. It wasn't as easy for the New Orleans Saints, who had to rally from down fourteen against Nick Foles and the defending champion Philadelphia Eagles to eke out a win on a last-minute interception just to host this NFC Championship Game. This game will kick off championship weekend and will be played at 3:05 ET on FOX.
Aaron Donald is nimble for his size and can easily go through double teams because trying to block him is like trying to stop a bowling ball and you can't leave him one-on-one, but the Rams are smart so when they blitz it forces the opposition to leave Donald one-on-one. Aaron Donald makes linemen look silly and will easily get to Drew Brees to give the ball back to the Rams offense. Drew Brees is a Hall of Famer and there is no doubt about that, but when you put pressure on him it just seems that he gets off in the passing game and has shown some mechanical flaws that might undo him in this game. Brees will attack the Rams secondary, but the offensive linemen need to be able to keep the Rams pass rush at bay. Brees should get the ball out fast and needs to run the offense fast if he wants to get Donald tired so he can dictate more time in the pocket or more points, especially with his tight end Benjamin Watson out. Donald's primary focus will be on the running game, but he'll be coming for Drew Brees on crucial third downs or fourth downs so the Saints have to be alert.
Advantage: Aaron Donald
Michael Thomas had a field day the last time these teams played as he had 12 receptions for 211 yards and a touchdown. The success was largely in part because of his ability to box out Marcus Peters along with his speed helping him rack up the yards after the catch as the last meeting was evidence of that. Aqib Talib hasn't had a great year so don't expect to see him on Thomas because the size and speed is a mismatch. The Rams need to employ a defensive scheme where they double cover Thomas so they won't get burned again. They don't have anyone who can make up height wise so they should put Talib on him and then bring Sam Shields or Lamarcus Joyner up on the double team. You have to make someone else beat you because if you give Drew Brees what he wants on offense it's gonna be a long game.
Advantage: Micheal Thomas
C.J. Anderson vs Saints linebackers
Todd Gurley will need a break and the Rams have to rack up yardage in the running game which they have shown with their two-headed monster. C.J. Anderson will need to replicate the success he's been having in the past three weeks. He needs to use all 225 pounds to not go down easily and fight for more yardage even after contact with usual good field vision and excellent balance. The Rams will feed Anderson a ton in an attempt to keep Drew Brees off the field and he needs to move the sticks more often than not.
The Saints will be without Sheldon Rankins, who had done a very good job on the run and will now look to linebackers Demario Davis whose ability to play all three downs along with his speed will close some gaps on the field while A.J. Klein's ability to tackle in the open field will stop some big plays. Dennis Allen needs to make sure he modifies the schemes to help out his linebackers early and often to stop the Rams rushing attack. The Saints will have a tough time trying to adjust and the Rams ability to fool defenses with pre-snap movement and showing one thing and doing another on offense could keep the Saints unbalanced on defense.
Advantage: C.J. Anderson
The running back duo of Alvin Kamara and Mark Ingram will only have a measured impact as the Rams linebackers will be going after them all day and the offense's primary focus will be on the air attack. The X-Factor for the Rams will be Todd Gurley, who will be splitting carries with C.J. Anderson and unlike the last meeting, he has to get going and go for 100 plus yards rushing and be a factor in the passing game to open up the Rams offense. The Saints secondary isn't what it's been in years past so look out for some big plays from Brandin Cooks, Robert Woods, Josh Reynolds or Tyler Higbee and they shouldn't miss Cooper Kupp that much in this game. The Saints will instead try to get some pressure with Cameron Jordan, who had 12 sacks on the year and Alex Okafor, who had 4 sacks on the year limiting Jared Goff's time in the pocket. The most intriguing battle is the battle of the Seans as Sean McVay and Sean Payton will be coaching against one another in the battle of offensive schemes. This should be another high-scoring game, but the Rams will make the extra play that matters most late in the game to help them get revenge on the Saints and Jared Goff should have a great game in his road debut in the playoffs. Micheal Thomas should use his cellphone well, but the rest of the team will be disconnected. The Los Angeles Rams will head to SuperBowl 53 in Atlanta and their first SuperBowl appearance since 2002 and the Kurt Warner days awaiting either the biggest revenge game ever against the Tom Brady-Bill Belichick led Patriots or another historic shootout vs Patrick Mahomes and the Chiefs.
Prediction: Los Angeles Rams 34 New Orleans Saints 31
Questions and comments?
thescorecrowsports@gmail.com
Follow Us on Twitter @thescorecrow
Follow Us on Reddit at u/TheScorecrow
Follow Pranav on Twitter @PranavRama1
Main Credit Image: Embed from Getty Images