Filip Canda | January 19th, 2019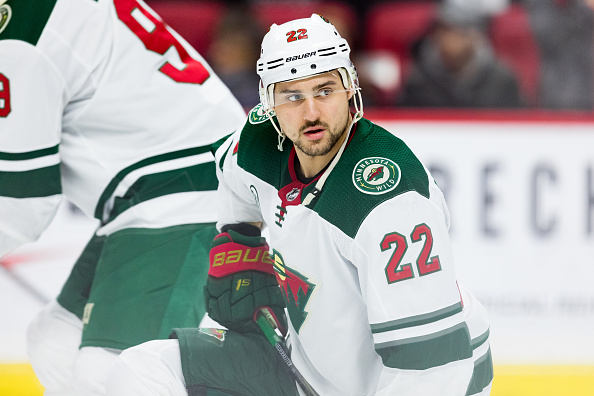 The Minnesota Wild had a rough night Thursday. Firstly, the Wild traded away forward Nino Niederreiter and afterward lost a game against the Anaheim Ducks, who finally broke their 12-game losing streak. Minnesota seemed to disappoint with moving Niederreiter and then got booed after not scoring a single goal in a loss against the Ducks.
Trading away Niederreiter a headscratcher
Many, if not all of the Wild fans, were shocked when they saw that Nino Niederreiter is gone. Niederreiter, originally drafted by the New York Islanders, played in St. Paul for the Wild since 2013 and participated in his sixth season with Minnesota. The Wild traded him to Carolina for Victor Rask.
Niederreiter has nine goals and 14 assists for 23 points this year, while Rask has just one goal and five assists for six points. The Swiss forward played 46 games and Swedish forward played 26 games this season. Niederreiter was not experiencing a successful season in Minnesota, but neither were the other players on the Wild roster.
Niederreiter is a left-shooting winger, 26 years old with three more years left on his contract with a salary cap hit of $5,250,000 per year. Victor Rask is a centerman, 25 years old with three more years left on his contract with a salary cap hit of $4,000,000 per season. Minnesota went younger by one year, a little bit cheaper and strengthened their center position. Carolina went for the more proven and experienced winger, who can be a lethal scoring weapon.
Despite being just one year older than Rask, Niederreiter played 159 more games at NHL level than the center from Sweden. Niederreiter has 0.46 points per game, while Rask has 0.48 points per game. However, Niederreiter is +13 in his 498 career games compared to Rask being -33 in his 339 career games in the NHL.
After a questionable move, an embarrassing loss followed
The Wild find themselves in a second wildcard spot in the Western Conference's playoff race with 47 points. But they were the ones to let the Ducks end their franchise long 12-game losing skid. The Wild played the Los Angeles Kings on Tuesday night, winning that game in a shootout and Nino Niederreiter had a goal in a 3-2 victory. After this rather questionable trade, the Wild got shut out at home by the struggling Ducks, although give a ton of credit to the terrific John Gibson.
Wild General Manager Paul Fenton described Niederreiter's trade as a wake-up call for the team. He also reasoned this trade as a move to get a little bit younger and save some salary cap space. It is worth mentioning that Minnesota added forward Pontus Aberg on Wednesday night. The Wild acquired Aberg from Anaheim for Justin Kloos.
This quote should read: "… it shows PLAYERS nothing is forever. It gives them an alert that if they want to be here they're gonna have to play the way that we want them to play to be successful."

— Michael Russo (@RussoHockey) 17. januára 2019
Perhaps time will show us how this trade will affect both teams. But as of now, it appears that the Wild lost this trade. On the other hand, the Carolina Hurricanes can be happy with their present run and this addition will most likely help the team from Raleigh to make a stronger push for the playoffs.
Questions and comments?
thescorecrowsports@gmail.com
Follow Us on Twitter @thescorecrow
Follow Us on Reddit at u/TheScorecrow
Follow Filip Canda on Twitter @Phiil7
Main Credit Image: Embed from Getty Images