Coach Treal | January 18th, 2019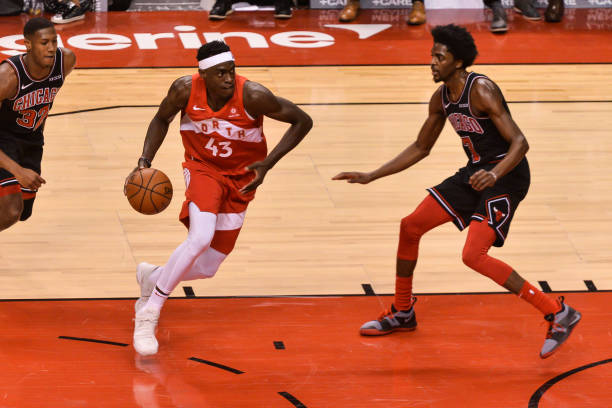 What an incredible story and ride for the 24-year-old Pascal Siakam, in his third season in the NBA after being a first-round pick (2016 Draft – Pick 27th) out of New Mexico State. After a solid career with the Aggies that saw him win WAC Freshman of the Year and then, the following season, win WAC Player of the Year before he decided to forgo his last two years and enter the NBA draft. His rookie season in the league was all over the place to me as he saw action in 55 games total and actually started 38 games that saw him average 4ppg. But he also saw a lot of playing time with the Raptors' G-League affiliate Raptors 905 where they won the then D-League Champion with Pascal being named the Finals MVP in the process.
His sophomore campaign in the association came with raised expectation for Pascal coming off a strong summer and he showed some solid improvement in his overall game, but the numbers didn't jump off the page to you as he only increased his scoring average to 7ppg and his games played increased to 81 but his starts dropped to five. But his impact was felt in the game on both ends of the floor that didn't necessarily show up in the box score. He showed great strides in his overall feel for the game and knowing where to be at the right time on both ends of the floor. In addition to raising his scoring average, he increased his rebounds and assist per game along with his shooting percentage from the three-point line. He is a hard worker who is not going to be outworked on the court and that comes across as soon as you see him take the floor.
He has been on a roll since the calendar turned into 2019; in the month so far he is putting up 19ppg and 9rpg. He scored a then-career-high this month of 28 points and grabbed 10 rebounds in a win over the Jazz. Not to let that high last for long, he topped that performance with a 30 point game just four days later. On top of that, just last week, in an overtime win over the Wizards, he posted a monster double-double with 24 points and a career-high 19 rebounds. His efforts this season have not gone unseen as he was named the Eastern Conference Player of the Week for the games he played between November 5th – 11th. Overall on the season thus far, he is putting up 15ppg and 7rpg and will receive heavy consideration for Most Improved Player (MIP). He currently ranks 5th overall in the league in two-point field goal percentage at 63%, which shows me he knows his skill set and where he is most effective on the court. He has scored in double figures in 12 of the last 14 games played and has shown a great ability to guard multiple positions when he is on the floor. The Raptors have also rewarded his improvement by already picking up his team option for next season. He is a player who I will continue to watch as we get closer to the playoffs, as the Raptors are one of the favorites to come out of the east and make its first trip to the NBA Finals, and Pascal will be a major reason why if they are able to make it there come June.
Check Out Other Players in Coach's Spotlight Series | Domantas Sabonis | Spencer Dinwiddie | Montrezl Harrell | Tobias Harris | Buddy Hield
Questions and comments?
thescorecrowsports@gmail.com
Follow Us on Twitter @thescorecrow
Follow Us on Reddit at TheScorecrow
Follow Coach Treal on Twitter @CoachTreal2
Main Credit Image:Embed from Getty Images