Josh Elias | January 17th, 2019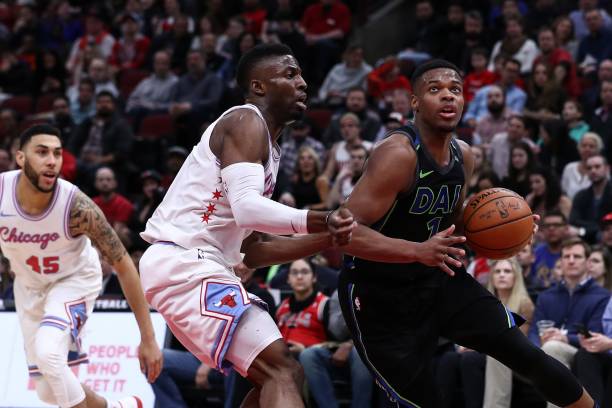 Yesterday, our resident Heatle Jacari McRae brought to your attention seven players to watch as the trade deadline approaches (it's just three weeks away! Can you believe it?).
Today we'll examine some potential places those seven players might end up, and why some of the more popular predictions for them might not be the best situation after all.
1. Enes Kanter, New York Knicks
It was announced yesterday that Turkey is trying to get an international arrest warrant for Enes Kanter, so he's already not having the best day. When your basketball team doesn't want you and you're being targeted by a pseudo-dictator at the same time, it's never fun.
While the least optimal place he could end up in is a Turkish prison, the best place for him probably has to be Sacramento. With rumors swirling that he could be traded for Zach Randolph, I have to say that trade makes tons of sense for Kanter's career. Frozen out of the starting lineup in the Big Apple despite being a major double-double threat, he would be a major part of a Kings team whose best bench big man is currently Kosta Koufos. On top of that, he's a top five offensive rebounder in the entire NBA, while Sacramento needs a major boost in that category.
Chicago is another place that has been mentioned a lot as somewhere he could end up, but it's likely that he'd end up in a similar situation there – after all, the Bulls are also years away from winning, and they actually have a capable young center already in rookie Wendell Carter Jr.
2.  Kevin Love, Cleveland Cavaliers
With Love only setting foot on the floor for four games this year so far before going down with a toe injury, this is probably not the situation Cleveland was hoping to be in going into the February trading season. He never got the opportunity to rejuvenate his trade value by showcasing a resurrection of the Kevin Love that existed when he was a Timberwolf.
A potential trade partner for Cleveland could be Charlotte. With Michael Jordan having so far proven unwilling to part with star man Kemba Walker, the only option left is to give him some help before his career is totally wasted. Love's ability to pull down boards with the best of them and score at ease, combined with his experience as both the true focus of a team and as a supporting third option on a championship team, would make him the ideal partner for Walker, who's never played with anyone better than a post-prime Al Jefferson.
Some people have advocated for him to return home and play for the Portland Trail Blazers, but Al-Farouq Aminu's role as their starting power forward is too important to give up, especially when you consider how many assets Portland would have to give up. Plus, imagine watching a lineup that includes Damian Lillard, CJ McCollum, and Love try to play defense.
3. Kent Bazemore, Atlanta Hawks
Kent Bazemore is a piece on a very bad team that has to look quite attractive to many contending teams at this point as a 3-and-D wing. Coming in tenth place for steals thus far this year, as well as showing an improved ability to finish through contact and shooting a ludicrous 56% on mid-range shots must have a few teams salivating at the thought of picking him for cheap.
The Lakers are certainly going be involved in some trades this window – if nothing else, simply because that's the way their team is set up right now. But they're also seriously struggling, and it's not necessarily a guarantee they'll even be in the playoffs come the end of the season. Bazemore wouldn't be their biggest move, by any means, but his offensive versatility and off-ball movement make him a great candidate to return and help them fight their way up the standings for the second half of the year.
While most fronts have been quite as to potential destinations for him, one team that could bring him in is New Orleans. With seven wings already on the roster and the potential to lose Anthony Davis at the end of the season, it wouldn't be a great fit.
4. Jeremy Lin, Atlanta Hawks
But that's not all, the Hawks are also shopping Jeremy Lin, and he's gotten plenty of attention around the league. After returning from injury, he hasn't really gotten a chance to prove he can still play at the same level, with the emergence of Trae Young in Atlanta.
Detroit would be a good destination for him. Pistons fans have suffered through way too many years of Reggie Jackson starting at point guard, and at what cost? Lin, while he wouldn't be a massive improvement in ability compared to Jackson, at least knows how to conduct an offense for a winning team.
Many people have singled out the Kings and the Trail Blazers as potential destinations for him, where he would play a sixth-man role for either team. Realistically though, both teams would then suffer more defensively than they would improve on the other side of the ball, and that is already something both teams are struggling to address.
5. Jabari Parker, Chicago Bulls
That's right, Jabari Parker still exists. He's only played in three of the last 15 Bulls games, and, when he does actually find his way onto the court, his defense has been even more atrocious than usual this year.
With that in mind, the Utah Jazz seem like a place that might work for him. With noticeable decreases in play for both Ricky Rubio and Donovan Mitchell, they aren't having quite the season offensively that they did last year, and are teetering on the edge of the playoffs. Parker could be a burst of offensive energy, or at the very least take some attention away from Mitchell and give him some easier looks. More importantly for Parker himself, Rudy Gobert would be there to help minimize the impact of the many defensive slip-ups he will most certainly make.
Miami is another place that some people have mentioned, but I couldn't think of a worse place for him. With Hassan Whiteside as the team's last line of defense and Josh Richardson and Justise Winslow already taking up Parker's favorite spots on the floor, that would be a mess.
6. Wayne Ellington, Miami Heat
Despite the great season that he had last year for the Heat, Wayne Ellington's found himself glued to the bench lately. Seemingly on his way out of South Beach, Ellington can easily find a role on another team, just based on his shooting ability.
The Oklahoma City Thunder have been shooting only 33.0% on catch-and-shoot threes this year, and that's a big problem when you have two ball-dominant stars like Paul George and Russell Westbrook, since that's the most efficient shot that most players will commonly get in that sort of situation. The prospect of adding even one more player capable of being a threat as that type of player could be huge for them.
Really, it's hard to find a place he doesn't fit in at though. Miami, I suppose.
7. Dennis Smith Jr., Dallas Mavericks
The Mavs are giving up on Dennis Smith Jr. way too early, mark my words. He's an extremely athletic score-first point guard who plays below adequate defense. But it's actually offensively that his presence on the floor hurts Dallas with the most. It's an extremely awkward fit between him and Luka Doncic so far, that much is true.
Orlando would be a place and system he could thrive in. The defense wouldn't be too much of an issue since the Magic are actually a solid defensive team aside from forcing turnovers, the one thing Smith actually excels at on that end of the floor. They'd also certainly be fun to watch, between him, Aaron Gordon, Jonathon Simmons, and everyone else.
Phoenix is somewhere that's brought up often, but he and Devin Booker would almost certainly clash offensively in a very similar way to how he does with Doncic, and that alone should be enough to ward the Suns off.
Questions and comments?
thescorecrowsports@gmail.com
Follow Us on Twitter @thescorecrow
Follow Us on Reddit at u/TheScorecrow
Follow Josh Elias on Twitter @_SunsofThunder_
Main Credit Image:Embed from Getty Images