John Lepore | January 17th, 2019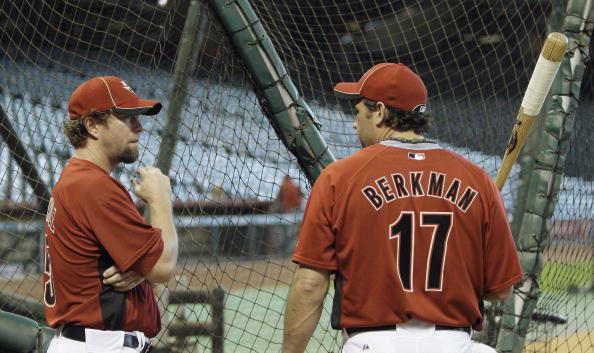 The Major League Baseball Hall of Fame ballot is currently stacked with many deserving candidates. While the voters are limited to ten, there will be players falling off the ballot, unfortunately. Lance Berkman may be one of them after only a year.
Lance Berkman was born on February 10, 1976. He attended Rice University and after a very good college career there, he was drafted 16th overall by the Houston Astros in 1997. Berkman would see his first Major League action in 1999 with 106 PAs. The following year he would see more work, mostly in RF, and would become part of the killer B's. The Astros knew they had a hitter in Berkman. Between his first two seasons, he would slash .285/.375/.525 with 25 HRs and showed he had plate discipline with a 68/94 BB/K rate.
Let's take a look at how Berkman stands up in his first 10 years in the league to a fellow Astro.
| | | |
| --- | --- | --- |
| | Lance Berkman (2000-2009) | Jeff Bagwell (1991-2000) |
| Slash | .300/.413/.559 | .305/.417/.552 |
| DO-TR-HR | 357-25-309 | 351-22-310 |
| Runs | 968 | 1,073 |
| RBI | 1,030 | 1,093 |
| BB/K | 959/1,026 | 992/1,022 |
| TB | 2,887 | 2,955 |
| Top-7 MVP | 5 | 5 |
| OPS+ | 148 | 159 |
Now I'm not saying Berkman was better than Bagwell. I'm also not saying Bagwell shouldn't be in the Hall of Fame. It is just very interesting when you look at a player's numbers in a snapshot of a ten-year period. Bagwell did go on to hit 139 more HRs in his career whereas Berkman only hit only 53 more. Berkman would also finish with an impressive .293/.406/.537 slash as a switch-hitter.
Lance Berkman also had very good postseason numbers. Overall he slashed .317/.417/.532 in 52 games. He also had 9 HRs and 41 RBI. In his two WS appearances, he played in 11 games and was 16-39 with a HR and 11 RBI.
What Hurts His Case
Berkman was never anyone's idea of a speed guy. Only posting 86 SBs throughout his career, he graded as a below-average baserunner according to baseball-reference with 23 runs below the average player (rbaser). He also was not a particularly good fielder. Although he was decent at first and in left, he graded out poorly in right field. The accolades escaped him aside from making the All-Star team six times and winning a World Series with the 2011 St. Louis Cardinals. Berkman also never quite had the longevity or total counting stats. He finished short of 2,000 hits and even though he had 366 career HRs, the era he played in almost demands at least 400 to come close to consideration, (see Scott Rolen).
As of this writing, Lance Berkman was tracking at only 1.1% which unfortunately will not be enough to keep him on the ballot past this year which is his first. The bottom line is that Berkman was an excellent hitter but considering he did not contribute at that level in other aspects of the game, and also that he played in an era where you had to be absolutely ridiculous with the bat to separate yourself, he will likely be one and done.
Other articles in our Hall of Fame series: Billy Wagner | Andy Pettitte| Edgar Martinez |Mike Mussina | Todd Helton| Larry Walker | Roger Clemens | Roy Halladay | Fred McGriff | Jeff Kent | Scott Rolen | Curt Schilling
Questions and comments?
thescorecrowsports@gmail.com
Follow Us on Twitter @thescorecrow
Follow Us on Reddit at u/TheScorecrow
Follow John Lepore on Twitter @jball0202
Main Credit Image: Embed from Getty Images