Bruce Cagle Jr. | January 17th, 2019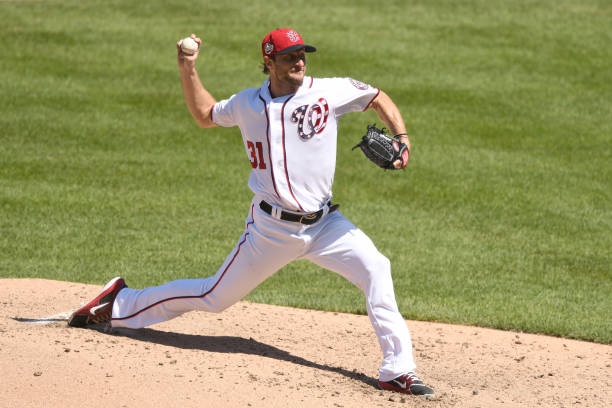 As we start the new year, all you fantasy baseball fanatics are dying to know who the fantasy industry is favoring. Well as I dip my toes into the big boy pool over at the NFBC (National Fantasy Baseball Championship) I will be bringing you positional ranks from their recent NFBC Draft Champions data.
Since the start of December, there have been 25 Draft Champions drafts worth of data that I am looking at. I will go through and list the top 30 in groups of 10, while I also tell you who I think is too high or too low (my top 30 will be out later this off-season).
Let's dive in shall we with your top 10. No real surprises here, except, well wait, where is Clayton Kershaw? For the first time in years, literally years, Kershaw isn't a top 10 guy. We'll get to him later, but let's look at who has jumped him. AL Cy Young winner Blake Snell is firmly in the top ten and newcomer Walker Buehler barley squeaks in.
Right away when I look at this I notice how in a 15 team league (like the NFBC) by the end of round two almost all your "Aces" are gone. The fact that Buehler is getting pushed up into the top ten is a little rich for my blood. Although Buehler is one of two starters in 2018 to have a K-BB% over 20% while also keeping the ball on the ground over 50%, find the other one here, I'm not sure I am willing to bet on any Dodgers pitcher logging enough innings (185+) to be a top 10 by the end of the year. I like a few pitchers below Buehler at their prices to be holding my rotation down. I personally wouldn't have Justin Verlander as my sixth starter this year. He will be no lower than four, potentially sitting at number three. His first full season in Houston was everything everyone was hoping for. With a monster 2018 campaign featuring career highs in K% (34.8%), BB% (4.4%), total strikeouts (290), ERA and WHIP (2.52/.90) I'm fully buying into the Kool-Aid and the awesome part of all this, you will get him after you get a monster hitter. If I had to pick one pitcher I'm not super high on here it would be Corey Kluber. He lacks the strikeout upside I want if I'm taking someone in the top 25. He gets you the volume of strikeouts you need by pitching over 200 innings every year but with a diminishing fastball,  I'm a little nervous to grab Kluber this high.
Ahhh, there he is. All the way down at number 13 this year. Something you would expect after failing to cross the 180 inning point over the last three years. Back injuries and the increasing use of the 10-Day DL trip caused another shortened season for the once feared top arm of the league. Still producing elite ratios, something was missing in 2018, it was the strikeouts. Seeing his K% drop significantly by 5.9% to 23.9% is one of the bigger red flags I see. The drop is supported when you look and see his SwStr% dropped 3.1% down to 11.0% and you can also see that represented in his Fast Ball pitch value in 2018, as it dropped from 22 all the way back in 2016 to 8.3 in '17 and -3.4 in 2018. As you can see with this group, you may want to have your ace established by now. Almost every single one of these guys has what I think is a large red flag, ranging from health to not have "proven" it enough to pitching in new parks. After doing some research and a helpful article by Matt Bishop, I am fully happy trying to nail Clevinger or Taillon as my number two.
My man, Mr. Marquez. I'm not scared of park factor here, or the fact it was half a season of awesome production. I'm willing to take Marquez inside the top 20 for starters but I don't think you will have to. If you have grabbed one of the top three or four arms, think Scherzer, Sale, deGrom or Verlander I'd be excited to grab Marquez as my number two (psssst I already have!) as I think you have a safe floor of 28+ starts and 200K's or more. Diminished velocity since returning from the dirt bike accident has people worried about Madison Bumgarner, I am too. You know what you're getting with Zack Greinke, low to mid 3's ERA along with a decent amount of K's (think around 23%) and you can bank on that because he doesn't walk a lot (BB% ~5%). Think poor man's Kluber, another reason I most likely will pass on the shares of Kluber this year. Zack Wheeler needs to stay healthy and if he does he might be a steal at 88. Robbie Ray and Luis Castillo look to be the beginning of the next tier of pitchers. Clear number three's at this point, you know exactly what you are getting with Ray, high strikeouts, over 30% for two straight years, high walks (13.3%) and more than ideal home runs allowed (1.38 HR/9). So pick accordingly, with Castillo, we are chasing that 2.44 ERA in 66.1 second half innings, again. The fact that he has given up 39 home runs in 259 innings is worrisome, but if he can those under control at any point this season watch his stock soar.
Well, there was a little run down of the top 30 starters and where they are going, come back tomorrow as I will break down the top 15 first basemen according to early NFBC Drafts.
Questions and comments?
Follow Us on Twitter @thescorecrow
Follow Us on Reddit at u/TheScorecrow
Follow Bruce Cagle Jr. on Twitter @BruceCagleJr2
Main Credit Image:"Embed from Getty Images