Filip Canda | January 16th, 2019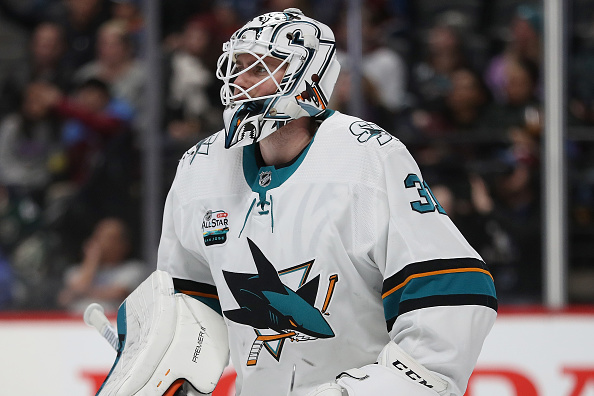 It has not been that long since the San Jose Sharks were the team deemed as busted "not going anywhere" type. The Sharks in the new season needed to put a few things together and it finally seems like San Jose is hitting its stride. Currently, the Sharks find themselves on a 7-game winning streak after taking down one of the hottest team in the NHL, the Pittsburgh Penguins.
During the current winning streak, the Sharks also ended a very long streak by the Tampa Bay Lightning, who were on a 16-game point streak alongside riding a seven-game winning streak. But the Sharks prevailed that night in the Tank in a 5-2 fashion. In their last 21 games, the Sharks are 16-3-2, meaning they gained 34 points out of 42 available points in that time span.
In the same time span, counting last 21 games around the NHL, there is just one team better than the San Jose Sharks, and that's Tampa Bay. There is not a better team currently in the Western Conference, however, the Calgary Flames still hold the top position in the Pacific division and the Western Conference, but just by one point.
Looking at the reasons behind Sharks' surge
It seems like everything has been clicking as of late for San Jose. Their powerplay has been good, their offense has delivered a lot of goals, the defense has been stellar and netminder Martin Jones is finally performing as everyone in San Jose hoped before this year. In their last 21 games, the Sharks scored 90 goals, again, just Tampa Bay is better than this. Defensively we can find several teams a little bit better, but that really doesn't matter much with having such a deadly offense.
The main reason behind Sharks' surge is the stellar defense on top with Brent Burns and Erik Karlsson. Certainly, any of those two defensemen would love to play as forwards one day, indeed Brent Burns has already done that, but they have been solid defensively as well. Burns is the point-leader for the Sharks with 52 points, Erik Karlsson is third on the team list with 42 points, but just with three goals. Karlsson's campaign with 39 assists has turned out to be tremendous after visibly a slower start.
It was taken as clear and sure that Karlsson isn't a fit in San Jose and that he is definitely not resigning in San Jose after this season. Those rumors and analyses might have been premature, to say the least, and now it seems like a little bit different story. But Martin Jones has improved massively in goal as well. Jones has lost just one of his last 16 starts in goal in regulation time, delivering magnificent and clutch performances for his team.
One of the best offenses, thanks to the right combination
San Jose has scored 172 goals all season long, just Calgary with one goal more and Tampa Bay having 191 goals are momentarily better in terms of offensive production than the Sharks. Captain Joe Pavelski entered the year as an unrestricted free agent to become, but he posted 26 goals so far this season leading San Jose in goals.
Veteran presence and scoring have been there for San Jose all year. Joe Thornton has 10 goals and 22 points in 39 games and just yesterday against the Penguins he skated in his 1000th game with the Sharks, of course, Thornton scored on that occasion. Young forward Tomas Hertl is having a look-a-like career season with 19 goals and 41 points, same applies to Timo Meier, who has 18 goals and 41 points as well. The good news for the Sharks is that Hertl is still 25 and Meier just 23.
Therefore it has not been solely about dwelling on the veterans to provide offense thus far, it is quite the opposite thing. Evander Kane seems like a nice fit in San Jose after signing his long-term extension with the Sharks in the off-season. Kane has 16 goals and 37 points this year and his presence has been felt on the ice all season long.
But let's not overlook other contributors to this Sharks team. Still young and very skilled guys like Melker Karlsson, Marcus Sorensen or Joonas Donskoi found their game too. Karlsson has eight goals on the season and Donskoi has 14 goals and 25 points. Sorensen has nine goals and seven helpers this year. Skilled winger Kevin Lebanc, a powerplay specialist, has solidly looked 26 points on the campaign.
San Jose also seems to find good rentals around Europe and sign them. Last year they have done so with Swedish defenseman Tim Heed and this season Sharks came up with Czech forward Lukas Radil, who has six goals and four assists and has been a quality addition to the lineup led by head coach Peter DeBoer throughout 23 games Radil has skated in. It´s definitely worth mentioning that Sharks extended Radil´s contract for one more season.
What's next for the Sharks?
That´s a tough call to predict what will happen in the future with this Sharks team. One thing should be clear – The Sharks are skilled, well-managed, with a ton of veteran leadership and although there have been numerous critics around the team, San Jose was able to shut them down pretty quickly. Let's not count the San Jose Sharks out of Stanley Cup contention as the Sharks are one of the teams possessing the healthiest and biggest depth in their roster across the NHL.
Questions and comments?
thescorecrowsports@gmail.com
Follow Us on Twitter @thescorecrow
Follow Us on Reddit at u/TheScorecrow
Follow Filip Canda on Twitter @Phiil7
Main Credit Image: Embed from Getty Images