Filip Canda | January 16th, 2019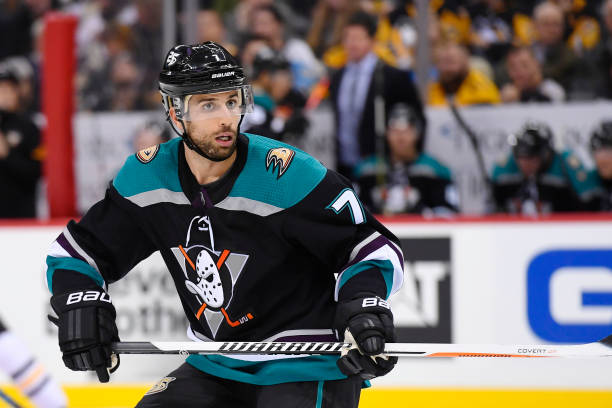 We have the first big deal of this calendar year. Yesterday, the Anaheim Ducks, currently on an 11-game losing skid, swapped forwards with the Dallas Stars. Andrew Cogliano is headed to Dallas and Devin Shore has headed the other direction to California. The deal is a one-for-one (sorry if you are an Oilers fan reading this and we brought you bad memories with that quote).
Andrew Cogliano is going to be missed by the Ducks fans a lot. He has been a terrific teammate and truly an iron man. Since he came up to the league in 2007 with the Edmonton Oilers, Cogliano has not missed a game until last season. Due to the suspension a year before, his playing streak ended at 830 games, making it second-best all-time. Cogliano played 46 games with the Ducks this campaign and posted three goals and eight assists for 11 points.
Cogliano is a 31-year-old left-winger signed through the 2020-2021 season with the salary cap hit of $3,250,000 per season. The Ducks receive a versatile left-shooting forward Devin Shore in exchange. Shore is 24 years old and so far this season with the Stars uniform he collected five goals and 12 assists for 17 points in 42 games. Shore has one more year left on his contract with the salary cap hit of $2,300,000 per year.
What does this mean for the Anaheim Ducks
The Ducks decided to go younger. Shore has had a solid season so far; he is more versatile as Cogliano and seven years younger. Shore has six points more than Andrew Cogliano having played four games less. Anaheim had to change something with their recent struggles, and this is more of a very direct message to the team than any other reason. Trading one of the most popular guys in the locker room and go for a guy who is younger and so far more productive. Makes sense for the Anaheim Ducks.
What does this mean for the Dallas Stars
Stars fans are not pleased with losing one of their young promising players. On the other side, Dallas is getting a very skilled and hard-working experienced veteran guy, who can provide instant help for the Stars lineup. The Dallas Stars, however, went older and acquired a player with a higher salary cap hit on a longer contract. It makes a lot of sense from the Stars' perspective as well, but the Ducks might win this trade in the future.
Do not expect the Ducks to be done with trading
Anaheim struggles a lot as of now, and losing 11 games in a row is not helping the team's confidence by any means. Despite all these losses, the Ducks still stay in the hunt for the playoff spots in the Western Conference.
Keep a close eye on those Ducks…

We're told Jakob Silfverberg is likely next to be moved out of Anaheim.

— The Mayor John Hoven (@mayorNHL) 14. januára 2019
The trades might keep coming in Anaheim. There are still rumors that skilled forward Jakob Silfverberg will be headed out of California next. The 28-year-old right-winger from Sweden has 12 goals and 19 points this year and will become an unrestricted free agent on the 1st of July. Ducks General Manager Bob Murray remains upbeat upon rumors and says he will try to sign an extension with Silfverberg before considering any kind of trade.
If Murray and the team of Jakob Silfverberg don't find common ground, it is more than probable that the Swedish winger will be traded as well. Teams like the Calgary Flames, the Pittsburgh Penguins, the New Jersey Devils or the Boston Bruins may have interest in acquiring Jakob Silfverberg before the trade deadline, which is set for 25th of February.
Questions and comments?
thescorecrowsports@gmail.com
Follow Us on Twitter @thescorecrow
Follow Us on Reddit at u/TheScorecrow
Follow Filip Canda on Twitter @Phiil7
Main Credit Image:Embed from Getty Images