Alex Kielar | January 13th, 2019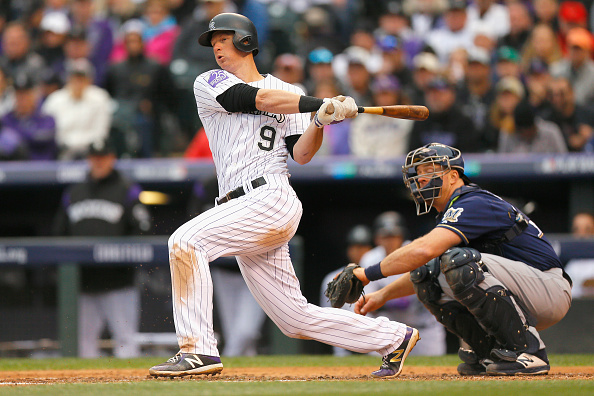 On Friday, the Yankees reached an agreement with three-time gold glove winner and 2016 National League batting champion DJ LeMahieu. The deal is worth $24 million for 2 years and puts the Yankees above the luxury tax line at the moment. LeMahieu was the top free agent at the second base position, but the Yankees view him as a versatile player who they look to use at first and third base as well.
LeMahieu, now 30, has been a solid contact hitter for his career, something the Yankees will definitely benefit from. The Yankees were one of the worst strikeout teams in the 2018 season and they were built around the home run, as they broke the season home run record previously held by the 1997 Mariners. They weren't merely home run or bust, but they did try for home runs more often than not. A pure contact hitter aka "Derek Jeter-type" is something they could use in their power stacked lineup with the likes of Aaron Judge and Giancarlo Stanton.
Signing LeMahieu helps the Yankees become better defensively in the infield while also adding a solid contact hitter into the lineup. The signing also raises some questions for the Yankees moving forward through the rest of the offseason and into the season. Does this signing put the Yankees out of the Manny Machado sweepstakes? What does this move mean for Troy Tulowitzki? What will happen to LeMahieu once Didi Gregorius returns from injury?
The most obvious question that the LeMahieu signing raises is whether or not the Yankees are still in the mix for 26-year old superstar SS/3B Manny Machado or if this puts them out of the sweepstakes. Most journalists around the Major Leagues and fans of the Yankees are near definitive that the answer to that question is a sure yes. For one, they now do have a pretty stacked infield, with Miguel Andujar, Gleyber Torres, Tulowitzki, Greg Bird, Luke Voit, and also Gregorius once he returns. Knowing just this, however, doesn't definitely put them out on Machado.
There has been talk since last season and all of the offseason of possibly moving Andujar to first base. This has been in discussions because of his below-average defense at third base. So there is a possibility that the Yankees still sign Machado and move Andujar to first, or even trade him for a starting pitcher which has been part of discussions as well. What happens to Troy Tulowitzki is also unknown, whether he even makes it out of Spring Training. So if Machado does end up signing with the Yankees, Tulowitzki could just be released, as he was signed to the minimum.
Obviously, this is all just speculation and the real test to whether or not the Yankees will sign Machado is money and years. The Yankees reportedly haven't been willing to go the length in years for the contract Machado is looking for. Does this mean the Yankees are most definitely out on him? No. Is it unlikely they sign him now? Yes. Brian Cashman is also someone who has made moves out of nowhere in the past, dropping a sort of "Cash-bomb" on everyone.
The second question that could be raised following this signing is what it means for Troy Tulowitzki. When he was signed, he was said to be going into Spring Training as the starting shortstop. Now with the signing of LeMahieu, the Yankees will definitely have some competition and positions to figure out in Spring Training. LeMahieu most likely being used as a utility player will mean he will probably split time between giving his teammates days off and also coming off the bench for defense. For example, if Andujar stays at third base, there will be times that LeMahieu could come off the bench late in a game for defense at third base.
Tulowitzki may still end up going into Spring Training being thought of as the main shortstop, but the Yankees will try other players at that position, such as Gleyber Torres, who could split time between second and shortstop. If LeMahieu performs well in Spring Training and earns a starting spot, Tulowitzki would most likely see himself on the bench, with LeMahieu at second base and Torres moving to short. A lot of things can happen though, and if Tulowitzki performs well, the Yankees will have a solid player on the bench and a handful of options as to where to play certain players.
Even more questions will be raised about the stacked infield when Gregorius returns and the Yankees could end up having a really good problem on their hands. With Gregorius getting his starting shortstop spot back upon his return, this could put both Tulowitzki and LeMahieu on the bench. Depending on their performance through that point of the season, Tulowitzki especially could be involved in a trade for a starter at the trade deadline. LeMahieu will probably still rotate between infield spots, but maybe won't get as much playing time, also depending on performance. There will definitely be many different alignments of the infield and if everyone will get even playing time and the same amount of days off.
All these questions and more will be officially answered in the coming weeks and months, with Spring Training really being where it will be seen what the Yankees plans are with the infield rotation.
Questions and comments?
thescorecrowsports@gmail.com
Follow Us on Twitter @thescorecrow
Follow Us on Reddit at u/TheScorecrow
Follow Alex Kielar on Twitter @yankeescave7
Main Credit Image: Embed from Getty Images