Pranav Ramasubramanian | January 12th, 2019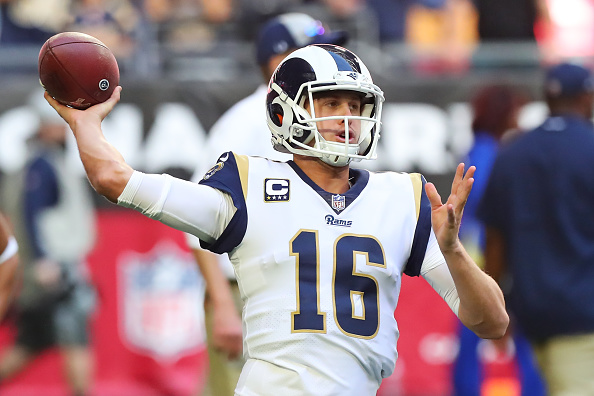 The Los Angeles Rams host the Dallas Cowboys in primetime tonight. Jerry Jones and Stan Kroenke are both the owners of these high profile teams and are good friends, but today they will be rivals rooting for their respective teams to win.
The Dallas Cowboys looked about done with the season after a Monday Night loss to the Titans putting them at 3-5, but the acquisition of Amari Cooper changed the whole season as he helped bring the team to a 7-1 second half and 10-6 overall to win the NFC East. The Los Angeles Rams started off hot and cooled down a little bit, but still managed to finish 13-3 behind a great receiving core, running game, and solid defense to get a No.2 seed in the NFC and a first-round bye.
Todd Gurley vs Cowboys linebackers
The Rams played without Todd Gurley for the past two weeks as a precaution for the playoffs and he's now 100% healthy. The extra bye week should help him regain his natural ability to weave through defenses with his speed and great burst off the line of scrimmage that he must establish from the get-go to kick start the Rams offense as he had 17 touchdowns on the ground this year. Gurley has also only used his pass-catching sparingly this year, but Sean McVay will have some creative play designs to give Gurley some space on passing plays so he can stretch out the Cowboys defense. The Cowboys have consistently been able to stop the run this season mainly in part by linebackers Leighton Vander Esch and Jaylon Smith, who have shut down solid running teams like the New Orleans Saints, Washington Redskins, and Seattle Seahawks. Vander Esch will close the running gaps for Gurley fast as he will use his violent hand movement to break out of any blocks and should be able to cover the whole field with his short-area quickness to keep Gurley in check. Jaylon Smith's ability to get big hits on the runner might get Gurley off his game early. The Cowboys have more speed and youth on the field coming at Gurley so he needs to be aware of where to go or else the Rams will be largely one-dimensional.
Advantage: Cowboys linebackers
Rams offensive line vs Cowboys defensive line
Jared Goff looked flawless until the Rams game against the Green Bay Packers, which even though was a win exposed Goff's weakness, which was if you put some pressure on him and close the pocket fast then he would be uncomfortable and he would miss the intended pass more times than hitting the right pass. The Cowboys have the right personnel to do this with pass rushers Demarcus Lawrence, Tyrone Crawford, and Randy Gregory. Demarcus Lawrence brings great power and violence with good body control to beat offensive linemen easily to get to the quarterback, Tyrone Crawford is an all-rounder, who does everything, but his neck injury from a couple of weeks ago will limit his production, and Randy Gregory will be coming full speed off the edge rushing with full confidence using an arsenal of moves to apply pressure or sack the quarterback. Look for the Cowboys to move him around all game to throw off the Rams offensive line.
The Rams offensive line has to be ready for the challenge and Andrew Whitworth, John Sullivan, and Rodger Saffold have to be the ones to set that tone. They are all older so their experience will help, but the youth of the Cowboys on the D-line will exhaust them early if they don't conserve energy properly. The Rams offense has to score fast for that to happen.
Advantage: Cowboys defensive line
This one should be one of the most fun things to watch all game as Aqib Talib and Amari Cooper have gone after it time after time over the years with Talib physically dominating Cooper each and every time. This year, however, tells a different story as Talib was limited to eight games because of a high ankle sprain and wasn't able to help the Rams secondary out much when they played dynamic passing attacks. Talib could get put on Michael Gallup, but he needs to make sure to move around the field to get Cooper as his primary matchup because Marcus Peters gets burned too much. After seeming like a misfit with Jon Gruden, Amari Cooper felt at home with the Cowboys with 6 touchdowns and 725 yards receiving on the year becoming the primary receiver for Dak Prescott that led to big wins helping the Cowboys reach the playoffs. He has to get going early with good technique when cutting in and out of routes and uses his speed to distance himself on slants or out routes to gain huge yardage so he is a great deep threat. Offensive coordinator Scott Linehan has to attack the gaps in pass coverage in the Rams defense all game long.
Advantage: Amari Cooper
Ezekiel Elliott just came off a great performance against Seattle and will be looking to replicate the same success against the Rams, but it sure won't come easy. While Aaron Donald's focus will be primarily on rushing the quarterback as he had 20.5 sacks this season, Ndamukong Suh's primary focus will be the run as he will use his versatility to move around the defensive line and is flexible enough to easily break out of blocks so he should be successful in limiting Ezekiel Elliott to a certain point. Ezekiel Elliott can't just depend on his ability of great field vision or elusiveness on every play, he will also need good blocking from Zack Martin, Xavier Su'a-Filo, and Tyron Smith up front to free up holes for good running gaps. The offensive line is banged up, but last week they showed consistency and continuity. The linebackers haven't really made an impact this year and they really need to step up to try and keep Zeke behind the line of scrimmage. However, the Cowboys will have to deal with top tackler Cory Littleton, whose quick speed helps him pursue running backs. The Cowboys should also get Elliott involved in the pass-catching game to open up another dimension to their offense.
Advantage: Ezekiel Elliott
Overview and Prediction
The Rams have to get Robert Woods and Brandin Cooks going early as the Cowboys corners can't cover that well down the field so Goff should have no issues slinging it. Add that in along with Sean McVay's innovative playcalling and it will be really too hard to get the Greatest Show on Turf 2.0 off the field as even Gurley should get going. Wade Phillips will also be coaching the defense with some extra motivation as the Cowboys ran Phillips out of town for current head coach Jason Garrett. The Cowboys have balance and Kris Richard should have the defense ready for battle while Ezekiel Elliott should anchor the offense. The forecast predicts no rain in the afternoon so the weather shouldn't be a factor in gameplans. This one should be a high scoring affair, but the Los Angeles Rams are too good at home and should use it as an advantage to pull away in the fourth quarter. The Rams may host the NFC Championship game if Nick Foles and the Philadelphia Eagles win tomorrow or else they will be traveling to New Orleans where Drew Brees lit them up earlier this year.
Prediction: Los Angeles Rams 37 Dallas Cowboys 27
Questions and comments?
thescorecrowsports@gmail.com
Follow Us on Twitter @thescorecrow
Follow Us on Reddit at u/TheScorecrow
Follow Pranav on Twitter @PranavRama1
Main Credit Image: Embed from Getty Images