Daniel Corrigan | January 11th, 2019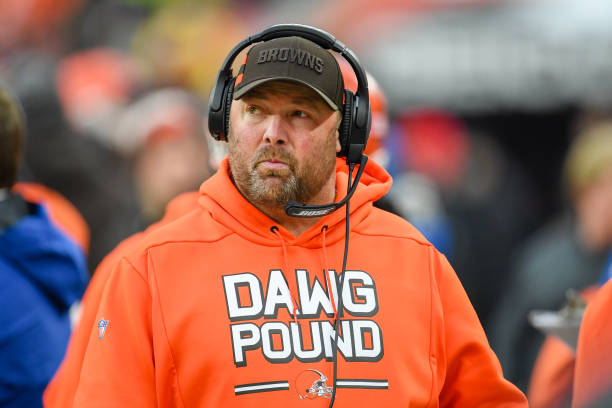 News just broke. According to Chris Mortensen of ESPN, Freddie Kitchens will join the list of prestigious Head-Coaches for The Cleveland Browns. Kitchens took over as Offensive coordinator after the firing of Todd Haley in week nine.
Kitchens previously served as Cleveland's running backs coach before taking over the offense. When Kitchens took over, the Browns held a pathetic 2-5-1 record. The Browns finished the season 5-3 with Kitchens. Kitchens also has coached with the Arizona Cardinals, Dallas Cowboys, and some colleges including LSU and Mississippi State. This is his first Head-Coaching gig.
Before Kitchens took over play-calling, Baker Mayfield was 1-4 as a starter and only completing 58% of his passes. Mayfield then proceeded to compile a 5-3 record and was now completing 68% of his passes. Overall, the offense got two points-per-game better. Going from 21.1 ppg to 23.8 ppg.
Gregg Williams has been relieved of his duties and will not return to the team.
"I'm in danger." – The entire NFL
Yeah, the Browns are back. Cleveland is once again a football city. Being a man born and raised in Berea, Ohio (location of Brown's training camp) I think I know a thing or two about this team.
Fun Fact: The platform that Devon Cajuste had his interview with his dad on Hardknocks…..yeah, I helped make it.
This team was fun to watch over the past 8 weeks with Kitchens. They now have him for a whole season. The NFL better take notice, The Browns are ready to roll. I would be STUNNED if the Browns are not the AFC North favorites coming into the 2019 season. They have the talent, attitude, and now they have the coach to take this team to a place it hasn't been since 2002, the NFL Playoffs.
The excitement for this team in Cleveland is insane. The week 17 game against the Ravens, you couldn't find a place to go out and watch it. The local Buffalo Wild Wings, which typically doesn't have a wait, had a FOUR HOUR WAIT. A small little sports bar had a TWO HOUR WAIT. This game had no weight on our season and you could barely find a place to watch it.
Browns fans are going to be arrogant, obnoxious, annoying, and maybe a little delusional. We have earned this right. The rest of you just sit back and say nothing. We are no longer the recipient of the Joke.
Questions and comments?
thescorecrowsports@gmail.com
Follow Us on Twitter @thescorecrow
Follow Us on Reddit at u/TheScorecrow
Follow Daniel Corrigan on Twitter @Corrigan_Tweets
Main Credit Image:"Embed from Getty Images