Levon Satamian | January 10th, 2019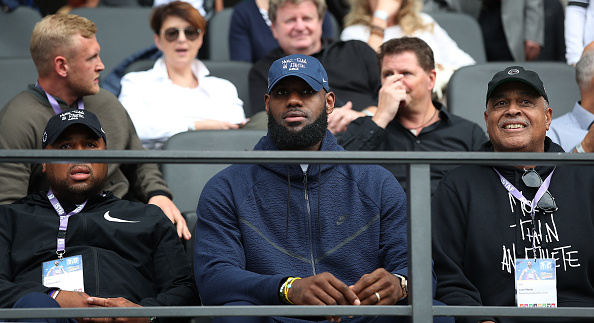 In the past, I've heard people debating this when it was a hot topic. Is LeBron James really more than an athlete or not? About a year ago, ESPN broadcast journalist, Cari Champion interviewed LeBron James and Kevin Durant. Cari Champion told LeBron "you're talking about hate and crime, we are at a watershed moment in this country and we cannot deny that we are very divided especially in the political arena. How do you describe the climate for an athlete with the platform nowadays that want to talk about what's happening in our world?" LeBron went on to say the President is "someone who doesn't understand the people—and really don't give a [****] about the people."
Kevin Durant, later on, added, "You need to empower people, you need to encourage people, and that's what builds a great team, and I feel like our team, as a country, is not run by a great coach." That's just a brief summary of the conversation in an interesting interview that can be seen here:
Laura Ingraham, a Fox News anchor, said this about LeBron after his comments on the President, "barely intelligible, not to mention ungrammatical take on President Trump." She later went on to add, "This is what happens when you attempt to leave high school early to join the NBA, it's always unwise to seek political advice from someone who gets paid $100 million a year to bounce a ball." But she didn't stop there, she later added, "Keep the political comments to yourself… Shut up and dribble."
When LeBron James was asked about the news anchors comments, he didn't know who she was, but now he does. He went on to say "The best thing she did was help me create more awareness."
On July 29, 2018, LeBron opened up "I Promise" school for at-risk students in his hometown, Akron, Ohio. Two hundred forty children are attending this school, LeBron opened up the school to give these kids opportunities to thrive despite difficult life situations. This is what he said on building a school in his hometown of Akron (Via Uninterrupted), "Everything these kids are going through, the drugs, the violence, the guns, everything they're going through as kids, I know. For me to be in a position where I have the resources, the finance, the people, the structure and the city around me, why not?" By 2022, the I Promise school will be complete for first through eighth graders.
Some people may ask how this school is different from other schools? The I Promise school, according to James Dator, "the school will operate with a longer-than-normal school year, with a focus on accelerated learning to bring kids up to speed who otherwise might be lagging. In addition, there is a focus on combating factors outside of the classroom that could cause children to struggle."
"The school also provides services to families, which include job placement assistance for parents and an on-site food bank that will allow parents to pick out foods they can prepare at home."
"LeBron James often credits his bicycle as a huge factor in his childhood that gave him an escape from dangerous parts of his neighborhood and the freedom to explore — every student will receive a bicycle when they arrive."
Here's a breakdown of what LeBron's school brings for at-risk children: Free tuition, uniforms, bicycle and helmet, transportation within 2 miles, breakfast, lunch, and snacks, a food pantry for families. GEDs and job placement services for parents, and guaranteed tuition to the University of Akron for every student who graduates.
On July 30th, CNN anchor, Don Lemon interviewed LeBron, to talk about his school and the harsh words he had for the President of the United States. This is a must watch interview if you have not seen it before, whether you are a fan of LeBron James or not.
In this interview, they talked about different topics, which led to this question by Don Lemon to LeBron: "What would you say to the President if he was sitting right here?" LeBron answered, "I would never sit across from him."
That answer by LeBron created more controversy with the President when he tweeted this:
Trump went on Twitter to criticize LeBron. In less than a day, Trump's wife, Melania praised LeBron for his charity work.
So, LeBron is the greatest basketball player on the planet right now, possibly the greatest athlete on the planet, and all-time. Some people don't notice that being the greatest athlete, isn't easy at all, it takes a lot of hard work, commitment, and responsibility, just like any other profession.
Let's review what LeBron has done off the court. He has donated to After-School All-Stars, Muhammad Ali: A Force For Change, Boys and Girls Club of America, and more. He produced a documentary called "shut up and dribble" that looks at the alternate history of the NBA. He also has a show called "The Shop" where they are in a barbershop, in which he leads conversation and debate among his guests in barbershops around the country. Last but not least, as I mentioned earlier, he opened up a school for third and fourth graders that are at-risk.
Now that you know what LeBron has done off the court, along with being the best at what he does, which is being an athlete, you decide if LeBron is More Than An Athlete or not.
Questions and comments?
thescorecrowsports@gmail.com
Follow Us on Twitter @thescorecrow
Follow Us on Reddit at u/TheScorecrow
Follow Levon Satamian on Twitter @TheSportsNotes Main Credit Image: Embed from Getty Images