Mike Fanelli | January 9th, 2019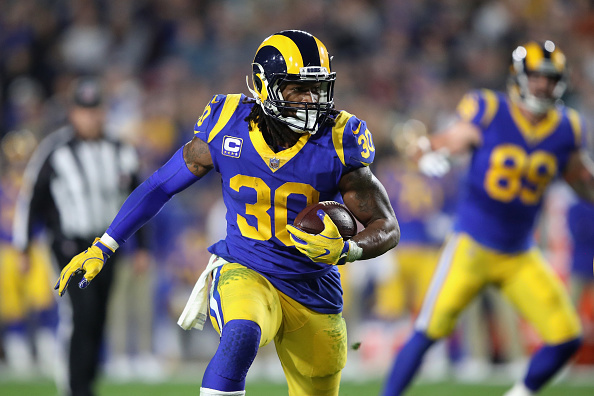 The 2019 NFL season is still several months away but it's never too early to get ready the fantasy season. With free agency, trades and the NFL draft still to come, many of these players' fantasy value will change for the upcoming season. In a four-part series, I take a shot in the dark and rank the top quarterbacks, running backs, wide receivers and tight ends for 2019 redraft leagues. Check out the previous part here.
Players are ranked with where they finished at their position last season in PPR and four-point passing touchdown scoring.
The Top 20: 
Todd Gurley, Rams (3rd): On a points per game basis, Gurley would have finished the year as the RB1 and the top overall scorer. However, the Rams wisely sat Gurley the last two games of the season with a nagging knee injury and he slipped to the RB3. Entering 2019 the Rams' offense should be healthy and back to full strength, which should make Gurley the top pick in drafts.
Saquon Barkley, Giants (1st): While Todd Gurley should be the top pick in 2019 drafts, Barkley should be the second pick. Despite a terrible offensive line, Barkley was one of only two players to top 2,000 scrimmage yards. Just imagine what Barkley can do next season if the Giants improve their offensive line and upgrade at quarterback.
Christian McCaffrey, Panthers (2nd): Boy were some people wrong when they said McCaffrey was going to be a bust this season. Instead, he easily led the league in catches at the running back position. Much like Saquon Barkley, McCaffrey had a great year behind a poor offensive line. Hopefully, Cam Newton is healthy for next season, but if not McCaffrey could be in line for even more touches than his 326 this season.
Ezekiel Elliott, Cowboys (5th): Elliott won the league rushing title by 128 yards despite sitting out week 17. Entering the 2018 season, the knock on Elliott was his lack of impact in the passing game, totally just 58 catches in his first two season, but he had 77 this season. With Amari Cooper on the outside, Elliott won't see as many stacked boxes in 2019.
Melvin Gordon, Chargers (8th): Entering the 2018 season, Gordon was one of my favorite running backs to draft in the back half of the first round. On a points per game basis, Gordon finished the year as the RB5. For the third straight season, Gordon has finished with 12 or more scrimmage touchdowns. Assuming the Chargers offense is mostly the same in 2019, Gordon is a lock to finish as a top five running back again.
Alvin Kamara, Saints (4th): Some may be a little surprised to see Kamara at the RB6 spot but it really boils down to what the Saints do in the offseason. If the Saints let Mark Ingram go and don't sign or draft a replacement, Kamara will move into the top three. However, if the Saints resign Ingram and add another proven weapon in the passing game, Kamara will drop a little, because there is only one football and everyone wants it.
James Conner, Steelers (6th): In the first half of the season, Conner was on fire and showed that the Steelers didn't need Le'Veon Bell. However, it appeared he ran out of gas in the back third of the season and got hurt. Hopefully, Conner will be better prepared to be the full-time starter in 2019. Jaylen Samuels may cut into Conner's workload some but Conner is still a feature back worth a first round pick.
Nick Chubb, Browns (17th): Sadly Chubb reached the 1,000 rushing yard mark and then had a carry for negative yardage and fell back down to 996. However, he did the majority of that work in just 10 games. Chubb also had the second highest yards per carry at 5.2 among running backs with at least 140 carries. This Browns offense will have many fantasy stars next season, led by Chubb should be a late first/early second round pick.
Joe Mixon, Bengals (10th): Entering the 2018 season I predicted that Mixon would bounce back from his poor rookie season and finish as a top 10 running back. Despite missing two games with a knee injury, having a poor offensive line and losing his starting quarterback and star wide receiver for a combined 12 games, Mixon still averaged 104.6 scrimmage yards per game this season. He's a lock for an early second round pick.
David Johnson, Cardinals (9th): Johnson was a disappointment for fantasy owners this season, in large part due to a poor coaching staff and tons of injuries on the offensive line. However, Johnson still finished the year as the RB9 and RB11 on a points-per-game basis. Hopefully, the Cardinals could use the number one pick in the 2019 NFL draft in a trade to improve the offensive line. If the offensive line is the same in 2019, Johnson will fall down my rankings a fair amount.
Le'Veon Bell, TBD (N/A): Ranking Bell was a tough call, considering we have no idea what team he will play for in 2019. Depending on where he lands, Bell's fantasy value can either skyrocket or seriously drop. However, Bell is an elite talent and will likely be an early second-round pick in 2019 unless the landing spot is awful. Hopefully, Bell signs with a team with a good offensive line and quarterback, similar to what he had in Pittsburgh.
Dalvin Cook, Vikings (30th): The biggest concern with Cook is his injury history. Second to that is his banged-up offensive line. However, on a points per game basis, Cook was the RB19 this season. Over Cook's last six games of 2018, he averaged 13.9 fantasy points per game. Hopefully, Cook can stay healthy next season and the Vikings improve their offensive line.
Kerryon Johnson, Lions (34th): Much like Dalvin Cook, Johnson comes with injury concerns entering the 2019 season. However, when Johnson was on the field and given the workload he was productive. Johnson scored 15 or more fantasy points in four of his last five games in 2018. Hopefully, the Lions give him a more consistent role in 2019 and if they do, he could be this year's version of Joe Mixon.
Derrius Guice, Redskins (N/A): As a Redskins fan, I was really excited to see Guice this season. Unfortunately, Guice tore his ACL in the preseason. Good news is, the injury was early enough that he should be ready to go for training camp. Without Guice, the Redskins signed 33-year-old Adrian Peterson, who topped 1,000 rushing yards and eight total touchdowns this season behind an offensive line killed by injuries. Hopefully, the offensive line is healthy in 2019 and if so, the sky is the limit for Guice.
Aaron Jones, Packers (24th): With Mike McCarthy out of Green Bay, Jones took over as the feature back. In the last five games of 2018 that Jones finished the game, he averaged 22.5 fantasy points per game. Assuming the Packers stick with Jones and don't make a crazy move like signing Le'Veon Bell, Jones is in line to finish as a high-end RB2 next season.
Jerick McKinnon, 49ers (N/A): Before McKinnon's 2018 season could start, it ended with a torn ACL on the last play of practice right before the season started. However, there were high expectations for McKinnon last season and I expect them to be the same this season. I think McKinnon could have a similar season to what Tarik Cohen did this year.
Tarik Cohen, Bears (11th): Speaking of Cohen, I expect a little regression next season. His role in the offense shouldn't change but Mitchell Trubisky should improve in his second year with Matt Nagy. Assuming Trubisky improves, I expect an uptick in targets to the Bears' perimeter weapons, taking targets away from Cohen, who averaged 5.7 per game this season.
Devonta Freeman, Falcons (N/A): With Tevin Coleman likely playing somewhere else in 2019, combined with Ito Smith's up and down rookie season, Freeman will have a feature back role in 2019. However, I don't think he will have the same kind of productivity as in the past. Since Freeman finished as the RB1 in 2015, he is dropped to the RB6 and RB11 over the next two season. Freeman missed 14 games this season with injuries and fantasy owners should be worried about his health in 2019.
James White, Patriots (7th): Entering the 2018 season I might have been the highest person on White, but never did I expect him to finish the year as the RB7. White finished second in targets, third in catches, second in receiving yards and tied for first in receiving touchdowns among running backs this season. White is an excellent PPR running back who never gets any respect because it's the Patriots.
Tevin Coleman, TBD (18th): Much like Le'Veon Bell, Coleman's value will change depending on where in signs in free agency. It's not a foregone conclusion that Coleman will land a starting role in free agency but if he does, he's should be drafted as an RB2 next season. An underrated spot Coleman could land is in Jacksonville if they move on from Leonard Fournette.
Honorable Mentions:
Leonard Fournette, Jaguars (40th): Speaking of Fournette, I think it's 50-50 odds that he plays for the Jaguars next season. The 2019 running back draft class is good and there are several starting-caliber running backs in free agency. The biggest knock against Fournette is his injury history and that is a concern. People will point out that he averaged just 3.3 yards per carry this season, but how successful would most running backs be with all the injuries on the offensive line and Blake Bortles at quarterback?
Phillip Lindsay, Broncos (13th): I love Lindsay's story and he won me a few fantasy titles this year, but this nonsense about being a top 15 running back entering 2019 needs to stop. The Broncos still have Royce Freeman and don't plan on giving up on him. Also, we have seen undrafted running backs have successful rookie seasons and then struggle the following year. For me, Lindsay shouldn't be counted on as anything more than a low end RB2 to start next season.
Marlon Mack, Colts (21st): The Colts are rumored to have some interest in Le'Veon Bell if that happens, Mack's value goes out the window. However, I think the better odds are the Colts enter 2019 with the same trio of backs they have now. If that is the case, Mack should finish 2019 similarly to how he did this season, as a low-end RB2.
Derrick Henry, Titans (16th): I don't buy the hype with Henry. We all fell for this last year after Henry was great in the 2018 playoffs for the Titans. However, I do think Henry is the Titans back to own entering next season but I would do so with a lot of caution. For fantasy owners who draft Henry, make sure you have extra strong depth at running back.
Questions and comments?
thescorecrowsports@gmail.com
Follow Us on Twitter @thescorecrow
Follow Us on Reddit at u/TheScorecrow
Follow Mike Fanelli on Twitter @mikesports22
Main Credit Image: Embed from Getty Images