Liam Romero | January 9th, 2019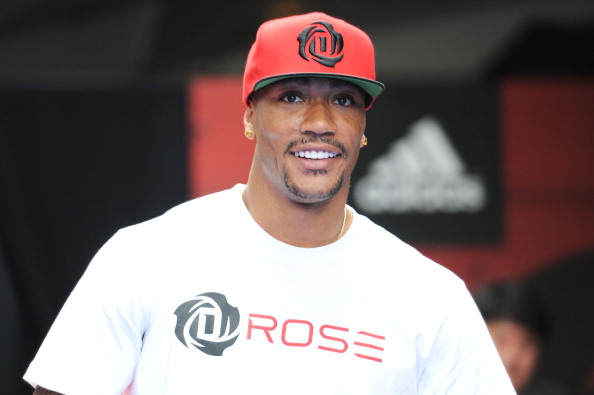 When NBA fans hear 'Derrick Rose' the first thing many think of is the horrendous list of injuries he's endured throughout his career. The youngest MVP in NBA history began his ordeal with injuries right after his MVP season in 2011 with the Chicago Bulls. Every season since, Rose faced injury after injury, many of which were serious and believed to be career-ending. Now, with the Minnesota Timberwolves, Rose has blossomed into a player fans thought they'd never see again. During Rose's return to Chicago on December 26, he was showered with MVP chants from his hometown fans. Who would have ever thought D-Rose would have such a comeback? How did he do it?
Free Agency and Trades
Firstly, let's begin on how D-Rose ended up where he's at today. Rose had a very hectic 2018. He closed out the 2017 season with the New York Knicks, averaging 18 points and 4.4 assists per game. He then signed to play with LeBron James and the Cleveland Cavaliers for the 2017-2018 season where he only appeared in 16 games and averaged 6 points a night. He was traded in a three-team trade with the Utah Jazz, Sacramento Kings, and the Cavaliers. Rose would end up with the Jazz where the team would drop him before he could even get to Salt Lake City. The situation looked dire for Rose as no team offered until the Timberwolves would pay him $416,000 to play for the remainder of the season. Rose only played nine games in Minnesota during the 2017 season, totaling only 25 games played that season combined between the two teams. The Timberwolves would renew Rose for the 2018-2019 season to a 1 year, $2.4 million veteran's minimum.
Breakout Season
After an immensely disappointing 2017 season, nothing too crazy was expected of Rose. This assumption would only fuel the surprise of the performance he would start having in the 2018-2019 season. Many officials from the Timberwolves including ex-coach, Tom Thibodeau, believed Rose had an astounding preseason summer workout. This past summer was the first time Rose had an injury-free offseason which gave him plenty of time to work on his game. Rose's first time in the spotlight this season came after a loss to the Dallas Mavericks on October 20 when he finished with 28 points, five assists, and five rebounds. The game pales in comparison to his Halloween game though, where he put up his career high 50 points against the Jazz. Rose would also go on to have multiple 20+ point games and a 31 point outing against the Los Angeles Lakers. He would average nearly 20 points per game in the month of November, and 19 points in December before going out with an ankle injury at the end of the month. D-Rose is currently averaging 19 points per game and hasn't seen these kinds of numbers since the 2011-2012 season where he averaged 21. Rose has significantly increased his three-point output, making just about two per game while shooting 46% from beyond the arc, the highest in his career. This statistic would be an anomaly in seasons past but is a major attribute to his reinvented game. According to NBA.com, Rose's offensive rating is the highest in his career, with a score of 111.2. He's Minnesota's second-best scorer, behind Karl Anthony Towns.
Derrick Rose is now a front runner for Sixth Man of the Year and has a chance of making an All-Star team this season, something he hasn't done since 2012. He has achieved something many in the NBA community believed he could never do, the reinvigoration of his game and career. Being successful seemed all but possible just a few seasons ago with his ACL injury, but today Derrick Rose is proving his critics wrong and his fans right. As long as he can stay off the injury list, there is no doubt he is capable to fully return to the lethal, star caliber player that he once was, and earnt the contract that says so.
Questions and comments?
thescorecrowsports@gmail.com
Follow Us on Twitter @thescorecrow
Follow Us on Reddit at u/TheScorecrow
Follow Liam Romero on Twitter @LiamRomero9 Main Credit Image: Embed from Getty Images