Josh Elias | January 8th, 2019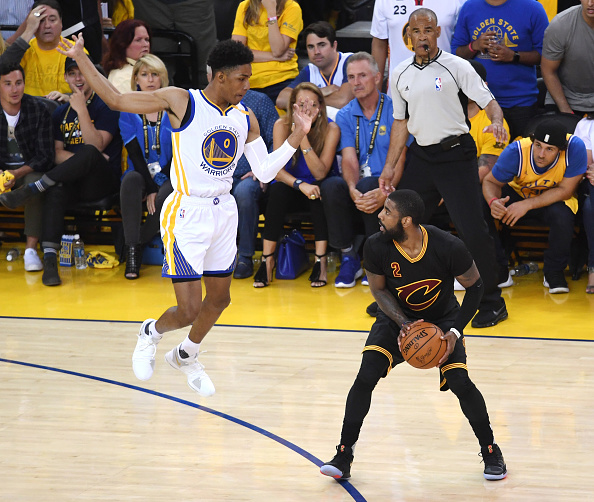 The NBA has a lot of different deadlines. There's the trade deadline in February, which is one of my favorite days of the year, the mid-season resigning deadline, the deadline to submit playoff-eligible rosters, and the deadline that a team can have a maximum of 15 full-time players and 2 two-way players by the end of the preseason.
Obviously, there's a massive variety to how much attention gets paid to each of those deadlines, but there are plenty of other important ones that we don't hear about as much.
For example, the Non-Guaranteed Contract (NGC) Deadline, which for all intents and purposes was on Monday.
What that means is that any players who have been on NGCs during the first half of this season have either just been waived or will have their contracts officially guaranteed this Thursday, January 10. Let's quickly go over the players who have been let go, and what their next step might be.
The Patrick McCaw saga continues. After having the most confusing restricted free agent process I've ever seen, McCaw joined the Cleveland Cavaliers just last week.
I cannot fathom what situation would possibly lead a role player to leave the two-time defending champion Golden State Warriors and refuse their qualifying offer, without an offer on the table from another team! It took half a year before Cleveland, decidedly one of the absolute worst teams in the league, signed him to this NGC.
He played three games for the Cavaliers during this period, and struggled mightily, scoring just 1.7 points per game on a very poor 22.2% shooting percentage from the floor.
Part of the reason he was waived was in order for the Cavs to temporarily bring in former Chicago Bulls guard Cameron Payne on a ten-day contract. With Matthew Dellavedova battling a foot injury, Payne offers them depth at the point guard position, with rookie Collin Sexton as the only other healthy point guard on their roster.
It sounds like Cleveland is actually still interested in McCaw returning to the team once Payne's deal is up, which is causing calls for an investigation for collusion.
Not yet clear how deeply the NBA will look into Cleveland's signing and near-immediate release of restricted free agent Patrick McCaw. Asked if they would urge the league to do so, Warriors officials declined comment Monday

— Marc Stein (@TheSteinLine) January 7, 2019
The healthiest situation for McCaw's career would be something similar to what he had in Oakland, frankly. If he can get a contending or near-contending team to add him for the playoffs, that would be his best shot at proving he can last in the league.
In case you've been in a coma for the last four years, MCW's career hasn't exactly worked out the way that most people expected it to when he was a rookie.
It's just his sixth year in the league, and he's already being given up on by his fifth team. The Houston Rockets always seemed to be an odd fit for him anyways, with their reliance on shooting from their perimeter players.
He only played a smidgen over nine minutes per night and appeared in less than half his team's games, but in the small sample size of time that he was on the floor, he actually seemed to show some improvement over recent seasons. With the signing of Austin Rivers though, he was deemed redundant.
Carter-Williams, along with approximately $2.5 million in cash, was traded to Chicago for a conditional second-round pick, before being immediately waived.
It's unlikely he'll get many more NBA chances. The Chinese CBA would be a great direction for him to consider at this point.
Speaking of players the Bulls waived today without them ever suiting up for the team, MarShon Brooks is also now going to be a free agent.
He came back to the NBA with a bang toward the end of last year after a stint with Jiangsu in China, but his time with the Memphis Grizzlies ended with a whimper, followed by gleeful laughter when the Phoenix Suns couldn't figure out which Brooks they were trading for.
MarShon's instant offense should be able to help him find a bench role somewhere fairly quickly.
Moreland was actually waived a few days back, but it was because of this NGC rule, so I'll include him in here too.
He only played in one game, for five minutes, for the Phoenix Suns this year, so it's not like he ever got a chance to prove himself in-game. With DeAndre Ayton quickly proving to be as NBA-ready as anyone could've hoped, there's not much of an argument that he should have got a chance though.
While his offense is abysmal for the NBA level, he is a good rebounder and shot blocker who still could realistically have an impact as a hustle guy. He may have to drop down to the G League for a bit, but he should at the very least end up on an NBA team's roster in time for this summer's training camps.
Ron Baker was a cult hero for the New York Knicks when he played in the Big Apple, but for most people, it was partially, if not entirely, sarcastic. Nonetheless, there was some legitimate sadness at the prospect of letting him go, despite the fact that never really did particularly good at anything while he was there.
The Washington Wizards never got the chance to embrace him in the same way. After just four games, and without scoring even once, Baker has been waived by the Wizards.
It's not the ideal ending for a great underdog story that saw him go from a walk-on at Wichita State who'd only been seriously recruited by three very small programs to the NBA, but it's quite likely that Baker's played his last game in the NBA. A good option for him would be Spain, or potentially one of the contending teams in Turkey.
Lorenzo Brown is a very explosive point guard with the ball in his hands. He has struggled to earn much playing time though, and, now a fifth-year vet, his shooting has been atrocious ever since he entered the league.
In 40 games for the Toronto Raptors in the last two years, Brown has averaged 2.2 points, 1.2 rebounds, and 1.0 assists. He seems to be in that select group of players, along with Abdel Nader and Christian Wood, who are too talented for the G League but not talented enough for the NBA.
It's likely he heads back over to Europe or China after this. After failing physicals with both Reyer Venezia in Italy and UNICS Kazan in Russia in the last couple of years, I also wonder how willing top tier teams over there will be to give him a chance.
Demetrius Jackson doesn't perfectly fit into this category, but as he was released on the same day as the deadline, it only seems right to include him.
He was actually a two-way player, not an NGC player, for the Philadelphia 76ers, but that is also, in many ways, a non-guaranteed contract.
The way that two-way deals work, a player is paid a certain amount per day they spend in the G League and a certain amount per day they spend with the NBA team, so if they are waived, they are not owned any additional money, make his situation a similar but different one to that of everyone else here.
Another thing that makes his waiving different is that he already has his next deal set up. He will join the Beijing Ducks in China. There are currently two former NBA players on their roster, Justin Hamilton and Aaron Jackson, but due to the CBA's foreign import rules, one of them will be waived to open up the roster spot for Jackson.
The Ducks are currently sitting in sixth place in the Chinese league and will be expecting Jackson to help propel them at least into the top four.
Guaranteed Contracts
While these seven players have been let go, there is much better news to go with this deadline passing this week for many other players. Ryan Arcidiacono (Chicago), Shaquille Harrison (Chicago), Alfonzo McKinnie (Golden State), Patrick Beverley (L.A. Clippers), Tyrone Wallace (L.A. Clippers), Christian Wood (Milwaukee Bucks), Jahlil Okafor (New Orleans Pelicans), Tim Frazier (New Orleans), Kenrich Williams (New Orleans), Trey Burke (New York), Noah Vonleh (New York), Isaiah Briscoe (Orlando Magic), T.J. McConnell (Philadelphia), Richaun Holmes (Phoenix), Quincy Pondexter (San Antonio Spurs), Royce O'Neal (Utah Jazz), and Chasson Randle (Washington), have all received the news now that their contracts have been fully guaranteed, meaning they are unlikely to be released before their contracts' expiry, and even if they are, they will still receive the full year's compensation.
Questions and comments?
thescorecrowsports@gmail.com
Follow Us on Twitter @thescorecrow
Follow Us on Reddit at u/TheScorecrow
Follow Josh Elias on Twitter @_SunsofThunder_ Main Credit Image: Embed from Getty Images