David Lehr | January 6th, 2019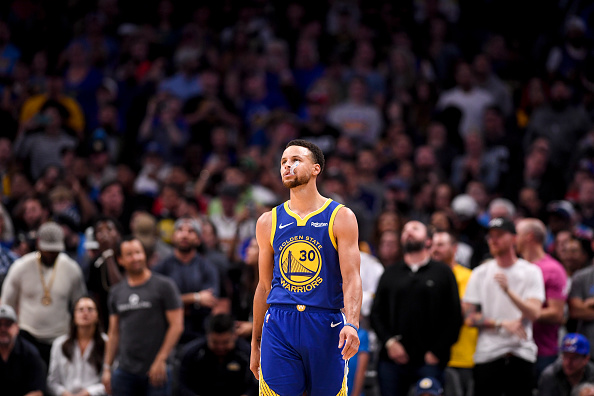 OFFENSE, OFFENSE, OFFENSE
If you love to watch top-notch scoring and three-point shooting, this game was for you. Stephen Curry led the Golden State Warriors with 42 points, including going 10-20 from behind the arc. Buddy Hield did his best to keep the Sacramento Kings in it, exploding for 32 points and setting a new career high with 8 triples in 13 tries.  Justin Jackson set a new career high with 28 points, shooting 10-14 from the field. The Warriors continue their quest to break seemingly every three-point record there is, combining with the Kings to make 41 for the game, a new NBA milestone.
Game of Streaks
In a game that featured 18 lead changes and 11 ties, both teams went on huge runs throughout. Golden State started the night on fire, making 12 straight shots during a 43 point first quarter. That included a 15-0 run that gave them a commanding 14 point lead. Not to be outdone, the Kings answered in the second quarter with a 15-0 run of their own, heading into the locker room at halftime down 70-69. The Warriors, down 6 late in the 4th quarter, quickly regained the lead behind a 12-0 run featuring a healthy dose of Kevin Durant.
Kings are For Real
The Kings have been proving they belong with the big dogs in the Western Conference all season, rallying behind the strong play of De'Aaron Fox and the aforementioned Hield, as well as receiving extremely valuable minutes from Bogdan Bogdanovic. They entered this game with a 12-1 record when leading after three quarters, but the Warriors were just too good tonight for Sacramento to close out. Sacramento also outscored Golden State 24-2 on points off turnovers, displaying their great ball movement and speed, a combination made all the better when you realize the core of the team are all in their low to mid-twenties. Although this loss puts the Kings at 0-3 against the Warriors this season, those 3 losses have come at a combined 10 points. For anyone who is still doubting coach Dave Joerger and GM Vlade Divac's team, they are quickly establishing that they will be a force to deal with in the NBA for years to come.
Statement Win for Golden State
As silly as it may sound, the Warriors needed this win…BAD. Coming off a 1 point loss in overtime against the Houston Rockets that put them at 0-4 in overtime games for the year, Golden State has not played well in close contests down the stretch too often. Steve Kerr has been the scapegoat for media and the fans recently, as they don't agree with his rotations, which he recently switched up, having Curry going to the bench late in the 4th quarter and coming back with around 4 minutes to play. All qualms were shut down on this night, however, in what was truly a team effort. Yes, Steph did what Steph does, but we also saw Klay Thompson continue to find his groove after a, by his standards, horrid start to the season, as well as Durant scoring an easy 29 on 11-20 shooting. Draymond Green played his usual hard-nosed, aggressive brand of basketball, and put a body on the lengthy Willie Cauley-Stein all night, and the bench chipped in with Quinn Cook scoring 10 points in nine minutes, and Jonas Jerebko playing a tough, physical role in the paint.
This game was a tough task for Golden State, but they have one of their easiest weeks of the season starting Tuesday when they try to break their three-game home skid versus the New York Knicks, followed by another home game against the 10-win Chicago Bulls, finishing the week in Texas against a sub .500 Dallas Mavericks squad. Sacramento dropped to 19-20 with this loss, but should have a solid chance of getting back over that hump with games against the lowly Orlando Magic and Phoenix Suns coming up.
Questions and comments?
thescorecrowsports@gmail.com
Follow Us on Twitter @thescorecrow
Follow Us on Reddit at TheScorecrow
Follow David on Twitter @BayAreaSports Main Credit Image: Embed from Getty Images