Pranav Ramasubramanian | January 6th, 2019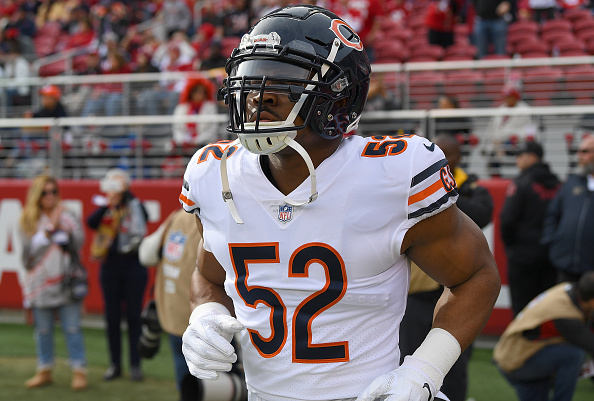 The Chicago Bears host the Philadelphia Eagles today at 4:40pm ET. The Eagles again find themselves entering the playoffs with backup Nick Foles. The Bears are back to being the "Monsters of the Midway" again and hold the third seed in the NFC. Something's gotta give.
Carson Wentz had battled back from an ACL injury that made him miss the Philadelphia Eagles 2018 Super Bowl run and win but came back this season only to see the Eagles underwhelm due to letting key pieces walk and injuries of key players that severely impacted both sides of the field. The Eagles were at 6-7 and needed to win out when Wentz went down because he fractured his vertebrae putting in Nick Foles for the last three games, two of which came against playoff teams, who seemed unbeatable at the time. Nick Foles played three great games helping the Eagles win all three by beating the Los Angeles Rams, Houston Texans, and Washington Redskins while also getting help from none other than the Bears when they beat the Vikings Sunday to put the Eagles in the Wild Card as a 6 seed to give them a chance to defend their title.
Matt Nagy has turned the Chicago Bears around this season using a great defense lead by young talent everywhere along with an offense that relies heavily on running backs. They were 12-4 and won the NFC North to earn them the 3 seed. The Bears, by beating the Vikings on Sunday, welcomed this matchup with open arms, but it may not be as easy as a matchup as it once seemed.
Nick Foles vs Bears secondary
Nick Foles lit up two great defenses to end the year and will be looking to do the same to the Bears as well. Foles has to continue to get the ball out fast and not stand around too long waiting for Alshon Jeffery or Golden Tate to get open. Chicago has a ball-hawking secondary as they run complex coverages to confuse the offense and cornerback Kyle Fuller leads the league in interceptions with 7 while safety Eddie Jackson has 6, second most among safeties, but to his credit he has returned two of them for touchdowns along with a fumble recovered for a touchdown so Foles won't be able to throw the long ball too much in this game. Adrian Amos also helps out the back end of the secondary while Prince Amukamara is a great tackler stopping big gains and keeping the opposing offense from really gaining any momentum.
Foles has to utilize Zach Ertz and Alshon Jeffery early to manipulate the Bears defense because of the size advantage those two possess if he wants the offense to get going. Foles has to get the Eagles to play fast and they have to bring the usual energy they have with Foles and sustain it all game as the Bears secondary has youth all around it so they won't get tired easily. As the game will be played in Chicago the weather will play a key part in how the Eagles gameplan as if it's colder more runs will be called than passes.
Advantage: Bears secondary
Eagles offensive line vs Bears defensive line
The Eagles offensive line has really had a bad year due to injuries so they didn't protect well leading to Wentz's injury and didn't do Foles any favors as Foles bruised his ribs on a sack by a Redskins defensive linemen when the pocket closed fastly around him. Ryan Pace went out and decided he needed to make a splash to get the Bears back to the playoffs and traded for Khalil Mack, who is one of the best defensive players in the league and a great pass rusher using his size and strength to the tune of 12.5 sacks this year.
The Eagles offensive line is still banged up, but everyone will be ready to go and Jason Peters, Jason Kelce, and Lane Johnson need to make a sizable impact to give the Eagles a chance along with Isaac Seumalo returning to the lineup at left guard. The Bears will attack the Eagles by using their 3-4 defense run by Vic Fangio, which largely benefits Akiem Hicks, whose speed helps him get past offensive linemen for big hits on the quarterback and stops running plays behind the line of scrimmage. The Bears also have linebackers Roquan Smith and Danny Trevathan, who will make sure the running game never gets going. Leonard Floyd is used more as a pass coverage linebacker, but the Eagles still have to make sure to account for him when he occasionally comes in with a blitz, which will be hard as the Bears will really go out for the sack.
Advantage: Bears defensive line
Mitchell Trubisky played 14 games this season in his second year in the league and showed some flashes of his potential, but it was nothing really special. Matt Nagy designed the offense to use Trubisky's strengths well and hide his deficiencies, which is why he has speedy running backs around him that take a lot of weight off his shoulders in Tarik Cohen and Jordan Howard. The Eagles will have some trouble trying to keep up with them as run specialists Tim Jernigan just came off of injury and Haloti Ngata will get tired trying to chase them around all game. The least they can do is try to limit them with their trio of linebackers in Nigel Bradham, Jordan Hicks, and Kamu-Grugier Hill, who need to bring their A-game for that to happen. Jim Schwartz has to bring more blitzes using his pass rushers like Fletcher Cox, who can easily get to the quarterback and leads the team in sacks with 10.5, Micheal Bennett, who uses his physicality and raw toughness to push the offensive linemen around to get to the quarterback for sacks with 9 sacks on the year, along with Chris Long, who flies around the field in a 10-yard radius at most times to always make the right play with high football IQ. All of Trubisky's weapons are available, but Trey Burton remains a game-time decision and Trubisky will need to attack the Eagles weak secondary early and often to establish an offensive flow. The Eagles are more experienced and ready for this moment as they have the top red zone defense in the league so defensively the adjustments should be made by the players even if Schwartz is too hesitant to do it.
Advantage: Eagles defensive line
If you want to see full the injury report pertaining to this Wild Card showdown check out WildCard Injury Roundup Part 2. Darren Sproles will be playing in his first playoff game in an Eagles uniform and he could be an X-factor in the special teams or running game today. Even though both Doug Pederson and Matt Nagy are both offensive-minded head coaches from Andy Reid's coaching tree this should be a low scoring grind out type of game. This style favors the Monsters of the Midway as they should get enough stops and decent enough production from Trubisky to win their first playoff game since 2010. This win would send them to a rematch with the Los Angeles Rams, who they dominated just a couple of weeks ago.
Prediction: Chicago Bears 21 Philadelphia Eagles 17
Questions and comments?
thescorecrowsports@gmail.com
Follow Us on Twitter @thescorecrow
Follow Us on Reddit at u/TheScorecrow
Follow Pranav on Twitter @PranavRama1
Main Credit Image: Embed from Getty Images