Beth Sullivan | January 5th, 2019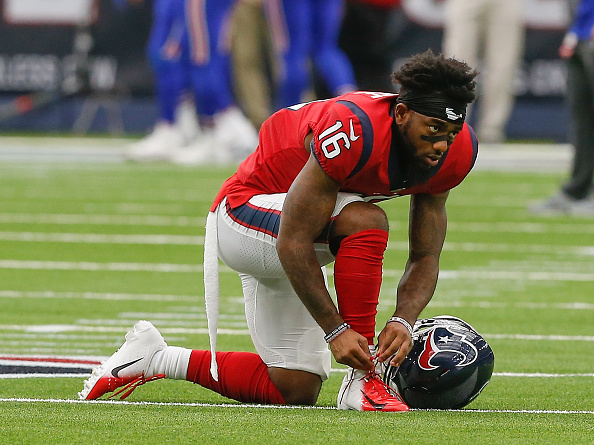 As the NFL prepares for wild card weekend a quick look at injuries for each team that might impact the outcome of the games is warranted. Most of the teams involved in this weekends games come into the playoffs in decent shape as far as injuries are concerned. Considering 17 weeks of the season have been played and several players are on IR, their status is already known. This article will look at players still on the active rosters of each team.
Houston Texans
The Houston Texans are in the best position injury-wise. The biggest names on their injury report are Defensive End J.J. Watt and Wide Receiver DeAndre Hopkins. Watt who was limited in practice after suffering a recurrence of his elbow injury week 17 is expected to play. In his position, additional bracing should provide protection to the elbow without interfering with his ability to play his position. Since he was not included on Friday's injury report he appears to be all systems go. Hopkins who suffered an ankle sprain in week 17, was also absent from the final injury report. He has been limited multiple times throughout the season in practice but that hasn't prevented him from performing great when the lights go on.
Rookie wide receiver Keke Coutee was listed as a game-time decision due to a lingering hamstring issue that has hampered his rookie season since training camp. Things are looking up since he was able to participate fully all week in practice and will be a game-time decision. The main issue with him will be pain and how he manages it. Running Back/ Special Teams participant Gregory Howell is also considered questionable and just like Coutee, the issue with him will be pain management when determining if his hamstring injury is ready for him to play.
Indianapolis Colts
The Colts have two players ruled out for the wildcard game. Wide receiver Ryan Grant has been ruled out with a toe injury and this injury will bear further review in the offseason, depending on its exact nature.
The other player ruled out is Defensive End Tyquan Lewis rookie from Ohio State. After spending most of the season on IR due to a fractured fibula, he returned to the lineup and then suffered a knee injury week 17. Most likely it is a simple sprain but given the usual grade 1 sprain recovery time of 1-3 weeks, his being ruled out is not unexpected. If the Colts win in the wildcard round, his availability for the divisional round will need to be considered. But since it is the playoffs, let's take it 1 week at a time.
Center Ryan Kelly who has been dealing with a neck strain and didn't play in week 17, is expected to be back for the wildcard game. He was a full practice participant Thursday and Friday so he should be a full go for the game Saturday.
Seattle Seahawks
Starting guard J.R. Sweezy sat out the week 17 game because of a foot injury and was limited in practice all week, but he has been limited in practice a lot this season, but still gave it his all at game time. I expect that the extra rest will allow him to play without issues.
Starting cornerback Shaquill Griffin left week 17 game with a tweaked ankle. He had a day of limited participation but practiced fully Friday. As is the case with minor ankle sprains, pain and swelling are the deciding factors for allowing a player to return. I suspect a little extra wrapping of the ankle but expect him to be a full go for the game.
Dallas Cowboys
The Cowboys are expected to have a full stable of players available to them for the wildcard game against the Seahawks.
The only question mark is wide receiver/ special teams kick returner Tavon Austin. He returned in week 17 after sustaining a groin strain in week 6. He was listed as questionable and I expect they will see how he is on gameday for a final determination.
The other players who sat out week 17 were full goes at practice and had been removed from injury reports on Friday. This implies that they have all been cleared to participate in the game.
These players, in no particular order, are:
Linebacker Sean Lee
Right Guard Zack Martin
Left Tackle Tyron Smith
Defensive End Tyrone Crawford
Questions and comments?
thescorecrowsports@gmail.com
Follow Us on Twitter @thescorecrow
Follow Us on Reddit at u/TheScorecrow
Follow Beth Sullivan on Twitter @GAPeachPolymer
Main Credit Image: Embed from Getty Images